Should a Lawyer File My Workers' Comp Claim?
How to file and what to consider when you're injured at work in Ohio
By S.M. Oliva | Last updated on January 29, 2023
Use these links to jump to different sections:
Just about every Ohio employee is covered by workers' compensation benefits. Ideally, workers' comp provides "no-fault" benefits to workers injured in work-related accidents. The employer pays the employee's medical bills and certain benefits to cover lost wages, and in exchange the employee waives any right to sue the employer for negligence in connection with their workplace injury. "The best thing you can do," says
David B. Barnhart
, a workers' comp attorney at Philip J. Fulton Law Office in Columbus, "is report your injury right away; don't try to tough it out. Report it to whomever you're supposed to, whether it's your supervisor or personnel department, and then go seek medical treatment. Go get it looked at so it's on record and the employer is aware of the injury."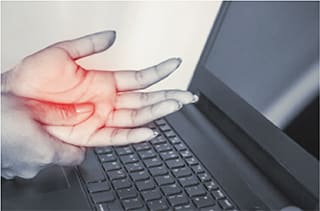 The second step is to file your workers' compensation claim with the Ohio Bureau of Workers' Compensation (BWC). Most of the time, your employer will provide you with the necessary forms and submit the claim on your behalf. "Hopefully you can handle it all on your own," Barnhart adds. "But sometimes you have a complicated injury with complicated medical terms that the employer is contesting, and at that point it makes sense to get counsel to make sure you're interests and rights are protected."
From the BWC to the IC (and to Court)
You should file for workers' comp benefits as soon as possible after your work-related injury. Ohio imposes a one-year time limit on most injury-related claims. After BWC receives your claim, it has 28 days to conduct an initial investigation. During this time, BWC will request additional documentation in support of your workers' compensation case, such as your medical records and proof of your pre-accident wages. Once this investigation is completed, BWC will decide to allow or deny your claim. If, however, your employer is the one failing to certify or accept the claim, "that alone should raise a red flag to the injured worker," Barnhart says. "If the employer starts contesting treatments, that's another. If they send the worker to the employer's doctor, that should be a flag of caution. You have to wonder if they're acting in your best interest."
If Your Workers' Comp Case is Denied
If the BWC denies your claim, you have 14 days to appeal, starting from the date you received the BWC's order. Your employer may also decide to appeal a BWC decision allowing your claim. If there is an appeal either way, you probably need to contact
an experienced Ohio workers' compensation attorney
. The appeals process can involve multiple stages and can easily overwhelm you, especially if you've never dealt with the workers' compensation system before. Attorneys in this field will offer an initial consultation that is free, during which time they will hear the details of your case and inform you of your rights. "All practitioners are also on contingency, so they aren't paid unless they recover money on behalf of the injured worker," Barnhart says. "And most attorneys are fairly giving with their time to explain the ins and outs of the system, because it can be daunting." The Industrial Commission (IC) of Ohio is actually responsible for the workers' compensation appeals process. Within 45 days of receiving an appeal, an IC official will conduct what is known as a District Level Hearing. This is similar to a civil trial: you and your employer will present witnesses and written evidence to the hearing officer. You may also be required to undergo an independent medical examination. Within a week of the District Level Hearing, the IC official will give you a written decision. The losing party may then file a second appeal and ask for what is known as a Staff Level Hearing. This involves a second round of hearings and decision. After this second stage, you and your employer may seek a third level of review with the Industrial Commission itself. This level of review is purely discretionary, however, meaning the IC is not obligated to hear the appeal. And once you exhaust all of your IC appeals, you can then seek further appeals directly to the Ohio state courts.
Contacting a Workers' Comp Lawyer
A workers' compensation claim may require multiple layers of hearings and reviews before it is finally resolved. While you are not required to have
a qualified workers' compensation lawyer
 at any of these stages, you will likely be at a significant disadvantage, especially when facing your employer's workers' compensation insurer and their lawyers. If you'd like to know more about this area, read our
workers' compensation law overview
.
What do I do next?
Enter your location below to get connected with a qualified attorney today.
Attorney directory searches
Helpful links
Find top lawyers with confidence
The Super Lawyers patented selection process is peer influenced and research driven, selecting the top 5% of attorneys to the Super Lawyers lists each year. We know lawyers and make it easy to connect with them.
Find a lawyer near you