Can I Sue My Employer if I'm Injured at Work?
Texas does not mandate workers' compensation coverage
By S.M. Oliva | Last updated on January 29, 2023
Use these links to jump to different sections:
Every year thousands of Texas workers suffer workplace injuries. These work-related injuries range from minor "slip and fall" injuries to permanent disability caused by industrial machinery. Under normal circumstances, a person injured due to the negligence of a private property owner could seek compensation through a personal injury lawsuit. But how does Texas law deal with employees who are injured on their employer's premises?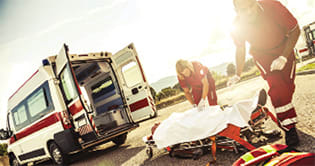 Workers' compensation is a state-regulated insurance program designed to provide medical care benefits and lost wages to injured workers. Most states require private employers to carry workers' compensation insurance and will penalize any company that does not.
Texas state law is a notable exception. Although there is a workers' compensation system in place, most private employers are not legally required to purchase coverage. A Texas employer is legally required to notify all of its employees (and the state) if it opts out.
"We call it being a subscriber or a non-subscriber," says
Matthew B. Lewis
, a workers' compensation lawyer at MLF Legal law firm in Dallas. "If you're a subscriber, you have protection against lawsuits. If you don't, and you're going bare, you can be sued by an employee for any negligence they may have participated in causing the injury."
If the Employer Has Workers' Compensation Insurance
If an employer participates in workers' compensation, then an injured employee must seek benefits through that system for a job-related injury. You have 30 days to file a workers' compensation claim with your employer, and one year to file it with the Division of Workers' Compensation.
"In Texas we have something called network claims," Lewis explains. "If your employer subscribes to a network or doctor through their insurance, you have to go to somebody in their network. So who do you pick? They're looking at things through the lens of insurance as opposed to someone on the side of the patients." Having an attorney on your side can help you seek additional, outside opinions in certain circumstances.
Workers' comp benefits are provided on a "no-fault" basis. This means that the employee does not have to prove the employer's negligence was responsible for the employee's injury or illness, nor does it matter if the accident could be proved an error on the employee's part.
In this sense, workers' compensation is a legally mandated substitute for a personal injury lawsuit. An employee generally cannot sue an employer for an on-the-job injury covered by a workers' compensation case.
Sometimes, however, the employer's insurance company may want to deny workers' comp benefits—say, if they think an injury took place outside of the workplace, witnesses don't verify the employee's story, or they believe an injury is the progression of a pre-existing condition and not something new. If a denial of benefits takes place, an administrative appeals process takes place that requires litigation. It includes a mediation session and a contested case hearing, both of which require the aid of
a reputable workers' compensation attorney
"because the insurance will certainly have a lawyer there," Lewis says.
Something most laypeople don't know about with a workers' comp claim is also the most commonly litigated, Lewis says: impairment ratings. After a medical exam, a numerical value is assigned to the worker in accordance with the impairment. Based on that information, a date will be set where a worker has improved as much as they can and when the wage-loss benefits will end. From the day the impairment rating is assigned, "you then have 90 days to dispute it or it becomes permanent," Lewis says, adding that a second medical opinion is a common part of a dispute. "It can be a big 'gotcha' in the Texas system."
If the Employer Does Not Have Workers' Compensation Insurance
If the employer is a non-subscriber to workers' compensation, then the employee is free to file a personal injury claim. In some cases this can work out better for the employee, as personal injury lawsuit awards are not capped to the same extent as workers' compensation benefits. A non-subscriber employer also cannot raise certain defenses common in other personal injury lawsuits, such as assumption of risk or contributory negligence on the part of the employee. On the other hand, an employee who sues has the burden of proving the employer was negligent—a personal injury award in civil court requires a finding of fault, unlike workers' compensation.
What do I do next?
Enter your location below to get connected with a qualified attorney today.
Attorney directory searches
Helpful links
Find top lawyers with confidence
The Super Lawyers patented selection process is peer influenced and research driven, selecting the top 5% of attorneys to the Super Lawyers lists each year. We know lawyers and make it easy to connect with them.
Find a lawyer near you