Can I Claim Workers' Comp Even If I Was at Fault?
It's a no-fault process when it comes to accidents
By Super Lawyers staff | Reviewed by Canaan Suitt, J.D. | Last updated on May 5, 2023 Featuring practical insights from contributing attorney Michele S. Lewane
Use these links to jump to different sections:
Workplace accidents happen every day in Virginia. If you suffered a workplace injury on the job, you have the right to file for workers' comp benefits to get medical care coverage and wage loss compensation.
You may be wondering: "Can I get workers' comp benefits even if I caused my own accident?"
The answer is 'yes'—in Virginia, workers' comp is a 'no-fault' system. In this article, you will find a more detailed explanation of what you should know about Virginia's workers' compensation laws and fault.
Virginia Has a No-Fault Workers' Compensation System
Most personal injury claims are fault-based legal cases. To hold a defendant liable for your injuries, you generally need to prove that their "negligence" caused your accident. However, the workers' comp system is different. Fault is not a required element of a successful claim.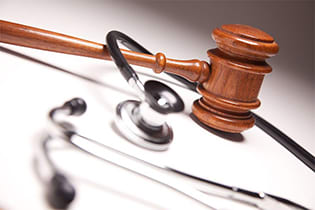 When the workers' compensation program began, it was called "the great compromise," explains Michele S. Lewane, a workers' compensation attorney at Injured Workers Law Firm in Richmond. "What the employer gave up was having to prove fault… And what the employee gave up was suing the employer for punitive damages or pain and suffering."
Under the Virginia Workers' Compensation Act, employers are legally required to provide no-fault insurance coverage to their employees. To get workers' comp benefits you simply need to prove that you were hurt on the job. It does not matter who was at fault for the accident. An injured worker is still eligible for benefits even if they caused their own work-related accident.
"It doesn't matter if it's some horrible OSHA [violation], defective equipment because the employer has a horrible forklift, it doesn't matter if the coworker does it or if you do it to yourself," Lewane says. "You don't have to prove fault."
Employees Still Bear the Burden
Even though workers' compensation claims don't need to prove fault, there are myriad other rules that make it difficult to get workers' comp benefits in Virginia, Lewane says.
"Virginia is a very pro-employer state, and to encourage corporations and businesses to do business in Virginia, and to have low workers' comp insurance, there are lots of rules and lots of things that the injured worker has to prove," Lewane says.
For example, a worker has to prove that their work injury was caused by something unique to their job. "It can't be an ordinary disease of life, it can't be a repetitive injury," Lewane says. "If you fell and you say, 'I don't know how I fell,' you lose. You have to have a specific, unique reason why you fell.
"People have the assumption that if you're hurt at work, 'Oh, it's covered,'" she continues. "Not at all. I would say maybe 50% of accidents that happen at work are covered under workers' comp."
Willful Misconduct
It should be noted that there is a limited exception to the no-fault rules under Virginia Code § 65.2-306. An injured worker will be denied workers' compensation benefits if the accident was caused by willful misconduct, an intentional self-inflicted injury, or intoxication. In these cases, an employer or insurer may try to deny benefits.
"In general, willful misconduct is a burden on the employer, not the employee," Lewane says. "And it sometimes can be hard to prove, and it has to be that the violation of that safety rule is the reason for the accident."
Still, a simple mistake made by an employee is not grounds to deny a workers' comp claim in Virginia.
When Fault Matters: Third Party Liability
As part of Virginia's no-fault workers' compensation insurance system, an injured employee is generally prevented from filing a personal injury lawsuit against their own employer.
If your accident was your employer's fault, you still have to go through the workers' comp claims system. This is because workers' comp is your sole legal remedy against your employer. However, you have the right to file a personal injury lawsuit directly against any negligent party other than your employer.
"You're always on the lookout for that because that is a way that an injured worker can get more money," Lewane says.
If your workplace accident was caused by the reckless, careless, or otherwise unsafe conduct of a property owner, equipment manufacturer, contractor, subcontractor or any other person/entity other than your employer, you can file a personal injury lawsuit. In some cases, additional financial compensation may be available through this type of fault-based legal claim.
Contact a Workers' Compensation Lawyer
If you were hurt on the job and you need help navigating the claims process, contact an experienced Virginia workers' comp attorney for help.
"Really, they should always contact a workers' comp attorney," Lewane says. "The initial consultations are always free."
What can a lawyer do for you? "Actually, quite a bit," Lewane says. If you need help filing your claim, understanding your benefits or appealing a claim that was denied, a lawyer will help you take immediate action to recover the full and fair financial benefits you are owed under the law.
A lawyer will also help you avoid the many pitfalls workers can be caught in throughout the process.
"A lawyer who knows workers' comp prevents falling prey to all the exceptions and all the rules, and there's lots of obligations," Lewane says. "And there are lots of rights an employee has, and they need to know those. A lawyer can obviously help them get through all of that."
What do I do next?
Enter your location below to get connected with a qualified attorney today.
Attorney directory searches
Helpful links
Find top lawyers with confidence
The Super Lawyers patented selection process is peer influenced and research driven, selecting the top 5% of attorneys to the Super Lawyers lists each year. We know lawyers and make it easy to connect with them.
Find a lawyer near you