A Fighter and a Gentleman
Gordon Greenwood is known for his civility, but he'll go to the mat in the hunt for justice
Published in 2021 Northern California Super Lawyers magazine

on July 7, 2021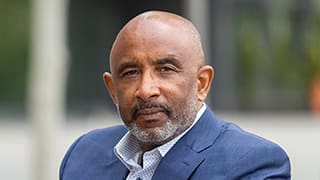 Growing up in small-town Mississippi, Gordon Greenwood was immersed in a culture of Southern hospitality. A job offer lured him westward 33 years ago, and though he encountered many differences in his new locale, he says his Oakland neighbors have at least one thing in common with those in his hometown.
"They are driven to make life better for others. There's a lot of that here," he says. "People care a little more about who you are substantively. … There's a big premium on being genuine."
Making life better for others is what he tries to do every day at Kazan, McClain, Satterley & Greenwood in Oakland, where he has worked for 23 of the firm's 46 years. Its focus is on representing working people suffering from mesothelioma and other effects of longtime exposure to asbestos.
"I'm fighting for somebody's life," Greenwood says. "They're six months from leaving all of the troubles of the world, and I've got a company saying, 'We don't want to pay that much money because that's gonna hurt our bottom line.' Those two sides of the table are not even close to being equal. That keeps you going."
Greenwood wasn't originally drawn to personal injury law. In 1988, when he graduated from George Washington University Law School, the savings and loan crisis was in full force. Banking law—on paper—looked appealing. Greenwood moved to the Bay Area to work in a bank's legal department. But after about a year, the weekly three-hour case review meetings had him reevaluating his course. He was bored. 
A friend, Douglas Rappaport, had just taken a job at the San Francisco Public Defender's Office, and Greenwood decided to watch him in court one day. Not only did it resonate, it activated a passion.
"I was really moved by the idea of making a difference in people's lives," he says. "It helped me figure out why I went to law school."
Rappaport has fond memories of working with his friend, who he says is never not in a suit and tie. The entire time they worked at the public defender's office, "Gordon never raised his voice," Rappaport says. "He just has common courtesy and is a very good listener.
"When you come from Los Angeles like I do, you tend to be frenetic. But he is from the South," Rappaport says. "Gordon takes it all in before acting on it. He's the true definition of a gentleman. And those are the qualities that make him such a fabulous attorney."
When Frank Fernandez, a mentor at the public defender's office, moved to Kazan McClain, he recruited Greenwood. To his surprise, the public defense skills were transferable, Greenwood says, noting that the concept is really the same: "Somebody says, 'Hey, I have this problem,' and you have a chance to help them and chip away at some of the structures that allow large institutions to win." 
For his first six months at the firm, Greenwood says he had trouble finding his footing. Then he got a chance to start on a case right from the introductory call, and it was transformative. Direct contact with clients brought him to life. The woman who called was the widow of a man who had worked at a Chevron refinery in working-class Richmond. For years, he was unknowingly bringing asbestos particles home from his job, and after he died, his wife developed mesothelioma. 
It all clicked for Greenwood: "You represent people who need help."
In the last few years, his firm has won major verdicts against Johnson & Johnson for selling baby powder containing talc contaminated with asbestos. These lawsuits have put the firm in the news, but it's the smaller cases that really stick with Greenwood.
"It's the individual," he says. "To do something that has real impact on a person's or family's life—to me that's bigger than anything else."
One day in 2017 he drove out to meet a new client—a retiree who worked for a decade in the engine rooms of Navy ships. The Oakland apartment building he lived in was dilapidated, the doors didn't close properly, and he was sleeping on a mattress on the floor.  
"He had done the dirtiest, nastiest work in the world. And, from the look of things, he had never gotten compensated much." The man was sick, and Greenwood suspected it had to do with asbestos from the ships. "Unfortunately, he didn't live to bring it to the jury," says Greenwood. But after a high seven-figure settlement was reached, "we were able to change the trajectory of [his] family's life," says Greenwood. "That was powerful." 
On a recent Friday, Greenwood is working his pandemic hybrid schedule, having put in some office time and some Zoom time with clients. He has just returned to the East Bay from a quick visit to his hometown of Meridian, Mississippi, to visit his 86-year-old mom. "I just check in to make sure she's OK," he says.
Mississippi's Southern hospitality is for real, he says; you can feel it, even in casual conversation. But lean too far into those conversations and they can become very polarized. 
"Mississippi has this history on race, and it strikes me every time I go back," he says. Meridian, he points out, was where civil rights activists Andrew Goodman, James Chaney and Michael Schwerner were visiting when they were murdered just outside of town in 1964—an event that galvanized the movement and the country. It was a "comfortably segregated small town" Greenwood says, when he was growing up. His dad was a civilian employee at the local Naval base and his mom taught school. The family lived in a neighborhood stocked with the teachers who taught him at school—a major reason "there was a high degree of accountability all over the neighborhood," he says. There was a "built-in ethos that the community put a lot into you and you had a responsibility to achieve."
A high school athlete, Greenwood was offered a football scholarship as a wide receiver to Mississippi Valley State, where fellow Mississippian Jerry Rice would go a year or two later. Greenwood jokes that Rice might not have become a superstar if Greenwood had taken that scholarship. But the truth is Greenwood was interested in academics, and put sports largely aside when he arrived at Morehouse College.
Rahn Kennedy Bailey, assistant dean of clinical education at UCLA's Charles R. Drew University of Medicine in Los Angeles, became good friends with Greenwood at college. "Once a week we went to a Wendy's, [could] barely afford to order French fries, and we'd sit there talking for two or three hours," Bailey recalls. "He was a very mature guy who was older than his chronological age." They were in Alpha Phi Alpha together. "He was the most humble, modest and clear-thinking," Bailey says. "It was Greenwood who kept the rest of us in good stead."  
Greenwood and Bailey still get together when they can, and they encourage each other to work out. Greenwood, who is very health-conscious, runs the steps of Joaquin Miller Park and bikes to stay in shape. He lives in Hayward, and enjoys visiting the vineyards of Napa and Sonoma on weekends with his wife, Tamika, with whom he has a blended family of four children, ages 19 to 28, as well as his 9-year-old nephew. 
When he gets going, Greenwood likes to tell stories—in even tones. His favorites include stories about the flurry of pro bono work he's picked up recently, much of it from the local Black community. "I've developed a soft spot for elder financial abuse work especially," he says.
He relates how the niece of "a smart 93-year-old woman" approached Greenwood to help fend off lawsuits after credit card purchases piled up; but after some investigation, Greenwood realized most of the debt was accrued after the niece showed up. Greenwood wound up representing the aunt to help her protect the rest of her savings. 
Greenwood is also busy helping his firm bring in a new generation of lawyers. He interviews students fresh out of law school, some of whom want to know, "Do you work evenings and weekends? Is there overtime?" 
He tells them, "When you work with somebody who is depressed and just been told they're gonna leave this earth in six months—if that doesn't motivate you to get up and fight the company who knew their products were dangerous, then nothing will. 
"It's that fight that motivates you—and if it doesn't, this isn't the right job for you."
---
She Just Smiled
While working at the San Francisco public defender's office, Gordon Greenwood had a brush with future fame—a prosecutor named Kamala Harris. (He also later met candidate Barack Obama while fundraising for his presidential campaign.)
"Yeah, I know Kamala well," Greenwood says. In his last few years as a public defender, Harris, who grew up in Oakland, moved from the Alameda County DA office to the San Francisco DA's office. Greenwood met her there, then kept running into her at political and social events. 
He kidded her with a prediction: One day she would run for the DA's office. When she did, victoriously, he kidded that she was destined to run for state attorney general. "She didn't say anything," he recalls. "Just smiled."
After she became a U.S. senator and was running for president, they met at an event and he laughed. No more predictions. "None of this surprises me," he says. "She's a smart, driven woman trying to do the right thing."
Other Featured Articles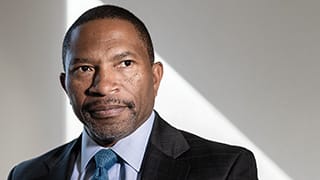 The Difference Maker
The passion and decorum of J. Bernard Alexander III Featuring J. Bernard Alexander, III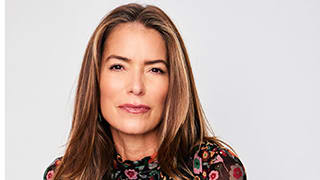 Wasser Redux
Laura Wasser on the last 20 years of family law and what might happen if Obergefell is overturned Featuring Laura A. Wasser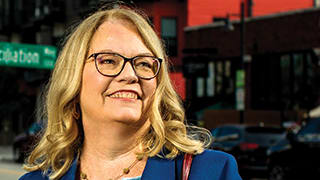 Getting Out of the Way
Laurie Koller helps juries draw their own conclusions Featuring Laurie Koller