After the Fall of Saigon
How Teri Pham's family escaped Vietnam and rebuilt in Pasadena
Published in 2021 Southern California Super Lawyers magazine on January 21, 2021
Updated on January 22, 2021
Over the decades, Teri Pham and her six sisters have been told snippets of the story but little more. This year, though, her daughter was involved in a school project to record family histories, and Pham's father, a former major in the South Vietnamese army, shared a trove of documents about the family's exit from Saigon during the final days of the Vietnam War.
It was a narrow escape.
"My dad is 83 years old now and he's a bit OCD," says Pham, a business litigator at Enenstein Pham & Glass in Los Angeles. "He keeps track of everything. So he kept these notes and journals, records of things we didn't know about. They were like: At 0600 hours this happened, at 0800 hours this happened. He's that type of person. I had no idea he had all this stuff."
Here's what she learned. In April 1975, as South Vietnam was collapsing, Pham's uncle, a high official in South Vietnam's air force, noticed a flurry of U.S. aircraft arriving and departing from Tan Son Nhut, a military airfield outside Saigon. "This is not good," he thought, and he started to secretly organize an escape for the family.
This group eventually included Pham's paternal grandmother, her father's five siblings, their spouses and about 15 grandchildren, including Pham herself, who was just 1 year old. On April 23, they were all loaded into an oversized jeep and covered by a tarp. Pham's father then drove the jeep, with an uncle wearing a general's uniform in the passenger's seat, to the gates at Tan Son Nhut. The two brothers somehow got through, and after spending the night at the base, the entire family flew out of the country the next day on a transport to Clark Air Base in the Philippines. From there, a weeklong journey took them from Guam to Camp Pendleton in San Diego. It was during this time that the North Vietnamese overran the South and shut down emigration.
"We got out only a week before the fall of Saigon," Pham says.
Sponsored by a Presbyterian church in South Pasadena that was involved in housing and assisting Vietnamese refugees, the family lived in the church basement for seven weeks before Pham's father found an apartment and a job at an auto repair company. Then they settled in Pasadena.
Orange County is currently home to the largest Vietnamese community in the U.S., but there weren't many other Vietnamese families in Pasadena when Pham was a child. Even so, her father insisted that the family speak only Vietnamese at home, while the kids learned to read and write via primers brought from Vietnam. Pham is still fluent. "To this day, when I do multiplication, I do it in my head in Vietnamese," she says.
The Phams may have even created the city's first makeshift pho shop. "Somehow they got hold of a giant pot," Pham says, remembering how her dad drove to Chinatown in central LA with her mom in search of ingredients. "I actually still have the pot. And they would make a giant pot of pho, and let people know by word of mouth. I remember my dad creating this little sign with those magnetic letters we used in preschool. It was $1.25 for pho, and $1.25 for bánh cuon"—a type of soft rice noodle roll. "Us kids would waitress and bus tables. … We blasted Vietnamese music on a cassette player in the background. People would come from all around and gather on our front porch or inside to wait until there was a seat available.
"I will get you my mom's recipe," she adds. "Still the best pho around."
Pham chose the law for a simple reason: She didn't want to be a doctor. "Growing up as a refugee and Vietnamese," she says, "my parents would talk about the two noble professions. So it was either med school or law school." Of her six sisters, three went into medicine (two pharmacists and one clinical psychologist), one is in banking, one is a small-business owner, and another is also an attorney. "It worked out well," she says.
After earning her bachelor's in social ecology in 1994, Pham attended the UCLA School of Law and found she had a knack for argument in moot court. Then she joined Reuben & Novicoff, a litigation firm in Beverly Hills. "It was this six-lawyer firm—five Jewish men and myself," Pham says. She worked on cases for a colorful assortment of celebrities. One that stands out: a $6 million breach of contract dispute between model Jennifer O'Neill and her previous attorney, which the firm won on O'Neill's behalf. 
Pham's work there provided her with an apprenticeship in commercial litigation. "At the end of the day, litigation is litigation," she says. "The only real distinction with entertainment litigation is you get into arbitration, specifically, guild arbitration—the Directors Guild, the Screen Actors Guild, that sort of thing. Maybe some talent agent work before the California labor commissioner. But other than that, generally speaking, it's just your typical breach-of-contract, copyright disputes, right-of-publicity disputes."
After stints at other firms, she joined what's now Enenstein Pham & Glass in 2011. She's currently a co-managing partner, overseeing a litigation department of more than 20 attorneys, and has handled almost every type of civil litigation: business, employment, intellectual property, entertainment, bankruptcy and real estate. 
She strives to give back to the community where she grew up. Her first volunteer work was as an undergrad at UC Irvine, assisting the Southeast Asian Legal Outreach Project. "There was a legal clinic in the Little Saigon area [of LA] every Friday," she says. "Students would help members of the community who had landlord/tenant issues, employment issues, or help to translate, do intake."
In the late 1990s, as Pham was starting her legal career, the movement to organize the Asian Pacific American Bar Association of LA County was getting underway. Pham showed up at a meeting run by attorney Dolly Gee and offered to volunteer. "We drafted bylaws, governing documents," she says. "And then we formed the first-ever Pan-Asian American legal group in Los Angeles County."
Since then, she has served as president of the Asian Bar Association of California (now California Asian Pacific American Bar Association) and as a board member of the National Conference of Vietnamese-American Attorneys. She worked to expand the conference beyond California to include other states with sizable Vietnamese American communities. 
One issue Pham drew attention to was discrimination against nail salons. "Minority-owned salons often feel discriminated against by regulatory boards of barbering and cosmetology—that they're more nitpicky on inspections," she says. "And though 80 to 90% of these salons are Vietnamese owned, the boards were often all non-Vietnamese."
Pham also does pro bono translation work for local Vietnamese who never learned English, and has been interviewed numerous times on Vietnamese-language radio and TV stations based in Orange County. "One was a roundtable discussion, and we pre-recorded a session where the host would ask me questions in English and I'd answer in Vietnamese," Pham says. Another was a series about common legal questions, and entirely in Vietnamese. "So it might be: 'Today we're talking about employment rights,' for example. Or sexual harassment rights. Next time they'd say, 'OK, let's talk about landlord/tenant rights.' 
"I want to help build the community," Pham says. "We have Vietnamese attorneys in every area, and in every sector of the government: in the White House, on Capitol Hill, on the bench now, with Jacqueline Nguyen. All areas. This is why I do all this, to help promote Vietnamese American attorneys and get past the biases in our own community."
One thing she's never done? Returned to Vietnam.
Initially it was out of respect for her parents, who still oppose the communist rule there. But several of her sisters had already been, so Pham began planning a trip with her husband and teenage children. It was ill-timed. They were scheduled to leave on March 26, 2020, just as the COVID-19 pandemic was closing borders and stifling world travel. "[Vietnam] had a two-week quarantine, so we wouldn't have been able to do it. We waited to the last minute until the airline canceled us."
She hopes to revive the trip someday. In the meantime, she's taking the opportunity during the pandemic to enroll her two teenage children in Vietnamese classes. Pham and her husband found a tutor who teaches the kids over Zoom twice a week. "The idea," Pham says, "is to surprise grandma when this is over."
Other Featured Articles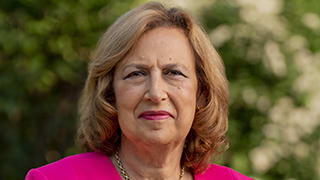 Reality? Check.
Alisse C. Camazine tells clients the truth—over and over again Featuring Alisse C. Camazine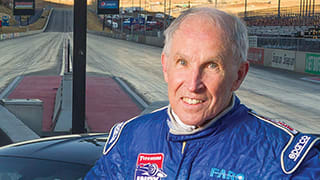 Driven
Jim Gilbert's crusade for victims of unsafe vehicles Featuring James L. Gilbert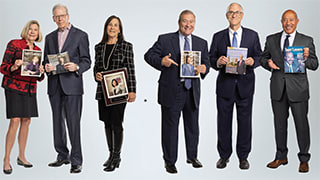 Front Runners
Six attorneys whose stories have graced our covers reflect on the last two decades