Better Late
At 59, Mary Caruso became an attorney—and that's not the twist to her story
Published in 2020 Southern California Rising Stars magazine on June 9, 2020
Updated on June 18, 2020
"I have a mouth on me," says Mary Caruso. "You can pretty much ask me anything."
That's good, because the 67-year-old plaintiff's attorney at AlderLaw in Los Angeles has one helluva story to share—with a great twist ending. And, believe it or not, the twist isn't that she left the corporate world after 25 years and became a lawyer at age 59. 
Caruso takes considerable pride in her nontraditional path to the law. She went to work at age 15 to support her family when her father, with whom she was never close, became ill. "I think you learn more from life and life experiences," she says. "Wherever I've worked, I've always wanted to know more."
When she drove a 20-foot refrigerated truck for her wholesale flower business, she learned about trucking regulations. As head of a property management company, she studied up on landlord tenant law. As accounting and HR manager for a heating and air conditioning company, she learned about freon and leaks—information that proved helpful in her personal injury practice when a water-damaged hospital ceiling fell on a client's head. 
Her last stop before the law was working in human resources and accounting at a marine oil terminal in the Port of Los Angeles. There, Caruso became increasingly disturbed by the way workers were treated. They would get sprayed with chemicals that ate through their clothes but never received first aid. If they complained, they were accused of faking it. The last straw came when she caught her boss embezzling funds, turned him in and started receiving threats. "I said, 'This is it. I'm going in-house for law firms,'" she remembers. "'I'm going to stand up for the people who have been injured.'"
At 48, she enrolled in UCLA's paralegal program and worked on behalf of plaintiffs for seven years; then a lawyer she knew asked why she wasn't an attorney herself—she was already doing everything a lawyer did. That day, during lunch, she researched law schools and submitted her application to an online school that would allow her to keep working. The following day, she took a test. By the next Monday, she was taking classes.
Soon after passing the bar, she was connected with Mike Alder. "I'm so grateful Mike Alder gave someone who went to a non-ABA law school, and was 59 years old, the opportunity to be a trial lawyer," she says. "People don't get how rare that is." Since being hired, she has won $65 million in gross settlements for her clients.
It still bothers Caruso that there were firms who wouldn't interview her and jobs she cannot apply for in California because of the school she went to—especially knowing that an affordable law school with flexibility was, for her and many working adults, the only path to such a career. But she loves giving encouragement to those considering such a path. She tells them how much value their work and life experience bring to the job. "And my clients have shown me that anything I've been through is nothing compared to what they've been through," she says. "A little bit of money to some people changes their life, reassuring someone they'll be able to have the care they need." 
And now we get to the twist in her story. Remember how she's been working since age 15 when her father became ill?
"Three months ago, I found out he wasn't my biological father," she says. "My [biological] father was a prominent attorney. And my half-brother just retired from being an attorney after 40 years of practice."
Those revelations began with a 23andMe DNA test that Caruso's daughter did for laughs, and it led to a Thanksgiving dinner last fall with her newfound half-brothers, where she learned that her late father's legacy included fighting for fair housing and employment, and defending actors and musicians accused of communism during the McCarthy-era HUAC hearings. "It's interesting because I've always been the type of person who fights for the underdog," she says. "Then I got this career as an attorney, and I got so much satisfaction from helping people. So now when I think about my DNA, my blood, it's like, OK, it took me a while to get there, but clearly it was something I was meant to do."
Other Featured Articles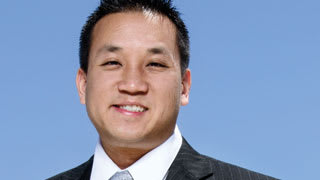 My Lawyer, the Doctor
A funny thing happened on the way to Bryan Wahl's J.D.; he got an M.D. Featuring Bryan W. Wahl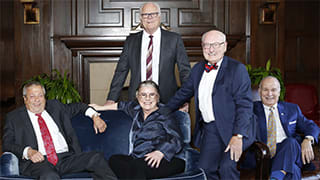 Law & Practice
Six pillars of the legal community look back on three decades of law Featuring Nancy Zalusky Berg, Michael V. Ciresi, Joseph S. Friedberg, Earl P. Gray, Kathleen M. Newman, Lewis A. Remele, Jr.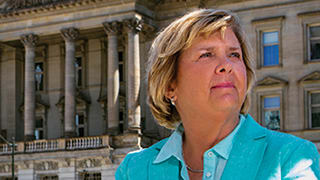 From the Ground Up
Kathleen Bogas has been part of employment discrimination cases since the foundation of the law Featuring Kathleen L. Bogas