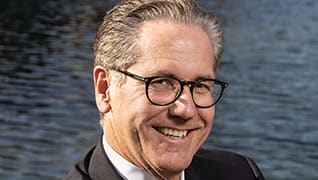 Photo by: Dustin Snipes
Calming the Waters
Robert Brandt tries to lower temperatures in family law cases and raise them at the ping-pong table
Published in 2020 Southern California Super Lawyers magazine
By RJ Smith on January 15, 2020
"Taking a punch can hurt," says Robert C. Brandt. He adds, after thinking for a moment, "It depends on the punch."
Brandt knows a little something about the topic. His father, Teddy, the son of Hungarian immigrants, was a professional boxer on the Lower East Side of Manhattan in the early 1930s. Teddy won most of his 10 professional fights, and he and his pugilist brother Murray "The Ozone Park Ghost" Brandt, battled with flair. They were Jewish, in a time of rising anti-Semitism and Fascism, and they fought with the Star of David stitched onto their boxing trunks. When they entered the ring, they let the world know who they were. "He was a tough cookie," Brandt says. 
Eventually the boxer became a union leader—a president of the Amalgamated Lithographers Union, as well as international vice president—and remained a tough cookie. Later in life, he was meeting with management in a New Orleans bar, negotiating a new contract, when both sides stepped out onto the sidewalk for some air. A young man tried to mug the group and Brandt KOed him right in the street. He was 60. 
"That impressed the hell out of management," his son says with a laugh. "He tried to settle strikes, but he was for the working man."
It's a classic American story: a first-generation immigrant tough guy who raises his kids to fight in other arenas. "Dad had a lot to do with me wanting to become a lawyer," says Brandt.
He's sitting at his desk at Feinberg Mindel Brandt & Klein in Los Angeles, a picture of his dad over his shoulder, numerous plaques and honors on his desk and walls. He looks around for the crystal gavel given to him by the Los Angeles County Bar Association. Brandt has thrived for decades in a field that can wear a person down: dealing with families in disarray day in and day out. But he is balanced, even jolly.
Last night he was out late at the Brentwood Country Club with his fantasy football league, drafting their 2019 lineups (he picked Houston Texans' Deshaun Watson to be his quarterback). He's got a consultation today, and a conference call to prep for a court appearance next week.
This being Hollywood, he's had his share of famous clients, but he doesn't claim to be a celebrity to the stars. "You don't have to be a celebrity to be my client," he says.
Ronald Granberg, a family law attorney in Salinas, has known Brandt for decades. Asked to describe Brandt's skills, he starts by talking at some length about judo and Japanese philosophy. "Think of litigating like a cherry blossom—the symbol of the martial artist," he says. "The outside white part is the procedural stuff, where you're cooperative and mannerly. Somebody you are facing is in discovery and serves subpoenas, or they want a four-way sit-down at a table to talk. Do it. Be sweet as pie. The inside red part is the substantive part, where you fight to the death. So if somebody wants you to settle a case for less than it's worth, hell, fight, go to trial.
"Bob Brandt is the right mix. He is a mensch—nice, cooperative. But if you try to fuck with his client, he will come back with whatever he's got."
Brandt's parents came west after World War II, and Brandt went to high school in the 1960s in, he says, "a very WASPish and super-conservative area" of Whittier—Nixon country. He remembers in the mid-'60s that the school held assemblies for the far-right John Birch Society. "But I didn't put up with any of that nonsense. I was giving speeches against the Vietnam War, which they didn't really care much for in Orange County." He was a tough cookie, too. 
His father taught him a bit of boxing—"how to defend and jab and work my feet"—but encouraged him to do something else with his life. Brandt took to speech. He became president of his high school speech club, where he recited everything from Winston Churchill's greatest hits to a humorous routine titled "How to Be a Jewish Mother." He also did a famous closing argument by Clarence Darrow. 
"I was doing speech and drama because I'm a ham," he says. He loved it so much he got a bachelor's degree (San Diego State) and a master's (UCLA) in speech. But how to put that talent to work? "I was thinking of either law or becoming a speech teacher." Clarence Darrow won out. 
Brandt married young and took classes at night at Southwestern Law School, while working days as an adjustor for Allstate. That grew into a position as Allstate in-house counsel when he passed the Bar. But he had other ambitions. "I didn't get into law school just to be in an office as big as this desk," Brandt says, bringing his hand down flat in front of him.
Spotting an ad for a boutique firm in Century City that said you didn't need a résumé to apply, he gave a call, went for an interview, and came out with a job. The firm specialized in entertainment law, and clients included Gilda Radner, John Belushi and Bill Bixby. They sent Brandt out to handle drunk-driving arrests. He also took on a case involving community opposition to a famous singer's attempt to subdivide his property and build cookie-cutter houses on the land. And he began to take divorce cases.
The firm more or less subdivided itself in the early 1980s, and Brandt went out on his own. His firm eventually merged with the firm of Steven Mindel and Irwin Feinberg in 2003. Today, he says, it is one of the largest family law firms in the state of California.
He acknowledges family law can be tough—you're dealing with people who are miserable, worried, emotional. The metal detectors in courthouses aren't there because of criminal cases, he notes. "They're there because of family law. People get crazy when they are going through divorces or fighting over kids."
That's why a lot of attorneys ask him, "Why would you want to handle only family law?" For him, it's the challenge. "I try to have a sense of humor about it as often as I can," he says. 
He's never forgotten a case from 24 years ago. It was a complicated and rancorous custody battle, and he was representing an executive from a Hollywood corporation who had been accused of child abuse by the mother. While the client was named primary custodial parent, an agreement was worked out that the mother could see their two daughters with a supervisor present. But one Sunday night, Brandt got a call from the client. His estranged wife's mother, the agreed-upon supervisor, had phoned him, saying her daughter's car had broken down and asking if he could come pick up the children at her home. "What should I do?" the father asked.
Brandt's advice was to go ahead but bring a witness so there would be no problem. So, accompanied by his own parents, the father knocked on the door. The mother-in-law opened the door and put three bullets in his chest. It had been a setup.
Brandt says he got the call at midnight. "I didn't know if they were coming after me next," he says. Ultimately, the grandmother pleaded guilty to second-degree murder and died in prison.
It's because of such cases that Brandt tries to lower the tension when he can and protect himself and his client when he can't. "Always I'm trying to calm the waters," he says. "If I'm representing a party and they're still living with their spouse and they are not getting along, I say, 'Look, just don't make things worse.'"
Fewer than 10% of his cases go to trial, but because of hearings, requests for child custody or support, and the like, he says he has averaged one and a half court appearances a week over his career. Plenty of opportunity for the former speech major to let loose.
"Did he tell you how he worked as a carny barker?" asks Granberg. "He would guess people's weight within three pounds for a man, and five for a woman, or something like that. He can just talk a blue streak. What happens is, he not only brings solid scholarship, but he has a light touch. He's funny as hell."
"The courthouse is a great outlet for speech," Brandt says. "And the courts, the judges, are going to listen a bit better to someone who speaks well, knows how to articulate, and isn't boring. I probably throw a little bit of drama in my approach here and there. I try not to be monotonous, and it's helped me. Hey, at 70 years old I'm going to do a little bragging!"
Over the years he's seen a lot of changes in family law. Gay marriage was a win-win: an advancement in civil rights plus more clients. And though California is a no-fault state, the law has been trending, he says, to where the court has the authority to impose penalty sanctions against a party for bad conduct during the case.
The California melting pot presents its own possibilities. Abbas Hadjian, who practices family law in Encino, first crossed paths with Brandt several decades ago when they were involved in several big family disputes as opposing counsel. "We fought like cats and dogs," he says. "But through that we developed some kind of mutual respect and I found out what an incredible person he is." Brandt has taught workshops at Hadjian's annual Cultural Competency in Family Law Practice seminars, sponsored by organizations such as the Iranian American Lawyers Association, which Hadjian founded to increase awareness among family law practitioners of cultural traditions and diverse national experiences.
"If he's not teaching at events," says Hadjian, "I find him sitting in the audience, listening."
In his down time, Brandt escapes to the Bar-Lynne Ranch, five acres of property in Los Olivos named after his wife, Lynne, and her sister and co-owner, Barbara. It's horse country and wine country, and he says there is nothing like going up on a weekend and conducting a forensic wine tasting. "That really brings my blood pressure down," he says. 
He has three adult children, seven grandchildren, and Whitley, his beloved 5-year-old Australian labradoodle. "He never asks me for any money, never talks back." Brandt says. "He's like my therapy dog. I come home, drive into the garage, open the door, give him a kiss, then go up to my wife—shake her hand." He pauses with a smile. "That's the joke."
Then there's pingpong. "I'm a pretty good pingpong player," he says matter-of-factly. He has been known to walk into a meeting and tell the room he can beat anyone there. He knows it sounds obnoxious but adds, "If you can back it up, yeah, you're still cocky, but it's not quite as obnoxious."
The firm has a practice of going on planning retreats. At one of these getaways, Brandt eyeballed a young up-and-comer and joked with him. "I said, 'I just want you to know, I'm an outstanding pingpong player.' I said it kind of obnoxiously. The guy said, 'I can beat you.' So we went on our retreat. I don't think the guy got more than three points off me in three games."
Search attorney feature articles