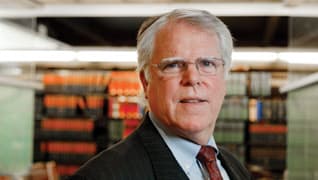 Photo by: Gregory Cowley
Common Touch
Terry McMahon's working-class roots helped make him an uncommonly good IP attorney
Published in 2011 Northern California Super Lawyers magazine
By Joe Mullich on July 11, 2011
Not more than 30 seconds into an interview, Terry McMahon, a partner at McDermott Will & Emery in Silicon Valley, declares, "Let's dispense with the pretensions," and whips off his suit coat. He leans back in his chair, plopping his heels on his desk and explaining, "I usually wear sandals and a Hawaiian shirt when I'm not going to court."
McMahon, 61, is renowned for mesmerizing jurors—to the extent he once brought a placenta into a courtroom (more on that later). Colleagues say the lack of pretension is genuine. If McMahon doesn't cast the rarefied air one might expect from one of the nation's top intellectual property attorneys, keep in mind that this is an IP lawyer who made spending money in high school by working in a slaughterhouse.
 "He does not come from a privileged background," says Vera Elson, a partner at McDermott who has tried numerous cases with him. "He worked his way up, hauling meat off a truck. That gives him an edge because he doesn't forget how the common person thinks. Some lawyers get caught up in the technology details, especially in IP cases, and the jury thinks they're talking over their heads—because the lawyers are. Terry keeps it simple: why they should believe we're in the right."
He grew up an Irish-Catholic family in the hills of Altadena, a community just north of Pasadena, a mix of low-income, blue-collar workers and brainy Caltech professors. His father, David McMahon, was a character actor who worked on many movies and television shows, including Perry Mason and The Lone Ranger, and McMahon recalls as a kid meeting an array of stars, the likes of Raymond Burr and Bette Davis.
"My dad had nine kids, and with nine kids you can't make enough money, so he had to do sales stuff on the side," McMahon says. "I was the fifth of nine, and as one of nine kids I got nothing from nobody, ever."
Between his junior and senior years in college, McMahon got a summer job as a fill-in for vacationing IBM salespeople. He bought a couple of cheap suits and white shirts, and peddled high-end typewriters. But he also volunteered as an assistant to a visually impaired trial attorney and found himself developing a taste for the courtroom.
"My boss at IBM wanted me to join them full time," McMahon says. "I told him I was thinking about going to law school. He told me, 'You're crazy. You'll be out of the earning pool for three to four years and you'll never make that money up.'"
Turning away from Big Blue, he went to Santa Clara Law and then worked for one of the oldest law firms in San Jose (now known as Campbell, Warburton, Fitzsimmons, Smith, Mendell & Pastore), doing insurance defense work and products liability. "I can remember defending one guy who had been at Pearl Harbor and was a survivor," he says.
That, basically, was the defense. McMahon won the day. How did the fact that his client was at Pearl Harbor relate to an insurance case? It didn't.
 "I tried to make him as appealing as I could," McMahon says. "You have to find a way to make your client human to the jury. He was a survivor of one of the most horrific events that ever occurred."
A few years into his career, McMahon began handling business cases, too. He remembers calling another attorney about a case he was handling for a commercial bank and asking for an extension of a couple of days. The opposing attorney replied, "What you are doing on this case? You handle fender-benders."
"Forget I called you," McMahon snapped. "I don't want anything from you, and don't ever ask me for anything, either."
He won the case, too. "His remark told me there was a fairly small club that thought they were going to do all the business cases. But I knew the address to the courtroom," he says.
McMahon, who has a ruddy complexion and bushy white eyebrows, has a habit of labeling other people "geniuses," and often remarks about himself that "I'm not the smartest guy in the room, but I'll outwork anyone." That—and the common touch, as well as years spent handling in-the-trenches trial work—has enabled McMahon to play David to tech-industry Goliaths over and over, helping smaller companies gain unexpected wins against the likes of Lucent Technologies Inc., Intel Corp. and Apple Inc.
One of those smaller companies, Extreme Networks, gave him a boxing glove emblazoned with the phrase "Our Three-Time Knockout Champ" for winning a trio of important cases.
McMahon's toughness may have led to a wrinkle in his career. He still bristles at a $4.3 million sanction from a Colorado U.S. district judge in 2008 who contended that McMahon misled the jury in a case representing Medtronic Inc., a medical technology firm.
Last April, the U.S. Court of Appeals for the Federal Circuit reversed the ruling, saying, "Based on a close study of the record in this case, we conclude the district court committed clear error" in sanctioning the plaintiffs and attorneys. When asked about this, McMahon comes just short of thrusting a triumphant fist into the air. "Other lawyers tried to use this to discredit me when we competed for business," he says. "I have a piece of paper that says I did nothing wrong. I'm tough, but fair."
McMahon's journey to becoming one of the most sought-after IP attorneys in the state started in a surprisingly simple way. One day, a client for whom he'd handled a wrongful termination case asked McMahon if he knew anything about intellectual property.
From that day on, his career headed in a different direction. "Everything I learned in a courtroom, from insurance defense to business cases, gave me a toolbox," he says. "I'm nothing special. I assume everything will go to court and I will have to prove everything I need to prove. It's get-your-hands-dirty work."
By that, he means sitting down in his chair, for as long as it takes, and preparing for every possible twist. The case that put him on the map, in the mid-'90s, happened when Advance Micro Devices Inc. (AMD) asked him to handle a case involving a cross-licensing agreement with microchip rival Intel, which AMD had already lost once in trial with another attorney. 
After studying the previous trial, McMahon decided AMD needed a different strategy. This was not so much an IP case, as AMD had originally contended, but a contract case. It was a simpler defense than trying to convince jurors of the technical reasons that there was no violation of the Copyright Act or the Semiconductor Chip Protection Act of 1984.
Before taking the case, McMahon insisted AMD set the stage properly. Unlike the first trial, he wanted a good jury consultant and wanted to use graphics—unusual at that time—to explain the case to the jury. He also wanted AMD's CEO, Jerry Sanders, to sit at his side every moment of the trial, as an indication to the jury of how important this case was to the company. AMD agreed to all his conditions.
The case, McMahon says, hinged on the precise definition of the word "microchip." "I had to cross-examine the CEO of Intel [Andrew Grove], who was and is a genius," says McMahon. He dug up every bit of material he could find, including transcripts of Grove's testimony before Congress, which, he says, "was not too easy to find in the early to mid-'90s, since there wasn't a whole lot of Google going on."
 In his congressional testimony, McMahon says Grove made statements that McMahon believed seemed inconsistent with what he said at the first AMD trial. McMahon says his cross-examination of Grove on the stand went something like this:
"I set him up by saying, 'You testified in front of Congress, and you would never misrepresent yourself to the people's representatives in Washington, right?'"
Grove replied, "No."
"So everything you said there was absolutely truthful?"
"Yes."
McMahon says he read the definition of "microchip" that Grove used before Congress, which seemed at odds, McMahon says, with his current version.
Grove: "Maybe I made a mistake."
At this point in the storytelling, McMahon smiles. Because McMahon had a transcript of Grove using the same definition in front of Congress on another occasion.
"His answer to that," McMahon continues, "was, 'I made the same mistake twice.'"
McMahon let it hang. "I looked over to the jury and said, 'You want the ladies and gentlemen of the jury to believe you made the same mistake in front of Congress twice?'" he says. "I modulated my voice, making it softer and softer, so the jurors had to lean over to hear me."
McMahon won.
Part of his cross-examination was based on having read books and articles that Grove had written. "From the books, I knew what kind of guy he was, and learned his thought pattern, and knew, at the end of the day, he was an honest man," McMahon says. "I knew he would eventually agree with what he thought the true meaning of the word was, which was the key to our defense."
McMahon continues, "I still read his books. I think he's a hero. He left an Eastern European country to get away from Communism."
The pauses, the voice modulations are courtroom hallmarks of McMahon's. "As an actor, my dad could make you believe he was Irish, German, English, whatever. I got some of that, and my kids, who became actors, got some of that."
When McMahon is about to have one of his trademark courtroom moments, colleagues have been known to lean toward each other and whisper, "Terry's in his happy place." Take the time McMahon defended Extreme Networks in a patent infringement case pursued by Lucent Technologies in 2005. McMahon's position was that Lucent had encouraged Extreme to put a certain feature in its product, but later accused Extreme of infringement. As colleague Elson tells the story, McMahon hooked his finger into his mouth, like he was a fish on a line, to demonstrate how Extreme had been hooked, and then he dragged himself across the length of the jury box.
"He's unscripted," Elson says. "Other lawyers, even first chairs at major law firms, are relatively wooden in comparison. Terry improvises, and he's very fluid in his presentation. He knows the facts of the case inside and out, so he's not tied to a script."
As McMahon puts it, "I'm not big on memorization. If you're an actor, you have to learn the lines because the screenwriters have done a beautiful job creating a piece of art, but that's not our game. I see a lot of lawyers reading from their PowerPoint and losing the judge or jury. A lawyer will end up sounding stilted or confused and end up missing what's going on in the room."
McMahon is more like the director who creates a compelling scene for his audience—the judge and jury—but then leaves room for improvisation. Take a medical malpractice case that McMahon handled early in his career. Shortly after a woman gave birth, she took a trip up to Lake Tahoe with her husband and baby. She began to have postpartum bleeding and was rushed to an emergency room. It turned out the original doctor had not completely removed the placenta.
"I talked to the doctor in Tahoe who saved her life and he turned out to be a genius," McMahon says. The conversation that followed went something like this:
McMahon: "Doc, when you testify at the trial, could you bring a sample placenta with you for the jury?"
Doctor: [Pause] "Are you joking?"
McMahon: "It's the only way to show the negligence to the jury."
Doctor: [Longer pause] "Well … I have them. We're a teaching hospital. But they're frozen."
McMahon: "Doc, can you throw a couple in a box? That's the only way we can win the case. Otherwise, the other side will flash dance, and bring out a lot of doctors with long résumés, and the jury will think they're God."
At the trial, the judge, his clerk and the jurors all put on rubber gloves and passed the placenta around the courtroom.
"I remember stories about how Mel Belli used to bring in a phony leg in an amputation case," McMahon says. "That's permeated everything I'd done. You have to show and tell, let the jury look and touch. I want to get out as much as I can in the opening—the good, the bad and the ugly. I always want to be the teacher, and I want to get the smartest jury I can."
McMahon won that case, too. Then, while driving home that day, he heard a radio news report that a doctor was detained by police because he had body parts in the back of his car. He notes: "We straightened it out."
Search attorney feature articles
Helpful links
Other featured articles
Eugene Pettis' plan to lift others up the ladder
Advocating for the marginalized is Will Hoch's calling
Jack Schulz wants to litigate cases that make you put down your cup of coffee
View more articles featuring lawyers
Find top lawyers with confidence
The Super Lawyers patented selection process is peer influenced and research driven, selecting the top 5% of attorneys to the Super Lawyers lists each year. We know lawyers and make it easy to connect with them.
Find a lawyer near you