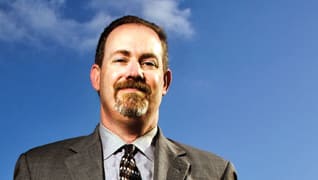 Photo by: Dustin Snipes
Controlled Risk
Construction lawyer Jay Freedman keeps things steady during the real estate crisis
Published in 2011 Southern California Rising Stars magazine
By Kellie Schmitt on June 10, 2011
Jay Freedman once hiked 10 miles into the twisting, narrow crevices of a Utah slot canyon, where, 20 feet above, he could see tree branches deposited by a long-ago flash flood wedged into the high sandstone walls.
"There's no way out," Freedman says. "You really follow the weather before you go in and make sure there's no chance of rain."
The hike was a risk but a controlled one, which is what Freedman, 40, looks for. "I need to be in a situation where if I do everything right, I won't get hurt," he says.
That's why he hiked to the top of Mount Whitney but won't even consider summiting Mount Everest—the weather's just too unpredictable there. It's why he'll spend hours playing poker in Vegas but sticks to the low-stakes tables. And it's why he practices law the way he does. "You always want to push a boundary, but you don't want to push it too much," he says. "The only way to succeed is to risk failure, but it has to be in a managed way."
That philosophy is paying off. He's a partner at Orange County's Newmeyer & Dillion, with a growing construction litigation practice and an expertise in figuring out the most cost-effective way to handle the claims.
"A lot of attorneys look at construction defect cases as cookie cutter," he says. "Part of the challenge and the fun is finding a better way to build a mousetrap."
Take a recent case involving a local day spa that grappled with plumbing problems. The contractor refused to help, so Freedman contacted the subcontractor directly. He worked with the subcontractor extensively to resolve the problem without a lawsuit, saving his client tens of thousands of dollars in potential litigation costs.
"He figured out a way to sidestep the contractor," says Scott Duncan, the spa's general manager. "Jay is the kind of attorney who tries to find a win-win, working with the opposite side and avoiding a difficult situation."
"He has an analytical mind, and he's very much a team player," says Daniel Schneider, a Newmeyer partner. "He's very up to speed. Without having to do the research, he already knows it."
Clients, too, appreciate Freedman's strict attention to case law. Tim Sacuy, an Orange County custom homebuilder, hired Freedman for an arbitration case last year.
"The arbitrator aligned with almost everything Jay said, as if they were exactly on the same page," Sacuy says.
As a child, Freedman's family moved from Massachusetts to New Jersey to several California locations before settling in Simi Valley. When he graduated from Cal Poly Pomona, he debated whether to pursue a doctorate or go to law school, but the latter won out.
"When someone tells me something, my instinct is to try and punch holes in it, to find flaws in their argument," he says. "I'm terrible at watching movies. I find the logic flaws, the stuff they're trying to gloss over."
In 1998, after graduating from Loyola Law School and spending a year and a half at now-shuttered Bolden & Martin, Freedman joined Newmeyer and became the firm's 15th attorney. (They now have about 60.) He didn't know much about construction law but he knew he wanted to be a litigator. "That's the fun stuff: litigating, going to court, arguing the motions, and being in front of the jury, arbitrator or judge," he says.
But the vast majority of cases settle; with construction law, the number is even higher, Freedman says. In his career, Freedman's been to trial three times and he's done a handful of arbitrations. He enjoys representing clients in an arbitration environment and hopes to one day grow his practice as an arbitrator himself.
In August, he won a defense verdict in an arbitration involving a general contractor and homeowners dissatisfied with their remodel. Among their complaints were claims that their concrete patio had pitting problems. Freedman put together a timeline and mapped out the condition of the yard before and after the remodel. He brought in an expert who was able to show that the concrete damage was a result of overwatering, not improper construction.
In another arbitration, Freedman represented homeowners, both deaf, against the general contractor. "When your client gets sued, you have no choice but to defend them," he says. "But when I'm representing the plaintiff, I take a hard look and make sure the case has merit. I don't want to bring a frivolous suit."
This wasn't. Many of the project's details, such as the type of stucco finish and roof tiles, weren't what the owners had specified, and Freedman won the majority of the homeowners' claims as well as their attorney's fees.
"Miscommunication was the fault of the general contractor," he says. "They're the professional, and they're supposed to make sure the homeowner is getting what they asked for."
Those who oppose Freedman say he fights his battles ethically.
"He knows when to fight and when to be reasonable," says attorney George Bojic, who has represented homeowners fighting Freedman's developer client. "He is a formidable adversary yet he's easy to work with, which makes litigating cases with him tough but without the unnecessary gamesmanship that arises in complex cases."
Several years ago, Freedman and his partners noticed that a lot of permits for new construction were being pulled, but work wasn't starting. That, among other indicators that they picked up on, is how they were introduced to the housing crisis.  
"A couple of us realized we were going to have a problem," he says.
To prepare, he anticipated clients' needs, as well as potential issues that might arise in a changing economy. The work has been surprisingly steady. Some of his general contractor clients have been busy remodeling foreclosed homes, while homeowner clients have taken advantage of low interest rates to do their own remodels.
As always, though, Freedman is anticipating future risk. Typically, construction defect litigation has a lag time of five to seven years. Most new homeowners don't sue immediately since cases end in settlement, which obviates their rights in future suits. The firm is still dealing with construction defect suits arising from the construction of five to seven years ago, but at some point these may dry up.
"We're going to hit a point that's five to seven years after the point where no houses were built," he says. "It will be interesting to see how that impacts us. It could be scary."
In the meantime, after a two-day training course and a certification test, along with a lot of reading and seminars and conversations, he's positioned himself as an adviser for clean-building risk management.
In a traditional project, he says, the owners are looking for durability and quality. If a builder were to swap one type of glue for another, there's no problem as long as it's comparable. But with green projects, substitutions aren't simple. "There may be a reason that a specific product is called for," Freedman says. "It might take a lot less energy to make, or it may be locally produced versus trucked across five states."
Even this work, he anticipates, will dry out. As the industry evolves, regulations that are momentarily confusing will become commonplace. Until then, he's identifying the gaps and keeping clients protected.
At home, when he has time, Freedman reads fantasy science fiction. "It's an escape," he says. "If I'm going to watch a movie or read a book, I want to get away from life."
That's also what draws him to rock climbing in places like Joshua Tree National Park and the Owens River Gorge. When he's climbing, he says, the only thing he can focus on is the rock in front of him: "The hearing I have next week, or any problems I've got in the office, they're all gone when I'm climbing."
Freedman keeps a Canon camera in his car in case he encounters something unexpected. One of his favorite shots hangs behind his desk: a bright, crisp view of Lower Yosemite Falls with a tiny rainbow arcing across the mist. He took it the week after the bar exam, when he traveled with two friends to Yosemite National Park. Around midnight, they hiked out to the falls and set up a tripod with a 15-minute exposure.
"I love that shot," he says. "I love that you don't realize it was taken at midnight, so you really look at it. There's a rainbow but it's from the moon."
Freedman's diverse interests make him worthy of a second look, too.
"When I found out he rides motorcycles, I was kind of shocked," Schneider says. "He's one of those guys where, when you get to know him, there's much more than meets the eye."
Search attorney feature articles