Deadline L.A.
Guy Gruppie had the best job in the world: sports reporter; then he got a better one
Published in 2020 Southern California Super Lawyers magazine

on January 15, 2020
There's a certain kind of kid who grows up idolizing the journalists covering sports as much as the athletes themselves. Guy Gruppie was that kid. 
"I had a little transistor radio," Gruppie recalls, "and [before bedtime] I could get an inning or two of Vin Scully"—a broadcaster, he adds, who was so famously descriptive "you could almost picture you were there. He was not stat-driven, and he played it down the middle. When the Dodgers played badly, he didn't hesitate to say that."
By age 5, Gruppie was reading the L.A. Times sports pages. Along with Scully, he admired journalists Jim Murray, Ross Newhan, Scott Osler and Mark Heisler. He wrote for his papers in grade school, middle school and at Esperanza High School, and as a USC freshman he got a job stringing for the Fullerton Daily News Tribune, covering the high school sports beat. While still an undergraduate, he landed his dream job on the sports desk of the Los Angeles Times—again covering high school games. He was put on the copy desk, writing headlines and doing final edits. Occasionally, he was sent to cover college and the pros.
In 1981, one of his assignments was to cover a Dodgers-Angels preseason game. This included going into the press box and being "in the presence of all these beat writers who, to me, were famous," he says. Even today, he marvels at the memory of eating in the same dining room as Vin Scully. "That was really great," he says. The food was free, but Gruppie was too distracted to eat.
It was more than the sports, though; it was the job. "There was nothing like being in the Times newsroom when it was a big day," he says. "There was a vibe and an energy—how exciting it was to be in the middle of it."
It was part of the job, ironically, that led him away from the newsroom—and journalism. "The Times was at that time a truly great newspaper with its own legal staff," Gruppie says. "They had outside counsel, but they also had their own lawyers. I got to work with them to vet some stories and go over some issues that had potential legal ramifications, and I was really impressed by them. I was thinking I would like to do that—become a First Amendment lawyer and maybe work for the outside law firms the Times used. Or better yet, work for what was then called Times Mirror and be part of their general counsel team."
There were practical considerations, too. He'd noticed that the Times was run by lawyers. "The CEO was a lawyer," he says. "Most of the people on the board were lawyers … and some of the very top editors were lawyers. And I saw that in the scheme of corporate America, having a law degree, whether or not you were actually going to practice law, was a pathway to success."
Many of his friends thought he was crazy. "'You're being paid to watch and cover sports! What could be better than that?'" he remembers them saying.
For a time, after graduating from Loyola Marymount, he had an externship at the Times; but by then he had been offered a job at Murchison & Cumming, which he accepted. He's been at the firm ever since. He does civil litigation, sometimes defending athletes and other big names—including Donald Sterling—who are the subjects of news coverage. He finds litigation exciting and engaging, and the cases—personal injury, libel, defamation—varied enough to keep the work fresh. The scenery is always changing.
"The LA County Superior Court stretches from Palmdale to Long Beach and you could have cases anywhere in between—and I think I have: Norwalk, Torrance, Long Beach, San Pedro, downtown, of course, the mid-Wilshire courthouse, Van Nuys. If you do it long enough, you get a real feel for the depth and diversity of the county."
Another upside: He got out at the right time. "I would love to tell you that I was so prescient I saw the end of the newspaper world coming," he says, but "at that time the Times was still at or near its peak in terms of profitability and reach and circulation. Everybody I worked with at the Times figured this was how things were going to continue." 
Gruppie believes his background in journalism is an asset in his practice: "When I would cover something as rudimentary as a Friday night high school football game, the Times, because it published more than 1 million papers, had really tight deadlines," he says. "More often than not, you had to fashion a good story for a game that might have ended 30 to 40 minutes before. I don't care how good a writer you are, that's not easy. That ability to synthesize information, be accurate, and do it well is extremely useful and helpful in the law in general and litigation in particular. Litigation, trial work, is all predicated on calendars, trial dates, deadlines. Every case has a certain calendar flow set by the judge, and if you don't meet those deadlines, your client can suffer. I never had an issue."
Sports is still part of his life. One son plays baseball, another is a high school journalist. When the latter published his first sports article, they sent it to Gruppie's mom. "She said, 'Wow, you can still really write sports well.' I go, 'Mom, that's Guy Jr.'"  
Other Featured Articles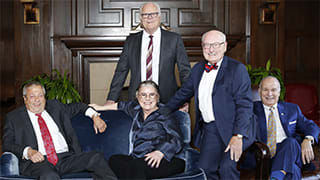 Law & Practice
Six pillars of the legal community look back on three decades of law Featuring Nancy Zalusky Berg, Michael V. Ciresi, Joseph S. Friedberg, Earl P. Gray, Kathleen M. Newman, Lewis A. Remele, Jr.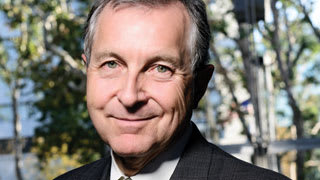 Here Comes the Boom
Paul S. Meyer may look like a kid in a candy store, but he has a lust for the jugular Featuring Paul S. Meyer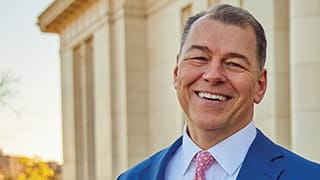 Providence Over Coincidence
Paul Sinclair's life and practice are guided by his LDS church principles Featuring Paul Sinclair