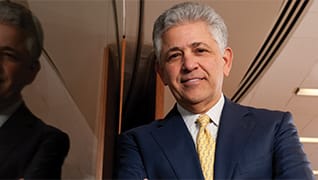 Photo by: Raffi Alexander
From O.J. to Skilling
Dan Petrocelli on how to handle the high-profile cases
Published in 2011 Southern California Super Lawyers magazine
By Joe Mullich on January 20, 2011
As he cross-examined the plaintiff in a complex real estate case on behalf of Lennar Corp., a Fortune 500 home-builder, and its various subsidiaries, Dan Petrocelli pushed and prodded the plaintiff about his prior sworn declaration. Finally, he asked, "Can you go through the declaration and mark off every statement that is not true?"
The courtroom grew silent when the plaintiff asked for a pencil.
"I sat in disbelief as he spent 10 minutes on the stand, indicating that all these statements he had made in his prior declaration weren't true," says Hayward Kaiser, a partner with Mitchell Silberberg & Knupp (MS&K), and Petrocelli's co-counsel in the case. "Ten minutes! It was a very powerful moment, and really showed Dan's sense for the jugular—he has a natural born instinct to know when to push, and in this instance he had the instinct to let the guy bury himself."
When the dust settled, San Diego Superior Court Judge William R. Nevitt Jr. issued a decision rejecting every one of the plaintiff's claims and ruled that Lennar was entitled to recover more than $12 million from the plaintiff.
Petrocelli, a partner at O'Melveny & Myers, has spent a career winning some of the most complex and high-profile cases of the last two decades.
He got former Enron Chief Financial Officer Andrew Fastow to admit he stole millions of dollars from the company and lied to his superiors.
In another of four related Lennar cases, Petrocelli made Barry Minkow—the convicted felon behind the ZZZZ Best Ponzi scheme who now styles himself as a "fraud investigator"—admit that he had lied about missing a court date because he was in an emergency room. According to Lennar's general counsel, Mark Sustana, Petrocelli put together a timeline with confirmation from the doctor's records that contradicted Minkow. "He forced Minkow to admit he had destroyed documents and withheld documents. He just hammered away at him."
Even judges aren't immune. Peter Gelblum, also with MS&K, recalls a case where Gelblum attempted to persuade the judge on a matter and failed. The response of Petrocelli, the lead counsel? "Dan lectured the judge," Gelblum says. "I was a little horrified. I said, 'Are you out of your mind? The judge has all the power.' But Dan's always well-prepared and, more importantly, he's always thinking strategically. In this situation, he picked the spot, and it worked with this judge."
In perhaps his most famous case, a $33.5 million judgment against O.J. Simpson for the 1994 killings of Ronald Goldman and Nicole Brown Simpson, Petrocelli pummeled the fallen football great during a 13-day deposition with some 280 questions about his cut finger. During the trial itself, Petrocelli pushed aside the narrative of racism and police corruption that had won Simpson victory in the criminal trial by weaving together the evidence—including photos of Simpson wearing the same shoes that were worn by the killer at the murder scene, which Petrocelli's team had found during their meticulous pretrial preparation. The grilling of Simpson was so relentless that at one point the former running back began breathing heavily and requested a break.
Petrocelli's personal highlight of that trial, however, was less combative. It was when he questioned his client, Fred Goldman, the father of the murder victim. "I really just spoke to him about his relationship with his son, Ronald," Petrocelli says. "It was just two people having a private conversation. He had such unfiltered emotion that he was able to express so naturally and so eloquently. I was trying to hold back tears, but the jurors were all weeping."
Those who have worked with Petrocelli, and who have been represented by him, say his success results from a diverse set of skills. "He has both great verbal skills and great technical skills," says Kaiser. "He understands people and he understands juries, but he's not just shooting from the hip and making an emotional appeal. He is steeped in the intricate details and the law."
Petrocelli sees his success in simpler terms: "I'm not smart enough to wing it, so I make sure I'm the most prepared lawyer in the courtroom."
He grew up wanting to be a trumpet player. His father worked a variety of jobs for the Pennsylvania Railroad (later the Penn Central) but his true passion was music, and he passed that love along to his son. In 1971, Petrocelli enrolled as a UCLA music major, with a focus on the trumpet, but in his third year he encountered another student who pulled mesmerizing sounds out of his trumpet.
"He told me he wanted to be a doctor and almost never practiced," Petrocelli recalls. "I had my epiphany. This guy had the gift and I didn't. I knew right then and there that I would never excel at the highest levels of music."
Immediately, he changed his major to economics, because it had the fewest required classes.
After graduating he worked as a bank auditor, then enrolled at Southwestern University School of Law, but didn't go to his night classes regularly and dropped out after failing some pop quizzes. "I was restless and needed more discipline," he admits. The next year, he prepared for law school like it was spring training, reading law book after law book to get himself into the proper mental framework. He graduated at the top of his class and was editor-in-chief of the Southwestern Law Review.
Are there contradictions in him? In his office sits a copy of the book, Beyond a Reasonable Doubt, a compendium of thought pieces on this fundamental legal concept. Petrocelli's contribution is a chapter on how media coverage can pervert the legal process.
"High-profile cases tend to pervert the system because the weight of the media and public interest can be crushing," Petrocelli says. "In the Simpson criminal trial, you had lawyers and a judge get swept away by a single, unobtrusive camera in the courtroom, which became a dominant component of the trial."
At the same time, he's drawn to these cases as surely as the media and the public.
"Dan lost a lot of weight in the run-up to the Simpson trial because he knew he was going to be on camera a lot," says Gelblum, a member of the MS&K legal team that Petrocelli led back then. After winning that case, and after 20 years at MS&K, Petrocelli moved to O'Melveny & Myers, one of the largest law firms in the country. "He loves being on a big stage and he wanted a bigger stage with more opportunity," Gelblum says. "He loves the big cases."
So how does Petrocelli avoid getting swept away by the single, unobtrusive camera? He ignores it completely. During big cases, he doesn't read press coverage, and he appoints another attorney to monitor media coverage and alert him only if problems arise that need addressing. "I have to continually remind myself not to be lured by the pitfalls," he says. "It's not easy."
During our interview, Petrocelli, silver-haired and slim, clad in a dapper, earth-toned suit, sits behind his desk but can barely sit still. He glances at the 5,165 e-mails he has on his computer, leafs through papers, traces his fingers along a Superman cartoon. "As a Type A personality, and a person who likes to do a lot of things, even now I have trouble focusing on one thing," he says.
That changes when he goes to trial. "For every major case, we pick a trial site and cocoon ourselves up for the duration of the trial," he says. For the Simpson case, the legal team assembled a war room at the Doubletree Hotel, across from the Santa Monica Courthouse, and Petrocelli stayed at the hotel full time even though his office was only two miles away. "When he gets focused, it's total," Gelblum says. "He is not laid-back. It's a big part of the reason for his success as a lawyer."
Petrocelli became so wrapped up in the Simpson case, in fact, that he forgot to pay his bills. His family was without electricity for two days.
"You hunker down and become like a family, working closely together 24/7," he says. "That's the most rewarding and fulfilling time—the intensity, the immediacy, the need to react in real time to so many different things, especially in a complex trial."
Sustana notes that one case Petrocelli handled for Lennar was so complex it required 123 court days spread out over nearly a year. "He oversaw 15 attorneys with a level of organization I have never seen before," Sustana says. "He divided the appropriate facts and legal questions in a way that there was never a gap in knowledge."
But his most complex trial may have been the one in which he represented Jeffrey Skilling, the former CEO of Enron, and a poster boy for corporate greed and excess. Petrocelli recalls meeting Skilling for the first time in a conference room at the O'Melveny & Myers' Washington, D.C. offices. Skilling wore shorts, sandals and a T-shirt. "He looked nothing like the CEO of the seventh largest company in the country," Petrocelli says. "The disconnect was that he didn't like the trappings of being a CEO. He loved developing new ideas." The two men spoke.
Petrocelli: You know I'm not a criminal attorney.
Skilling: That's great, because I'm not a criminal.
When Petrocelli pressed him about why he wanted a civil lawyer who had never handled a criminal trial, Skilling replied, "This isn't really a criminal case. The business of Enron is complex and the issues are complicated. The business is not easy to explain because it's so multifaceted, with business segments ranging from power plants to fiber optic cable to portfolios of derivatives."
During the Skilling trial, Petrocelli's main goal was to humanize his client. "Daunting," he says, "because he was demonized by the press and an angry public as a rude, ambitious megalomaniac who was driven by money." When Petrocelli started to question Skilling, the jurors wouldn't even look at him. "They folded their arms in quiet protest," he says.
Petrocelli smiles when he describes the moment Skilling used a blackboard to explain the complexities of Enron. "It was the only time in the trial when the judge came off the bench and sat where the counsels sat to look at Skilling in the witness box," he says. "Unintentionally or not, I think he was signaling to the jury that this was important to listen to."
A few seconds later, Petrocelli turns morose. "The fact that there were 19 convictions was crushing, because an innocent man was wrongly prosecuted and convicted. The fact that the jurors acquitted him on nine insider trading counts showed their ambivalence."
Petrocelli's latest headline-grabbing case involves rights to the first and possibly most lucrative superhero, Superman, created in 1938 by Jerry Siegel and Joe Shuster. Warner Bros. and DC Comics are fighting a copyright battle with the families of the creators, and brought Petrocelli on board in early 2010. A few months later, Warner Bros. filed a lawsuit against the families' attorney, Marc Toberoff, charging he launched into a "web of collusive" deals to try to secure the largest chunk of the Superman rights for himself. That maneuver, as is typical for a Petrocelli case, created more headlines.
Petrocelli, citing privileged conversations, won't discuss whether he formulated the strategy to file suit against Toberoff. He will say, "I know Mr. Toberoff has made public comments that he has been sued in his role as opposing counsel, but that is not correct. This suit is based on his actions as a film producer and entrepreneur in the entertainment business."
Petrocelli discusses the matter calmly but his gaze is steely. It brings to mind a comment made by Sustana: "We have 600 active cases, and I can tell you a lot of lawyers get cold feet and want to settle. [Petrocelli] is always completely ready to try a case."
Search attorney feature articles