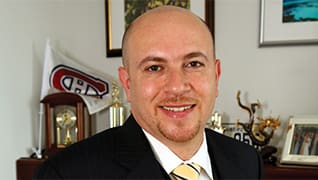 Photo by: Larry Marcus
Ice Man
Playing hockey as a kid taught Pascal Benyamini to never give up
Published in 2010 Southern California Rising Stars magazine
By Amy White on June 9, 2010
To say Pascal Benyamini has been globally influenced would be an understatement. Benyamini, who is Persian, was born in Iran. After the 1979 Revolution, he went with his family to Montreal. He was 6 at the time. When he was 20 he joined them in California. He speaks French, Persian and Hebrew. But what's always translated most to him in any language and culture was hockey.
"If you had asked me what I wanted to be when I grew up, I would have told you a professional hockey player," the employment lawyer with Reish & Reicher says. "I started skating when I was around 7. It's what you do in Montreal."
He stuck with ice hockey for years, until the leagues he played in amped up the physical contact. Then he switched to roller or noncontact leagues.
"I'm not a big guy; that was at my disadvantage," he says. "But I was scrappy. I was a pest. I was always under the skin of the other team."
He attributes the sport with his appreciation for working with others. "Hockey, more than anything, taught me the importance of teamwork and tenacity," he says. "It also taught me to learn from defeat. In order to win you have to lose. Growing up, these are important lessons."
When his family moved to Los Angeles, he didn't find a community that shared his passion. What he found instead was exposure to a culture that, surprisingly, he knew little about.
"I was born Persian-Jewish, but I didn't really grow up that way," he says. "I didn't have Persian friends. At 21, I made my first Persian friend. That surprised me. That and the fact that you can go buy a TV at 4 a.m. In Montreal, if you wanted to buy milk at 8 p.m., you were in trouble."
Originally pre-med, Benyamini switched to law. "You either understand chemistry or you don't," he says. "I did fairly well, but every time I had lab, I got this headache. I did some real soul-searching." It led him to a J.D. from the University of California School of Law.
Benyamini fell into employment law by way of an externship his first summer of law school. "One of my first assignments was a third-party harassment case, outside of the workplace," he says. "In 1997, that was a novel concept, and not many cases had decided that issue, so it was developing law. That initial exposure and interest in employment law stayed with me. I knew I could excel not only as a trusted adviser, but by consulting with clients, too."
Although he didn't know it at the time, "I think it was probably always with me," he says of the law. "I was excellent at giving unsolicited advice to my friends growing up."
It's certainly not unsolicited now. To his clients—companies with 15 employees all the way up to thousands—he's the answer man.
"It's really about resolving problems," he says of his practice, in which he represents employers only. "It's always real live issues you're dealing with."
Although Benyamini spends the majority of his time in litigation, he has a consulting practice as well.
"Some people think the consulting is so much easier than litigation," he says. "But I may get a phone call from a client who says, 'One of my managers just got accused of raping another employee. What do I do?' When something like that happens, you drop everything."
And he still makes time for hockey.
"I follow my Montreal Canadiens," he says. "All the other lawyers in the office use nice fancy paperweights. I use hockey pucks. That's me. It's a humble life, but it's a great life."
Search attorney feature articles