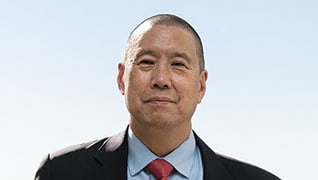 Photo by: Dustin Snipes
'If I Ever Get in Trouble, Call Brian Sun'
Colleagues call the Jones Day attorney both relentless and a consummate gentleman
Published in 2017 Southern California Super Lawyers magazine
By Jessica Ogilvie on January 20, 2017
Brian Sun is a bulldozer of a man. Stocky and broad with a military-style buzzcut, he is colorful and succinct when talking about his 40-year career. Even when describing confidential federal cases, Sun doesn't fumble for words.
"When I go meet with the Department of Justice next week, they're going to know I'm very passionate," says Sun, 62, the partner-in-charge at Jones Day's L.A. office, from behind the desk of his 50th-floor office. "It doesn't mean they're going to listen to me, but they know I'm not going to back down, either."
Sun's clients have been involved in some of the biggest news stories in recent years. He represented Wen Ho Lee and Mike Carona, and he was involved in the Anthony Pellicano case. But Sun prides himself on not disclosing a word of unnecessary information to the press, and keeping steady, firm control over the way his cases are handled internally and portrayed publicly. 
"Brian is both aggressive and tough, and well-liked and respected," says attorney Jason Frank, who worked with Sun on the Pellicano case. "You don't have that a lot in our world."
Sun's parents were born in China to families that prized Western education. Both came to the U.S. for college just before the communist takeover of China, then stayed after realizing a return wasn't in their best interest. After they married and had children—Sun has two younger sisters—they both took jobs teaching Chinese at the Institute of Far Eastern Languages at Yale University. Three years later, Sun's father, whom he affectionately calls "my old man," made an interesting career move: He volunteered for the U.S. Army. 
"He got so enamored with being in the Army Reserves in the Cuban missile crisis, he volunteered for active duty," says Sun. "I was an Army brat."
By the time Sun was in high school, he had lived in Georgia, Connecticut, Okinawa, New Jersey and, finally, Taiwan, where he studied a skill that lends itself to his courtroom discipline: taekwondo. 
"Sometimes you find something you're reasonably good at," he says. "Sometimes it's golf, sometimes it's soccer. For me, it was taekwondo."
Sun got his black belt in the Korean martial art while still living in Taiwan—"I was lucky, because I was able to study with some really good Korean instructors," he says—and when he attended college at USC he began teaching it in Watts and Crenshaw. "I taught for eight years," he says. "I was able to use that to help work my way through school." Today, Sun says, "I stretch and work out, but I don't actively teach or practice."
But it was another incident in Taiwan that sparked his interest in the law. His family had semi-diplomatic status, which meant they did not have to pay local tax. And one night, while eating out with friends, he was erroneously charged taxes. 
"We're talking about $2.50, maybe less," he says. "It was a really minuscule amount of money." But he refused to pay it. The restaurant staff tried to force the issue, so Sun called his father, who in turn called a friend, then-JAG military lawyer John Fugh, who called Sun at the restaurant. "He says, 'Brian, you're right. It's up to you what you want to do,'" Sun remembers. "So I said, 'I'm going to hold my ground.'"
The restaurant staff eventually relented. Sun would later run into Fugh regularly in the course of his work. "We had a lot of laughs over that night," says Sun, "because that started me on the road toward fighting with the system." 
He expanded that fight at USC Law in the mid-to-late 1970s when he became more involved in social justice issues. As an Army brat, he hadn't experienced much racial bias. "I was sort of insulated from the world of race and politics and all that discrimination," he says. "The military was one of the better social institutions on that issue."
But at USC, after the U.S. Supreme Court upheld affirmative action in the Bakke case, Sun felt the attitude on campus toward minority students was palpable. "If you're a minority in any major law school that had a minority admissions program at the time, there's some stigmatization," he says. 
In 1977, Sun became involved with the newly founded Southern California Chinese Lawyers Association. By 1985, he was its president. Then, in 1986, Sun met with attorneys from around the country representing various Asian-American lawyer groups and helped found the National Asian Pacific American Bar Association. 
"There were about 16 of us," he says. "Nowadays, it's 1,800 going to a convention, and it's morphed into a group of over 50,000 lawyers around the country."
He adds, "Being there at the ground level is one of the more memorable things I've participated in." 
"Brian is a trailblazer," says NAPABA President Cyndie Chang, a managing partner at Duane Morris and a mentee of Sun's. "I am just honored to know him, and to be a beneficiary of the groundwork that he's laid for me and others." 
Sun started his career as a litigation associate at Adams, Duque & Hazeltine before moving on to work as an assistant United States attorney in the Central District of California. There, he headed up the Financial Investigations Task Force, a multi-agency group that targeted major narcotics money-laundering operations. It was the 1980s, and Colombian cocaine was flowing into the U.S. Sun oversaw federal agents, who called L.A. banks to find out if any customers were transferring large sums of money to cashier's checks—a common practice for those looking to sneak drug money in or out of the country. Then they nailed them.
One of the biggest cases of his career landed on his desk later, in private practice. 
In 1999, Wen Ho Lee—a Taiwanese scientist then working for the University of California's Los Alamos National Library—was accused by the federal government of stealing U.S. nuclear secrets and handing them to China. Lee was locked up in solitary confinement for nine months at Los Alamos. The case gained national attention when The New York Times ran a cover story that was heavily weighted against Lee. A colleague of Sun's, Mark Holscher (then with O'Melveny & Myers), first received the Lee case. He called Sun to ask whether he should take it. 
"I said, 'Mark, I can't speak for you, but cases like this come along only once or twice in a career,'" remembers Sun. "He had the courage to take it on. I always will remember him stepping up when others stepped back."
Holscher and John Cline, a former partner in Williams & Connolly, led the criminal case, while Sun handled the civil side. He also repped Lee's family, who was being subpoenaed, and dealt with the media, cautioning news organizations to stop printing false stories. At the same time, he took a leap into the journalistic tiger cage: He let Lee be interviewed by Mike Wallace on 60 Minutes.
"Most criminal lawyers would say that was insane," Sun says. "This was pre-indictment, before Wen Ho was charged, and he had been totally destroyed by the press, by the leaks. Mike did a great story, and it helped change some of the perceptions in the Chinese-American and Asian-American community about Wen Ho and suggested that he might have been racially profiled. It substantially had a positive impact. But the decision to put him on, most would have said, 'You've got to be out of your effin' mind!'"
In 2006, Lee won not only freedom but redemption: the U.S. government settled with him for $895,000, while news organizations, including The Washington Post, The New York Times, the Los Angeles Times, ABC News and the Associated Press, settled for $750,000. The New York Times even ran a lengthy—and highly unusual—mea culpa, in which it apologized for its coverage. 
This type of strategy, both gutsy and grounded, is familiar to those who have worked with Sun. Jason Frank collaborated with him on the case involving Anthony Pellicano, the so-called "private investigator to the stars," who was charged in 2006 with wiretapping, conspiracy, and tampering with witnesses. Frank represented AT&T; Sun represented attorney Bert Fields, as well as Fields' firm. 
"He truly is a master at mapping out long-term strategy and making sure that it's followed," Frank says.
Sun's client was exonerated even as an attorney facing similar charges was ultimately convicted. 
"When that happened," says Frank, "I got my wife's phone and put Brian Sun's number in there, and said, 'If I ever get in trouble, call Brian Sun immediately.'" 
Many people felt the same after Sun represented Orange County Sheriff Mike Carona, who was charged with corruption in 2007. At the time, Sun faced an unprecedented media problem: Shock jocks John Chester Kobylt and Ken Robertson Chiampou of KFI 640, who both believed Carona was guilty, encouraged their listeners to pretend to be impartial if called in for jury duty, then hand down a guilty verdict. 
"I had a huge challenge in the Carona case," says Sun. He dealt with it by requesting an extended examination of the prospective jury pool. The judge granted both a detailed written jury questionnaire and attorney voir dire, which is typically limited in federal courts but was expanded in this case "to make sure the jurors weren't tainted," Sun says. "I spent an awful lot of time thinking about how I was going to select that jury. A lot of time."
"He and his team were relentless," says Kenneth Julian, the prosecutor in the case, now an attorney at Manatt, Phelps & Phillips. "A lot of defense counsels file frivolous or long-shot motions. These guys targeted the motions that were actually winnable, then went after them relentlessly. They filed probably a dozen motions in that case, and they were all very well-written and very well-argued."
They filed so many, Sun recalls with a laugh, that the judge commented, "The chalkboard in my chambers, which has everything pending on this case, looks like the Normandy battlefield." Despite such relentlessness, Julian echoes a sentiment felt by many of Sun's colleagues. 
"Brian is a consummate gentleman," he says. "He was a guy who you could make stipulations with, a guy you could reason with and try and work issues out with during trial. Brian and I had a very good relationship during that case. He was very steady in terms of dealing with opposing counsel. That's not always the case."
Sun lives in Sherman Oaks with his wife and 8-year-old daughter. Photos of his family line the shelves in his office, and he explains that his sometimes-manic schedule revolves around his commitment to being part of his daughter's life. "She is the reason why I will go to China and Japan on a Sunday and come back by Friday," he says. "So I can be home on the weekends."
At any given time, Sun is working on a dozen criminal and civil cases. Right now he has 14. "And that's just the more active cases," he says. 
He also spends time as one of the Committee of 100, a group of prominent Chinese-Americans, including cellist Yo-Yo Ma and Olympic figure skater Michelle Kwan, who work toward promoting Chinese-American advancement in the U.S., and encouraging strong diplomatic ties between the U.S. and China. 
As for the secret to his success? He says he's fortunate, but adds, "Doing the kinds of cases I do, you've got to make judgment calls, you've got to take some risks and think outside the box. You've got to be creative about strategy that might not be orthodox, and be willing to trust your instinct." 
"Fortunately," he continues with a chuckle, "most of the time I get it right." 
Search attorney feature articles