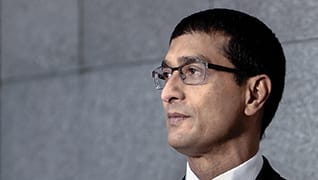 Photo by: Dustin Snipes
In for the Long Haul
When Amrit Kulkarni's not catching waves, he's helping build big things
Published in 2021 Southern California Super Lawyers magazine
By Joe Mullich on January 21, 2021
Whenever Amrit Kulkarni flies through Los Angeles International Airport, he takes a moment to reflect on what he calls his "small but meaningful part" in the airport's growth—successfully defending LAX's $13 billion expansion plan against four consolidated lawsuits a decade ago.
Kulkarni, chair of Meyers Nave's land use practice group, has many chances for such quiet moments. Quite a few California structures bear his fingerprints.
The NBA's Kings play in a glistening stadium in downtown Sacramento because of his work pushing the project through on a tight deadline in 2015 after a judge dismissed a claim that the city gave an illegal "secret subsidy" for the arena. And when the city of Riverside claimed that a major project in the port of Los Angeles would cause traffic jams 62 miles away, he successfully defended against that one, too.
From a major league baseball stadium in Anaheim, to a Frank Gehry-designed development on Sunset Boulevard, to a high-speed rail in Barstow, clients come to Kulkarni with big projects that make a significant environmental impact. He's an expert in navigating the Golden State's complex environmental laws—particularly the signature California Environmental Quality Act, more commonly known as CEQA. 
"A lot of law is about arguing over documents and dollars moving here and there," Kulkarni says. "That's important. But what's rewarding to me is being part of something tangible that you can see which has changed the landscape. I want to create things. I want to help get things done and built."
These large-scale projects require a lot of legal scaffolding because of how they impact different parts of a community. 
When Kulkarni's clients get attention, it's often because people are holding protest signs or sitting with arms folded at a government meeting.
In describing Kulkarni, Janna Sidley, general counsel of the Port of Los Angeles, says, "A good CEQA lawyer is someone with attention to detail, and who can handle the transactional side but is not afraid of the litigation. Most lawyers pick one, but CEQA requires the skill set in both. It also requires a talented writer who can tell the court and the public why they are doing this project at this time. People generally don't like change, so you need a visionary who can explain how this next step will benefit everyone.
"Kulkarni and his team spot issues and bring a sense of confidence. They are consistently aware of new rulings and cases. … Never once has he not been there when we needed him."
Finding common ground comes naturally to Kulkarni. His parents emigrated from India, settled in Virginia, and in 1976, when Kulkarni was 7, his dad got a job as a scientist at the Lawrence Livermore National Laboratory. Kulkarni remembers "a long cross-country trip in a broken-down car with no air conditioning in the dead of summer."
At UC Santa Cruz, his focus was the environmental studies program, and for his senior thesis he spent six months in India, where he studied how impoverished communities addressed shortages of services. "I was exposed to both cultures," he says. "It is important to defining how I approach things. In the legal world, you're always trying to navigate complex projects where there are often divergent points of view. Understanding where people are coming from helps you navigate those murky waters."
After graduating, he became an environmental consultant. He helped find suitable sites for development while handling regulatory permitting. But after two years on the job, he felt dissatisfied. Then an epiphany. "As I was working on one project, a Superfund site, I was astounded how many layers of legal stuff were required to make this thing happen," he says. "I realized if I wanted to play a part in effectuating these projects, I had to get on the legal side."
After graduating from the Northwestern School of Law at Lewis & Clark College in 1998, he first encountered CEQA while working for a small firm in Ventura County. The complex statute can seem like the Rosetta Stone to most people, but for Kulkarni it was love at first sight. "CEQA is legally complex and politically charged," he says. "It's like putting the pieces of a puzzle together to make your case. The fun is in the puzzle."
A year later, he joined Meyers Nave. At the time, the firm mostly handled traditional development involving residential and commercial properties; but during and after the 2008 global financial meltdown, the firm transitioned to large-scale projects with long-term horizons.
LAX was his first big client. Kulkarni was the lead attorney for the South Airfield Improvement Project, which was the first project implementation under the LAX Master Plan. Handling the legal details involved forecasting cargo and passenger traffic 15 years into the future, and determining how noise impact and air quality emissions are calculated. "This made me understand the interplay between law, science and other fields," Kulkarni says.
His clients include the Lawrence Berkeley National Laboratory, various cities, and multiple University of California school systems. "He is very collaborative and a team person," says David Skinner, managing principal of Meyers Nave. "He delegates a lot because he has to in cases of this size, complexity and long-term nature. He has built a high-performing team and they work as a team, and he has a big trust investment in them."
Kulkarni has already spent 10 years working on the BART expansion into Silicon Valley. He is representing the Santa Clara Valley Transportation Authority in lawsuits from parties that have issues with parking, tunnel size and other details.
"These projects often take a decade or more to implement," he says. "You have to work in tandem with your client—thinking about all the issues that can arise to help them achieve their objectives by creating a path that is as clean, straightforward and problem-free as possible."
Of course "problem-free" and large development projects in a state like California can be something of a contradiction.
"Development in California, especially large projects, has one of the most challenging and complex processes in the country," he acknowledges. "There are federal, state and local legal overlays. On top of that, California has a very robust process for vetting projects, and a very robust litigation process for people who don't agree with the outcome of the vetting process." 
Kulkarni describes his courtroom style as "methodical" and "step-by-step." He likes to present issues in a straightforward and clear way that simplifies complex issues. "Every major project has a story that needs to be told," he says. "And I try to tell that story through the legal lens."
He also tailors his presentation to the particular court. "Some judges are focused on the technical, factual and legal issues," he says. "Some judges are more focused on the implications of the decisions and the policy considerations. The job of the lawyer in that situation is to provide the right information based on the judge's focus and to address the judge's concerns."
Skinner has seen this firsthand. He recalls a bench trial with an aggressive opposing counsel. "Amrit not only has the ability to simplify legal issues for a court, but he also has the ability to engage with judges in a dialogue about complex legal issues and the nuances of the law," Skinner says. "In a major CEQA case challenging a major transit project, at trial Amrit simply stated, 'I feel the opposing counsel and I are speaking different languages because he can't appreciate the nuances.' The judge was nodding his head as he listened."
It's not all airports and stadiums. Kulkarni represented Lotus founder Mitch Kapor and his wife in a case in which they wanted to build their dream home on a steeply sloped and wooded lot in North Berkeley. Neighbors complained that the 6,478-square-foot house and its 3,394-square-foot garage were too large and seismically unsafe for the area. Typically, single-family houses were exempt from preparing environmental impact reports, and this case centered on exactly when such properties needed further review under CEQA.
After 10 years of litigation—five with Kulkarni on the case—it ended up in the California Supreme Court in 2015. "The judges asked a lot of tough questions, coming from every angle imaginable," Kulkarni says, but the court ruled in his client's favor. An opinion piece in the San Francisco Chronicle labeled the decision "a significant reform" in the state's signature environmental law, eliminating "detailed, time-consuming, often-redundant and expensive environmental and public review process for nonexempt projects."
Kulkarni says he doesn't particularly like to have op-eds written about his work, even if it's complimentary. "The projects I get involved with are meant to renew the economy, provide jobs and make things work better," he says. "The joy isn't in how much attention they get, but in whether you get them done. If you're doing a good job, where there are as few problems as possible, these projects should get less attention."
Given his practice area, it makes sense that much of Kulkarni's spare time is spent outdoors—backpacking, hiking, but especially surfing. When he first moved to California, Kulkarni got seasick bobbing up and down on the waves; then he quickly took to it. He has since traveled the world in search of waves.
"Surfing is a centering way to put aside the pressures of the legal profession, meditate and self-reflect," he says. "When you are bobbing up and down on the water in the late afternoon as the sun sets, waiting for a wave, it brings down your blood pressure and brings a peace and relaxation that counters the demands and hecticness of being a lawyer." Bonus: He's landed some clients conversing with fellow surfers waiting for that wave. "Surfing is a very social sport," he explains.
The mellow nature of the sport fits his personality. "I like to paint in broad strokes when it comes to surfing or dealing with my kids," he says. "I'm not into the hyper-technical details. I give my kids a lot of runway to figure things out. I don't like to micromanage. People have to arrive at a decision themselves to feel most comfortable with it."
"The law can beat you up and harden you, but I don't think it has changed who he is," Sidley says. "He's a real person."
And a voracious reader. A sci-fi buff, Kulkarni has lately been consuming biographies of past presidents to better understand our current times. "History is a guide for the future," he says. 
"We are an always-evolving country. When you look at the U.S. from a historical perspective, you realize how resilient we are as a country. Sometimes we take a few steps forward, sometimes we take a few steps back. Hopefully, the arc is always moving in the right direction."
Search attorney feature articles