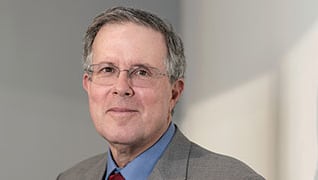 Interesting Times
Carl Shusterman brings a lifetime of immigration experience to the Trump era
Published in 2018 Southern California Super Lawyers magazine
By Jessica Ogilvie on January 30, 2018
It was the late 1970s, and Carl Shusterman, 28, was watching his boss walk up and down the hallway at the U.S. Immigration and Naturalization Service. He would stop at an attorney's office, ask a question, receive a shake of the head and move on to the next one. 
"I got really curious," says Shusterman. "So when he came back down the aisle, I asked, 'What are you proposing, if you don't mind?'" 
Shusterman's boss said he had received a call from a teacher who was trying to find an immigration attorney to speak to his adult education citizenship class. It was located in Boyle Heights. 
"East LA," says Shusterman. He realized other attorneys might be afraid of the gangs there. Shusterman, though, had grown up in the Pacoima area; he saw gang members every day in school. If there was one thing he knew, he says, it's that "gangs don't get any points for doing something bad to some tall, white, nerdy guy." He volunteered.  
The incident kicked off a years-long program in which Shusterman recruited other immigration attorneys to speak at adult education classes throughout LA County. 
The effort is emblematic of his commitment to helping people find their way through the often byzantine U.S. immigration system. What began in East LA expanded into lectures at various colleges—he spoke to hundreds of Chinese students after Tiananmen Square—and then on to YouTube. Shusterman offers tutorials on his website on topics ranging from how to apply for a green card to an explanation of temporary visas. He began uploading them in 1998; his 60 videos have over 1.7 million combined views.
"Lady Gaga is not losing any sleep," he says. "But for some boring lawyer to sit there and talk about the intricacies of immigration to get a million views is something." 
Sitting in his spacious office in downtown LA, Shusterman offers a bowl of candy. Framed photos of his family line a bookshelf. Outside, thousands of people need his help more than ever.
"I'm 68 years old," he says, "and I'm glad I lasted long enough because this presidency is going to be a real challenge for the immigrant community." 
Shusterman was born and raised in the largely Hispanic section of North Hollywood, just blocks from Sun Valley. His father worked for the federal government (and gave haircuts on the side), while his mother raised Shusterman and his brother. They went to public school and synagogue, and twice a week to the local library. A voracious reader, Shusterman would borrow the 10-book maximum, which he invariably finished before the next visit.
At Francis Polytechnic Senior High School, he became a part of the Knowledge Bowl team. In addition to competing with other schools, they once went up against their own teachers. After the contest, which the students won, Shusterman became something of a campus celebrity. It helped him learn a lesson that's stayed with him to this day. 
A friend from the football team complimented him on his Knowledge Bowl performance: "You really socked it to the teachers!"
"I thought this was kind of nerdy stuff," Shusterman says. "So I said, 'Well, it's not like being a football player.' And he looked at me, and he goes, 'Carl, don't ever put yourself down.'" 
"It was something he told me quickly," says Shusterman, "but it changed my life." The following year, he ran for senior boys vice president and won. 
After undergrad at UCLA, Shusterman stayed on for law school, planning to become a civil rights attorney. "When I was a 10th grader, they were having the Freedom Summer," says Shusterman. "There were all these lawyers bringing lawsuits against segregation laws. I wanted to be able to get those people out of jail, and bring those suits." 
But after getting his J.D., and working a few jobs, Shusterman found himself unemployed 2 ½ years later. Throughout school, he'd refused to take financial assistance from his parents, but he did take his father's advice. The elder Shusterman insisted on taking Shusterman with him to the federal building and having him drop off applications on every floor. 
On the eighth floor, where the U.S. Immigration and Naturalization Service office was located, Shusterman stopped. The idea of working in that practice area didn't thrill him. But he obliged his father. A few months later, the INS offered him the job. "I've been doing immigration ever since," he says. 
For the next six years, Shusterman worked for the government, developed a true appreciation of immigration law, and organized adult education classrooms. It imbued him with a level of know-how shared by few other attorneys in the field. 
"He has a really unique perspective from the government agency side," says Catherine L. Haight, founding member of Haight Law Group, an immigration firm. "His reputation really follows him."
At INS, Shusterman also met his wife Sonya, a Filipino immigrant. Later, when one of the largest immigration firms in the country, based in New York City, decided to expand to the West Coast in the early 1980s, Shusterman joined up. He immediately began pounding the pavement—reaching out to small ethnic newspapers and offering to write articles for them about immigration. That's how he met a young Filipino nurse whom he helped, and who went on to introduce him to a network of nurses from the Philippines living in California. Shusterman also began sending letters to factories that employed a high number of undocumented workers after the government started doing raids in 1982. By the end of that first year, he'd brought in over 100 new clients. The following year? He doubled that number. 
"They actually had to limit my salary," he says, "because I was going to make more than my boss." When that boss left the firm, Shusterman took over his leadership role. 
In the early 2000s, Shusterman arranged a meeting with then-Sen. Sam Brownback of Kansas. Brownback expressed his desire to allow more African refugees into the U.S., and at the same time, to provide medical care for medically underserved American communities. Shusterman told Brownback that under a measure introduced by Sen. Kent Conrad of North Dakota, the possibility existed to expand the number of waivers that states could hand out to foreign-born doctors. 
"He asked me to testify," says Shusterman. "I flew out to D.C. and testified before his committee on what we should do to change the immigration law to make it easier for these communities to get more doctors and nurses." 
After Shusterman helped draft legislation on the issue, it all came to an abrupt halt. The Senate flipped, so the bill never got past introduction, and the Department of Agriculture pulled their medical sponsorships following the 9/11 attacks. Yet for several months, Shusterman noticed short newspaper articles about Sen. Brownback and Sen. Conrad meeting one another. At the time, states were allowed to sponsor up to 20 doctors for medically underserved communities. "In March of 2002, they upped it to 30," Shusterman says. 
In 1989, Shusterman founded his own law office and has since expanded his team to include seven attorneys and more than a dozen paralegals. "By the standard of Baker McKenzie, we are a tiny little boutique," says Shusterman. "But immigration firms tend to mostly be sole practitioners." 
Another thing that sets Shusterman's firm apart: the breadth of his attorneys' areas of expertise within immigration law. Of the seven, one is employment-based, one is family-based, and several specialize in deportation issues. "When someone retains us, I immediately assign the case to a lawyer who specializes in that field so they get the best service," he says. 
Attorney Angeline Chen admired Shusterman before joining his team. "He's well-known," she says, "as having the willingness to fight for people." 
A recent fight in the Trump era didn't end well. Shusterman's client, Maria Sanchez, was an undocumented immigrant who entered the U.S. 23 years ago. She had since become a highly respected cancer nurse in Oakland with three U.S.-born children. One graduated from UC Santa Cruz with a near 4.0 average; another, a senior in high school, hoped to become a doctor. "You have the ideal family," Shusterman remembers telling her. 
But under the new immigration policy, she and her husband, Eusebio, faced an immediate deportation order. 
In August, Shusterman, hoping to delay or rescind the order, held a press conference about the woman's plight that was attended by television crews and newspapers. It was such a big deal, Shusterman says, that "by 3 o'clock, Dianne Feinstein was sitting in Maria's living room with us." 
And it was all for naught. An ICE agent denied a stay of deportation Shusterman had filed the previous week, so the next day Sanchez and husband were forced to book a flight to Mexico and prohibited from entering the U.S. for a decade. Shusterman feels it's indicative of the direction the country is going. "If they can deport her," he says, "some guy who picks tomatoes, he's gone. Just gone."
Shusterman continues to do what he can. Last year, with a fellow alumnus, he launched a scholarship program at his old high school that would help send a graduating senior to college. The scholarship, named after the school's former principal, raised over $10,000 in its first year. The inaugural recipient was a young Hispanic woman with excellent grades who penned an essay about the difficulties she faced—including several older brothers who had gotten in trouble with the law. 
"It's not going to change the world," Shusterman says. "But it might change her life."
---
Via Carl Shusterman, five organizations to which attorneys can volunteer their services to help immigrants:
Public Counsel – publiccounsel.org
Coalition for Humane Immigrant Rights of Los Angeles – chirla.org
Kids in Need of Defense (KIND) – supportkind.org
National Immigration Law Center (NILC) – nilc.org
MALDEF – maldef.org
Search attorney feature articles