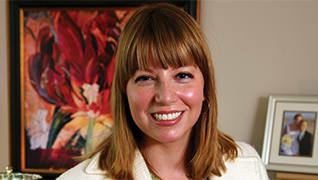 Photo by: Larry Marcus
Kid Stuff
Few lawyers do more to advocate for the rights of children than Andrea Heyn
Published in 2010 Southern California Rising Stars magazine
By Rose Nisker on June 9, 2010
Andrea Heyn has made a career out of advocating for children. She got started early. Even before she graduated from law school, she had co-authored an amicus brief regarding In re Nicholas H., a seminal case in the area of non-biological parental rights. "The overarching reason I'm in this area of law is because of my interest in what's best for kids, and how we as a society can use the legal system to protect and care for them," she says.
Today, she's doing just that at the Law Office of Michael L. Abrams. Her talent for dealing with bitter custody battles and complex division of property disputes is apparent. She was even tapped to work on the infamous Michael Jackson-Debbie Rowe parental scuffle, In re Marriage of Jackson, surrounding Rowe's desire to void an agreement she signed with Jackson that waived her parental rights. In 2006, an appeals court ruled in Rowe's favor to reinstate her parental rights.
"Why should those children end up with less parents rather than more?" she asks. "To me, the initial agreement wasn't about the children. It had more to do with the power play and financial issues among the adults."
Heyn stays productive, thanks in part to her large-but-not-endless capacity to deal with highly emotional clients. "Sometimes I do just need to put down the phone for a little bit."
She grew up in Diamond Bar, a small town near Pomona. Compared to the range of family situations she's seen in her work, Heyn describes her own childhood as pretty old-fashioned. "My mom was a homemaker, my dad worked, and my brother played soccer," she says. "My parents told me from an early age that as much as I liked to argue with them, I should find a profession that appreciates my talent."
Law seemed to beckon. Even though she pursued a major in English and a minor in French literature at Loyola Marymount University, her sights were set on law school. "I wasn't as interested in political science or economics for pre-law coursework," she says. "Actually, I just tried to figure out what was easy for me, and what could keep me awake."
During her second year of law school at Boalt, she took a family law course with legendary professor Herma Hill Kay, a veteran of the field who had been involved in the drafting of what is currently family code in California. Kay knew everything about the code and the reasoning behind each section. Heyn was hooked. She went on to take many more courses with professor Kay, and decided to devote her career to the practice area.
Heyn stays busy with the complexities of marriage dissolutions that erupt even without children. "I've dealt with pet custody battles or huge fights over a bedside table." It's not the War of the Roses per se, but Heyn says it can come pretty close. She's even seen couples get back together during the divorce process.
Heyn herself is married, and dated her future husband, a corporate bankruptcy attorney, for about seven years before tying the knot. "If there's anything that seems particularly important, it's getting both people to really understand each other's expectations going into a marriage." Heyn says that she and her husband made sure they did, and she adds with a smile—"plus, he knows he'd be in real trouble if we got divorced."
Search attorney feature articles