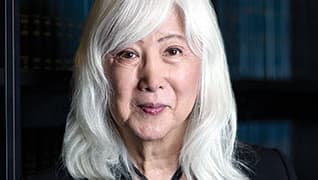 Photo by: Dustin Snipes
Kindred Spirits
Mia Yamamoto spent years working for social justice before finding it for herself
Published in 2016 Southern California Super Lawyers magazine
By Jessica Ogilvie on January 20, 2016
Mia Yamamoto recalls the exact moment in Vietnam in the 1960s when her survival instinct kicked in.
It wasn't when she volunteered for the draft in 1966, or when she was deployed in 1967, or even when she touched ground that same year; it was when the bullets started flying. "You start ducking," she says. "These guys are serious. Those were some serious bullets, man. I am not getting into this party."
Like most other young people who enlisted with the U.S. Army at that time, Yamamoto knew only so much about the war. "You've got to understand the mentality of a kid just getting out of school, thinking, 'Well, I've got to do my duty,'" she says. "I mean, these were kids—they were 18, 19 years old—who were still under some of the myths that we were doing this to defend America. … I was skeptical, but duty calls and you go—whether you agree with it or not."
Along with many of her comrades, she rapidly became disillusioned. But as the cause became less important to her, the people she fought beside became more so. "You would do anything for your buddies," she says. "You're in this beleaguered state along with them. I just really loved them. I wanted them to make it back. That became the most important thing in many ways: each other."
Now 72, Yamamoto has been a lawyer for 44 years and a criminal defense attorney for 41. In 2002, she was named one of the "100 Most Influential Lawyers in California" by the Daily Journal. The Century City Bar Association awarded her the honor of "Criminal Defense Attorney of the Year" in 2006. As one of the few openly transgender lawyers in the country, Yamamoto has fought to elevate the profile of transgender people working in the court system, and has been honored for that work by the city of West Hollywood and the American Bar Association.
In the courtroom she's told many stories while defending her clients; but few of those stories are more interesting than her own.
Yamamoto was born in an internment camp in Arizona in 1943, becoming one of hundreds of thousands of Japanese-Americans detained after the bombing of Pearl Harbor. Her father, a lawyer, was particularly outraged.
"My dad felt: They can't do this to us, can't put us in jail for our race," she says. "But of course he was wrong."
She doesn't remember any of it. Her family was released from the camp when Mia, then named Michael, was just 2 or 3 years old. The family, including her five siblings, briefly moved to Orange County before settling in East Los Angeles.
After they got out of the camp, Yamamoto's father briefly worked for the American Civil Liberties Union. He died when she was 13, but he left behind a strong impression. Yamamoto remembers, for instance, how his clients changed in his presence. They would walk into his office "looking very concerned, very worried," and 45 minutes later, "they would come out and they're happy all of a sudden," says Yamamoto. "Smiling, shaking my dad's hand. I think they realized that they had a fighting chance at whatever their situation was. I think that gave them heart."
East Los Angeles back then was primarily Asian and Latino. A friend's grandmother owned the Watkins Department Store in South Central Los Angeles. The store was across the street from a church, where a group of local men would hang out after services.
"It was the most fascinating introduction into an area I had never known anything about," says Yamamoto. "People would come by, and it would be a different array—undertakers, preachers, pimps, prostitutes, drug pushers—everyone seemed to know each other. I learned so much about things from these guys. I was limited to the Japanese-American community and its own beleaguered position after World War II."
It was during that time, says Yamamoto, that she realized the inequities facing not just her own community but all communities of color.
"That was the cultural education that opened my eyes," she says. "It was impossible not to see how people treated African-Americans. It was appalling. I mean, people would absolutely look at them with disdain as they were walking down the street. The police would do that, too. It became vividly apparent to me, because they did it to me, too."
As she dealt with that reality, Yamamoto was also going through an internal struggle. From a very young age—she places it at about 5 years old—she knew that she wasn't like other boys. She wanted to wear dresses and put ribbons in her hair. She was more drawn to playing with the girls.
She also knew these activities were hugely dangerous.
"Every expression of femininity from a boy can be suppressed brutally," she says. "The most classic response of school, church, family is, 'Let's man this one up a little bit. Let's teach him how to box, how to fight.' That was actually kind of useful, because if you're a feminine boy out there, jeez, you better know how to fight."
And so she acclimated. More accurately, "I learned how to mimic my brothers," she says. One was in a gang, the others were into football and street fighting. Yamamoto suppressed her own gender expression throughout Catholic high school and the military. She tried to forget it entirely.
After serving in Vietnam, Yamamoto wound up on the UCLA campus, where students of color, women and LGBT students formed advocacy groups. Yamamoto, in turn, launched the Asian Pacific Islander Law Student Association in her second year. "I wanted to be a part of this movement for racial equality, social equality, justice," she says.
Her work with the group, which included marching on the dean's office to demand more Asian-American professors and slots for students, crystallized what she saw as her life's work.
"I always knew I would represent poor people, people who haven't been given a fair shake," she says. "My whole life, I witnessed the disparity between rich and poor. It's one thing to not have any money; it's another thing to have to take the kind of abuse that poor people take.
"All kinds of issues, in terms of survival, are absolutely exacerbated by poverty," she adds. "When nobody's got any money, they have no one to turn to. Sooner or later, you feel like you have no place in society. You become an outlaw."
Yamamoto's first job after law school was as a poverty lawyer for the Legal Aid Foundation of Los Angeles. She went on to work as a public defender for Los Angeles County and the state of California. In 1984, she opened her own practice.
Yamamoto's work in the community came to a head in March 1991. A Korean shopkeeper, Soon Ja Du, 51, believed that a 15-year-old African-American girl, Latasha Harlins, was stealing a bottle of orange juice from her store. Their verbal altercation turned physical, and as Harlins was leaving Empire Liquor, security footage captured Du pulling a gun from behind the register and fatally shooting the teenager in the back of the head.
Yamamoto remembers how the incident inflamed the tension between the Korean and African-American communities. "The black community was blaming the Korean community for not just this incident," she says, "but [for] coming into the community and exploiting it economically but not giving anything back."
In response, Yamamoto and her colleagues created the Multicultural Bar Alliance. The organization included representatives from Asian-American and Mexican law groups, as well as the Women's Bar Association. They met together to strategize, then went into the community to speak to churches and community organizations.
"We [wanted] to try to diffuse some of the tension that was palpable at the time," she says. "We felt the best way was to go out and talk to people, to see if we could create some dialogue and show them we are not against each other."
"She's always been in the forefront of wanting to achieve social justice whenever there are issues that require our attention," says Diane M. L. Tan, a retired administrative law judge who worked closely with Yamamoto in the 1990s before the civil unrest and continues to collaborate with her. "She is very dedicated to helping the underdog—people who need representation but cannot afford it, people that are underrepresented and disadvantaged."
Yamamoto still doesn't know how effective their 1991 efforts were. Just 13 days prior to Harlins' death, the videotape of Rodney King being beaten by cops hit the airwaves. The next year, following the acquittal of the four officers, riots broke out. "Two different media videos in a row showing black people being killed and beaten," says Yamamoto. "The community just couldn't take it."
Nevertheless, she learned one of the most valuable lessons of her career. "When you lose something, it's important to look around and see who your allies are and who handled it well; see who rallied for this cause even though it's a losing cause. Who are the people who are still around afterwards?"
During her time as a solo practitioner, Yamamoto developed a reputation for both strength and kindness. In 2008, she mentored law student Marsha Teasley while defending a client against a capital murder charge. "The compassion that Mia showed to the family, the camaraderie that she had even with opposing counsel, while still fighting fiercely for her client, was such an inspiration to me," says Teasley. "I learned that it wasn't just the individual but a whole societal issue that needs to be addressed."
Teasley, a retired nurse, had planned to go into health care law. "Criminal defense was the furthest from my mind," says Teasley. "But Mia helped me see that some of the most oppressed people are prisoners, the accused. It really opened my eyes. It changed my life."
It wasn't until later that Yamamoto changed her own.
For six decades, Yamamoto had been dressing in clothes that didn't feel right, going by a name that seemed to belong to someone else, and adhering to forced gender expressions.
Over the years, she had dabbled in the West Hollywood scene, in drag clubs and cross-dressing, and had seen transgender people die for nothing more than appearing as their true selves on the street. "Even out there in Hollywood, there were places where people would attack and kill my friends," she says. "I was in transgender therapy groups, and I kept seeing people getting murdered out there in the streets."
Coming out publicly, she adds, "seemed like a good way to get killed."
But it soon became impossible to stifle her authentic self. In 2003, at 60 years old, Yamamoto finally made the decision to transition to female.
"I was told I would lose friends, family, cases, my practice, community organizations, everything," she says. "All I could think of was: 'Fine. … If that's the price you've got to pay for being yourself, I'll pay it.'"
At the hospital in Thailand where she underwent surgery, Yamamoto discovered that her experience as a transgender child was nearly universal. People in the recovery clinic from all over the world had one primary thing in common: how they felt growing up. "Even people who didn't speak the same language," she says, "had almost the exact same story as me."
Yamamoto's family reacted relatively well to her transition; most accept it now, and her younger relatives embrace the change.
The legal community was just as receptive. Around the time Yamamoto decided to transition, she was contacted by a reporter from the Daily Journal, who wanted to write a standard profile of Yamamoto. "I said, 'I got this one issue that might overwhelm your profile,'" says Yamamoto. The paper ran with it, and the ensuing cover story was Yamamoto's coming out. The response, she says, was overwhelming.
"When I went to court after the Daily Journal," she says, "people would be lined up to give me a hug and a kiss and to congratulate me," she says. "Guys were like, 'I got your back, homie!' Women were like, 'Welcome to the club!' Judges would actually come off the bench in their black robes to give me a hug and a kiss. I was moved to tears … I really had a lot more friends and supporters than I ever thought possible."
"Mia is an amazing and inspirational leader," says Jon W. Davidson, national legal director of Lambda Legal. "She has been an outspoken advocate for transgender rights, bravely sharing her experience as an out transgender woman of Japanese-American descent. She is a hero to many people, including me."
Yamamoto, who married her longtime partner this summer, continues her pro bono work defending protesters, activists, and those willing to risk everything in the name of justice. She calls them kindred spirits.
Search attorney feature articles