Leap of Faith
Sharon Blanchet waited 22 years to get her law degree, then made the most of it
Published in 2019 San Diego Super Lawyers magazine on April 5, 2019
Updated on October 2, 2019
When Sharon Blanchet graduated from high school in 1964, she took a job on Third Avenue in downtown San Diego. She thought it was supposed to involve clerical work. "Turned out it was selling encyclopedias," she says. "Most people don't even know what encyclopedias are now, but they used to be sold door to door."
She quit after a few days, but there is a happy ending to the story. 
"That building on Third Avenue where I had my first job? We bought that building in May of 2005," says Blanchet, a family law attorney at Ashworth Blanchet Christenson. "I can assure you: At 18, that was nowhere in my consciousness."
Blanchet was born in Lafayette, Louisiana; after brief stints in India and Germany, her family settled in San Diego in 1959. Opportunities for women were limited. 
"In Catholic high school," she says, "we were told about being nurses or teachers, or marrying lawyers. It was not talked about how we could become lawyers."
Her road to the law was long. After the encyclopedia-selling debacle, she worked briefly folding diapers at Babyland Diaper Service, then got married and had two kids. She returned to the workforce in 1969 with the County of San Diego, and eventually became a court clerk. 
"The second judge I worked for was Judge [Earl Ben] Gilliam," she says. "He became our first African-American federal judge in San Diego, but this was when he was in Superior Court. He was the one that first started talking to me about going to law school. He was on the board of a local law school, Western State, and he took me over to see the campus, which was across the street from the then-courthouse. That was in 1979. Eventually, I quit work and went to law school at age 37.
"I loved my job in the court system," she adds. "I was very happy there. It wasn't that I was unhappy at all. But [law school] just fit. It was the next step."
She wound up taking more steps than most. "What I had to do is, after the first year of law school—because I didn't have college—I had to take what's called the baby bar. Regularly, you would take the bar after law school and it's a three-day exam. The baby bar is a one-day exam on civil, criminal and contract law. If you didn't pass it, then you couldn't go on to your second year in law school."
The baby bar wasn't exactly a gimme, either. At the time, she remembers, the pass rate was around 18 percent. But she passed, became president of her law school class and graduated in '86.
Along the way, says Blanchet, she found support and encouragement from other women—lawyers and judges—who had blazed the trail, and who had established an organization, the Lawyers Club of San Diego, that provided support and community. "They would share with me the stories about how difficult it was for them getting jobs when they were getting out of law school in the '70s," she says.
In 1987, she started a family law firm. One of the judges she clerked for was the domestic law and motion presiding judge, so she knew her way around the field. Plus she's been divorced herself, as have her parents. "You know, when you do family law, it's helpful if you understand human emotions and connections. I can't sing, I can't draw, but I think I have a good sense of the human condition, and that helps with my clients," she says. 
Blanchet's daughter is now a business owner while her son works at Morgan Stanley; both live near her. "Grandchildren are just the best," she says. 
Blanchet, who recently joined the board of the San Diego Humane Society, frequently shares her personal story with female clients looking at a significant change in their lives. "I tell them, 'It's never too late to go to school. Time will go by anyway, so you might as well be focused on achieving something at the end of a certain period of time, like going to school. It's a leap of faith; just do it.'" 
Other Featured Articles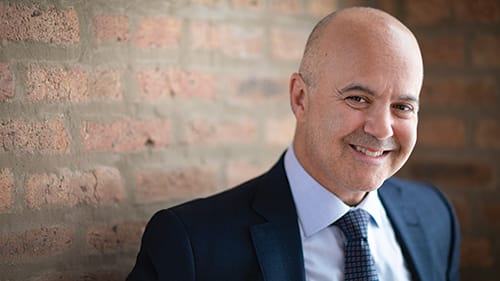 Courtroom Drama
Richard Hanus' deportation case went from the courtroom to the stage to the screen Featuring Richard Hanus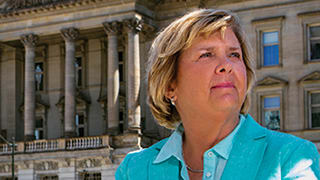 From the Ground Up
Kathleen Bogas has been part of employment discrimination cases since the foundation of the law Featuring Kathleen L. Bogas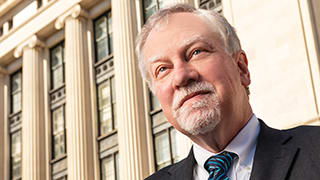 Choosing to Be Happy
How Steve Emmert found his niche Featuring L. Steven Emmert