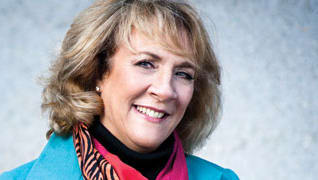 Photo by: Dustin Snipes
Most Likely to Succeed
How family law lawyer Judith Forman went from 'highly educated Mom' to knocking out Muhammad Ali
Published in 2012 Southern California Super Lawyers magazine
By Gillian Van Cooney on January 23, 2012
A cream-colored voodoo doll, a gag gift from her daughter more than 20 years ago, sits on a round table opposite a large desk in the West Los Angeles family law office of Judith R. Forman. "Some [clients] poke it two or three times with a pin," Forman says. "Sometimes they'll ask if they can add to it."
The doll has writing all over it—excessive weight gain, dandruff, herpes—ailments that past clients have wished upon their estranged spouses. Forman, chuckling at these add-ons, isn't interested in fanning the flames so much as providing a safe release for long-buried frustrations.
"These people are just melting; they're pouring their hearts out," Forman says. "I know I can listen and respond in an empathetic way. And I do think that makes a difference."
"A lot of litigators are full of bluster and start yelling when things aren't going their way," says Terry Steen, an associate at the Law Offices of Judith R. Forman. "Forman is tenacious and a skilled litigator but she is fairly soft-spoken. She remains charming and calm."
"Say you have a client," says Forman, "who is saying to himself, 'I want the biggest asshole lawyer in Los Angeles [to be my lawyer].' They're not going to come to me. That's not the reputation that I have. And that's not to say that I don't have the reputation of being tough or strong-minded, because I do have that reputation."
That's embodied in a note Forman received from an opposing client in 1986, which is now framed and hanging in her office. It reads: "You are the greatest lawyer of all times. I hope never to see you again. Muhammad Ali."
Forman became a lawyer, in part, because of a twice-repeated insult.
She was raised in Philadelphia in the 1950s by Russian-Jewish parents. Her father was a doctor, her mother a housewife. Women in Forman's time often married out of high school but Forman graduated first in her class and was voted most likely to succeed. "There was no question I wouldn't go to college," she says. "[But] you know what I thought I was going to do? I thought I would be a very highly educated mom."
She seemed headed in that direction. Given a full ride to the University of Pennsylvania, she spent the summer before junior year studying French at the Sorbonne. After college, she married a man she had met on a blind date before college, and they had two children. Then she earned a master's degree in Russian literature.
But she felt she could do more. "I bounced around," she says. "I thought, 'What am I going to do with my life?'"
For a couple of years, she was a substitute teacher. With a friend she started an art-and-photo framing business called The Frame Dames. "We made no money," Forman says, "and failed miserably after six months."
Then she began stringing for a local newspaper, The Springfield Sun, covering community meetings—school board, parks and recreation—in the evening hours when her husband could be at home with the kids. She wrote features and editorials, and in 1971 was voted Most Promising Young Journalist of the Year by the Pennsylvania Women's Press Association and traveled to the convention in Harrisburg to receive her award. "It was quite a thing," she says. "A ballroom full of women, some in big hats: women journalists, editors and publishers."
The one man in the room was the keynote speaker, the managing editor of The Philadelphia Inquirer, who, during his speech, talked about why there weren't any women at the top of journalism. He said it was because there weren't any qualified women in journalism.
"Everyone in the room was horrified," Forman remembers. "I was all of 28, 29 years old, and I went crazy. The women's movement was really beginning to take off, and I was beside myself when he said that. I wrote him a scathing letter, as you can only do when you're in your 20s, and included some of my pieces. And I got a call from his office, saying he wanted to see me."
After a discussion, in place of a mea culpa, he offered her a job. "Of course you understand you'll be starting out on the graveyard shift," he said.
Forman said she couldn't do that; she had two small children at home.
The managing editor looked at her. "That's the trouble with you women," he finally said. "You're always asking for special treatment."
It was a fool me twice moment for Forman, who closed her portfolio, said thank you very much, and left.
She then asked The Springfield Sun for three things: more money, bigger stories—such as the women's movement—and a regular job rather than stringer work. They offered her one of the three: a 10-cent raise.
"So I applied to law school," she says. "If I couldn't write about [the women's movement], I wanted to be in a position where I could make a difference."
After graduating from Villanova University School of Law in 1975, she began her career working for the U.S. Department of Housing and Urban Development, first in Pennsylvania and later in Los Angeles. Working for the government meant regular hours, and no nights or weekends, so she knew she'd be home for her kids at the same time every day. "It was kind of interesting, kind of boring, but it introduced me to litigation," she says. From a distance anyway. She did the legwork, then watched other lawyers in the Justice Department—men—present the cases in the courtroom. She wanted to present the cases in the courtroom.
A year after moving to LA, in 1979, an opportunity to do just that presented itself. A friend of Forman's, running a small commercial litigation firm in Beverly Hills, encouraged her to open her own firm, saying he'd pay her $30 an hour for 30 hours a month of overflow work to help her get by. That was all the push she needed.  She rented an office on Wilshire for $450 a month and the Law Offices of Judith R. Forman was born.
She knew it was a risk but thought: "I can eat. I can pay my rent. I can pay for the office. I'll see what happens."
What happened was she started getting work. "A lot of work," she says. "I had an advantage because I wasn't 22. I had been through a divorce. I'd been a single mom, a working mom. I had a maturity that is different than just getting out of law school."
She was also a woman. That helped. After all this time, it finally helped.
In the early 1980s, she says, a lot of women going through divorce felt male lawyers weren't really listening to them, so they sought out Forman. Her reputation spread quickly. At one point, she had so many referrals that a friend joked how her phone number must be written on the women's bathroom stall at the country club.
"After a while," Forman says, "the men started coming to me, too."
"She was part of the first generation of women family law lawyers that was really respected," says Judy Bogen, a family law attorney who has known Forman for more than 25 years and has opposed her in more than a half a dozen cases. "But she was it. She actually captured the respect of male lawyers. I'd watch her in court and think, 'This is the kind of woman lawyer I want to be.'"
Forman's clientele, in a word, rocks. She has advocated for principal members of Earth, Wind & Fire; the Eagles; Metallica and Guns N' Roses. She's repped Kenny "Babyface" Edmonds, LeAnn Rimes and Tony Bennett. She has repped athletes and various big wigs in the professional and entertainment industries. She's seen a lot.
There was the Orthodox Jewish doctor, a pillar of the community, who grew pot in his backyard and had affairs with several of his patients; she repped his wife. There was the woman who chased her husband, another pillar of another community and the father of her three children, around the house with a butcher knife when she found out he had had another baby with another woman; she repped the wife.
"Sometimes I'll think, 'I've seen it all,'" she says. "Then someone else will come in and I think, 'I haven't seen it all.'"
Just as often, she has been taken aback, not by new scenarios, but by old attitudes.
During the recess of a trial in 2010, for example, the courtroom was empty save for Forman, the opposing counsel and the presiding judge—both men. "We were just having a casual conversation. Nothing formal, nothing on the record, nobody else around," she says.
The judge complimented both lawyers on their advocacy. "You're really in there," said the judge to the male lawyer. Then he turned to Forman. "And you're just much more shrill," he said.
Shrill.
"Maybe he didn't realize what he was saying, but I just about fell over," she says. "Because if there's one thing I'm not, it's shrill.
"You would never, ever call a man shrill. He could have said, 'You're more forceful, more aggressive, more unrelenting.' Give me something—something you would say to a man."
All of which is reminiscent of a framed New Yorker cartoon on the wall in Forman's office. A balding, heavyset man is talking to a younger, suit-clad woman. The caption reads: "So you went to law school and now you want to practice law. I think that's cute."
It's a reminder.
For all that, Forman remains positve.
"You can come through it," she says of the life-changing struggle her clients face. "It's not that you come through unscathed—because it does change you—but you can survive. You can rebuild your life and be happy again."
A sculpture stands in the corner of her office. Brightly colored circles—red, blue, yellow and purple—are assembled in such a way that the sculpture resembles a face, which it is. It's called "Firestorm Face," one of the sculptures from artist Arlene Waxman's Remnants of the '93 Firestorm series. Nearly 20 years ago, Waxman combed the hillside looking for objects that had been damaged by the heat and flames in the Old Topanga fire. From the film reels, bicycle wheels, dish racks and basketball hoops she found, she created this sculpture.
"It shows you," Forman says, "that from something that was a disaster and a tragedy, you can get bright, vibrant things."
Search attorney feature articles