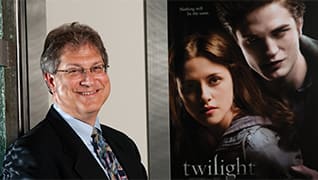 Photo by: Raffi Alexander
Team David
David C. Friedman helps Summit Entertainment release the Twilight series and more
Published in Corporate Counsel Edition - November 2010 magazine
By Amy White on October 8, 2010
Oh, to have been a fly on the wall at Paramount Studios in November 2008, when a little flick called Twilight hit the silver screen. Not even the legions of screaming adolescent girls and TwiMoms could muffle the reverberating cha-ching of box-office cash registers across the nation—and not a dime of it went to Paramount.
Grossing $7 million in midnight tickets sales alone on opening night, the film, released by Summit Entertainment and costing $37 million to make, raked in $35.7 million on its first day. It went on to own the weekend—$69.6 million—and before it disappeared from theaters and hit DVD (selling 3 million copies on the first day), Twilight hauled in more than $390 million worldwide.
Paramount owned the rights to Twilight, the teenage vampire/werewolf movie based on author Stephenie Meyer's book of the same name, but after a few years, "The option lapsed," explains David C. Friedman, executive vice president and general counsel at Summit Entertainment, "and they decided to not go forward with the process," which put the property up for the taking.
So Summit cast its line and reeled in what would become one of Hollywood's biggest fish. "Of course, we didn't know that would happen at the time," Friedman says.
To say the Twilight property is a pop-culture phenomenon would be putting it lightly. The vehicle's leads, Kristen Stewart, Robert Pattinson and Taylor Lautner, have been launched into a new stratosphere of stardom. Fan-fiction sites clog the Net with enough content to rival Meyer's tomes. And official merchandise for the franchise flies off the racks at major retailers, from Walmart to Nordstrom. But when Summit got in the mix, "We didn't know exactly what to expect," says Friedman. "When we first acquired the project, it was a popular book series, and there are plenty [of those] that do well but don't become hits."
But in the summer of 2008, Friedman and crew went to Comic-Con in San Diego. "We had an idea that it would be more than this little film when we took the cast to Comic-Con and had 6,000 people come to our event. … Some people slept out to be there," says Friedman. "We saw [Twilight] was a very popular property among female teenagers and older women as well, with this whole TwiMom thing."
By acquiring Twilight, Summit has the rights to the entire franchise, which includes five films based on four books (the last film, Breaking Dawn, will be released in two parts). The other two released films, New Moon and Eclipse, have enjoyed even greater success at the box office.
Fans of the franchise are firmly in one camp or another—Twilight T-shirts proclaim affiliation with either the movie's vampire or werewolf population. But for Friedman, there is no Team Paramount or Team Summit. Before arriving at the latter, he had a healthy career at Paramount that spanned 11 and a half years, in which he served as executive vice president, corporate transactions and deputy general counsel.
It wasn't all studios all the time, though. Friedman, who hails from Long Beach Island, Calif., and attended UCLA for his undergraduate work, started thinking about law his junior year. "Even then I wasn't completely sure, as I applied to both law schools and business schools." Law school won out, and he attended University of California, Berkeley.
Prior to his stint at Paramount, Friedman worked in private practice at a small specialty firm then called Sinclair Tenenbaum Olesiuk & Emanuel, where his practice focused on representing producers. Before that, he worked at Nelson Entertainment, a small, independent production and distribution company.
"I started doing a lot of film financing work, and was hired as a No. 2 person," he says of his time at Paramount. "I worked on a wide variety of film financing transactions, working with counsel in Europe." The transactions dealt with anything from a single picture or pictures that were co-financed with another studio or with an independent production company. He also worked on acquiring foreign rights.
His legal team at Paramount was 75 lawyers strong, and the company itself was deep with reputation and financial support. "When I went to Summit in April 2007, they had just started on a whole new production and distribution business, so at the time, they weren't doing a lot of production on their own." Because of that, Friedman found one lawyer working on production-related activities. "It was an interesting change," he says with a laugh.
Described in an article in The New York Times as the "little engine that could," Summit had some false starts in its pre-Twilight world with lesser-known films like P2 and Penelope. "This was really just the beginning," Friedman says. "We weren't particularly concerned with getting right out of the gates. These films may not have done well at the box office, but we were able to distribute them and get them into theaters. We were learning things along the way. Not all films work. If you can get half of them—even a third—to work, you're doing well."
Before landing Twilight, Friedman and his staff, which has increased to 14 to keep up with the company's growth, were busy drawing up their business plan, which involves releasing 10 to 12 films a year, and creating five or six in-house. "That's a lot of work," Friedman says. "Contracts alone—there are hundreds, especially as you go from developing to producing to marketing. A lot of things have to happen. Twilight really gave us breathing room to execute that business plan. Having a huge blockbuster is great for morale for Summit. It allows us to do what the larger studios can do. That's very satisfying."
Although Friedman is the go-to for all things legal at Summit, he doesn't negotiate with talent. "Our business affairs department is separate from our legal department," he says. When news broke that Breaking Dawn would be released into two films, the business affairs department went to work, not Friedman. "Everything was worked out," he says. "We didn't know we'd be making two films, so we had to go back to the talent … it wasn't particularly unusual."
Surprisingly, working with such a juggernaut of a franchise, Friedman says there haven't been many glitches. "The one issue you have, and it's not unique to Twilight, is when you're dealing with a book series, you have to make sure you're on the same page as the author," he says. "It's the same issue with J.K. Rowling [and the Harry Potter films]. We continue to have Stephenie Meyer on board. And we've been very fortunate. There haven't been major issues. There have been little things, like scheduling conflicts [with actors.] … As our talent becomes more popular, there is a greater demand for appearances. The biggest problem is people trying to rip us off."
Friedman doesn't get in the courtroom much on behalf of Summit, but he and his team do have to patrol the trademark. "We have the good fortune of being able to merchandise the film, which doesn't happen all the time," he says. "So far we have over 100 licenses for different products, like T-shirts, makeup, that sort of thing. But bizarre unlicensed stuff, like adult-toys, gets out there."
A cease-and-desist is the typical response; taking court action is a last resort. "You can't control piracy," he says. "We employ a few different firms to get stuff down off the Internet, and we have people searching Craigslist and eBay. But we also realize we have a very avid fan base, and we're very aware of fan sites and fan fiction. Some are actually very creative. We try to let the fans do what they want to do."
In addition to enforcing IP rights, Friedman's day can be filled with anything from approving and signing agreements, check requests and legal bills; addressing international deals; attending standing meetings; and consulting on particular issues involving agreements.
"The largest number of people in my group deals with production and development matters, while another group deals with international contracts, and a third subset deals with marketing matters," he says. "That leaves me—along with a couple of other attorneys—to deal with litigation and copyright/trademark matters; acquisitions; theatrical, home entertainment and television distribution deals; credit facility and financing matters; corporate transactions and miscellaneous matters that arise."
The little engine that could is could-ing all over Hollywood. In 2009, it released Knowing, a Nic Cage sci-fi film that hit No. 1 at the box office. In 2010, not only did Eclipse boast phenomenal returns, Summit scored its first Oscar when Kathryn Bigelow accepted the Best Director award for The Hurt Locker. "Oh, that's a great film," Friedman says. "We didn't make it, we acquired that and gave full credit to the filmmakers, but it's not a teenage vampire movie. It shows we can release other films."
Summit also put out Letters to Juliet, a romance with Amanda Seyfried and Vanessa Redgrave that did well. "Not every film is for every person," he says. "We're not expecting to get Academy Award nominations with every film we release. We just want to make films people appreciate."
Friedman balks at the label "low-profile," but does admit that Summit is anything but large. "We've got about 165 employees, which is very small even for a major independent studio," he says. "We like to characterize ourselves as 'the studio for the new millennium.' We don't have a lot of overhead. We've got really good people who work really hard to do their thing. We're not in the big business conglomerate. We're just trying to make our movies." He pauses. "The future looks good from where I'm sitting."
So only one question remains, really: Team Edward or Team Jacob?
"Oh," he says, laughing. "I couldn't possibly commit."
Search attorney feature articles
Helpful links
Other featured articles
Three Vegas attorneys on bringing women into gaming law
Cincinnati litigator Carolyn Taggart takes the sting out of facts that might trip up a jury
Walking through his favorite Buffalo haunts
View more articles featuring lawyers
Find top lawyers with confidence
The Super Lawyers patented selection process is peer influenced and research driven, selecting the top 5% of attorneys to the Super Lawyers lists each year. We know lawyers and make it easy to connect with them.
Find a lawyer near you