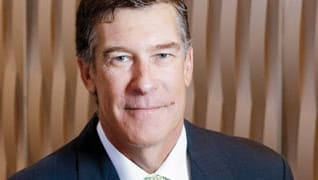 Photo by: Gregory Cowley
The Change Agent
Josh Floum helped Visa unify its business and continues to guide the company as currency evolves
Published in Super Lawyers Business Edition 2012 magazine
By Larry Rosen on August 15, 2012
"It wasn't something I planned for," says Josh Floum, general counsel of Visa Inc., looking and sounding at ease in a 29th-floor conference room at Visa's San Francisco headquarters.
He isn't talking about an antitrust lawsuit, nor the emergence of rival credit-card company China Union Pay. He is talking about his job.
In 2003, Floum was chair of the California litigation practice for Holme, Roberts & Owen (now merged with Bryan Cave), and had spent his entire two-decade career working for law firms. He was a litigator, perhaps best known for his high-profile pro bono work for the Earth Island Institute that had changed the world of tuna fishing.
Then he got a call from Visa U.S.A.'s then-general counsel Paul Allen. "I'd been doing work for Visa as an outside attorney for 25 years, usually litigation matters in the antitrust and intellectual property areas," Floum says. "I thought he was calling to give me more work." He was not. Allen was retiring. He was looking for his replacement. "[The call] was very different from what I anticipated," says Floum.
Floum had never worked in a corporate setting. "I'm not the type of person you want," Floum told Allen.
But in fact, he was exactly the type of person Visa wanted. To begin with, the company was facing a number of antitrust issues. Ariela St. Pierre, head of global governance and corporate secretary at Visa, says Floum's background made him the ideal candidate for the job. "Josh was a successful antitrust and business litigator," he says. "He could speak in a very informed way about the legal risks the company faced."
But there was more to it. Floum's background would serve Visa well in its ongoing legal challenges—the price of doing business as a leader in its field—but the company was looking for something more. It was looking for change. Floum, described by his longtime friend Robert Stolebarger as "absolutely a guy who embraces change," was whom it needed.
Prior to January 2004, Visa U.S.A. Inc. operated—very successfully—within the boundaries of a few steadfast parameters: It was a privately held company, with a 50-year-old business model that involved managing a massive machine built of countless moving parts, including an association of banks that functioned as partners. Despite its continuing success with this model, Floum, and others, felt the corporation needed to evolve—or it would die.
The new goals, Floum recalls, were very specific, requiring two big changes. First, Visa had to transform itself from a bank association into a public company. Second, it needed to change from a group of regional companies to a single global entity. To do both, Floum says, was "a lot of change all at once." The challenges would be enormous.
But Floum was eager to take them on. "I like challenges," he says. "I'm not shy about pushing for change when it seems appropriate."
Floum comes from a family of lawyers. His father, Richard H. Floum, was the lead trial lawyer for Dern, Mason & Floum in Century City, Calif., before his passing in 1996; his clients included the Jackson 5. Floum's brother, Alex, is a civil litigator with The Williams Firm in Walnut Creek, Calif., and Floum's wife, Margaret O'Donnell Floum, is also a lawyer, who in the past has worked with her husband on at least one pro bono immigration case. Floum says "It's too early [to tell]" if his two children (daughter Jessica is an undergraduate at Northwestern University and son Jackson is in high school) will follow their parents into the family business.
As a young boy, Floum often accompanied his father to court where he sat, rapt, while the elder Floum worked. "[My father] loved [the law] so much, had so much passion for it," Floum remembers. Inspired by his father, young Floum saw law as "a good way to do well and do good at the same time."
"Initially," he says, "I saw life as an attorney as being in the public policy civil rights area."
Floum's father also instilled in his son a love for the ocean. Family vacations were almost always beachside. On occasion, the Floums would spot a dolphin knifing through the water offshore. "It was almost a religious experience," he says. "When the opportunity to do something for dolphins came along, I knew that was something I wanted to do."
That opportunity came in 1986 while Floum was working at Heller, Ehrman, White & McAullife, in San Francisco. He became involved with the firm's pro bono practice, taking on a number of political asylum, civil rights and poverty law cases before joining the nonprofit Earth Island Institute in its efforts to sue the U.S. Department of State, the U.S. Department of Commerce and the National Marine Fisheries Service over its failure to follow laws protecting dolphins. Floum, who describes himself as an environmentalist, sunk his teeth into the case and didn't let go, then continued his association with the Institute for several years, working on a series of cases, long after he left Heller Ehrman first for Legal Strategies Group and then for Holme, Roberts and Owen. In advocating for the Earth Island Institute, Floum took on the governments of several countries, including the United States.
In one case, Earth Island Institute wanted change regarding the "dolphin-safe" label. Originally developed in 1990 by a number of organizations (including the Earth Island Institute), the "dolphin-safe" label was applied to tuna caught without chasing and netting dolphins. In 1999, then-U.S. Commerce Secretary William Daley weakened the legislation, ruling that the "dolphin-safe" label applied as long as no one actually observed dolphins being "seriously injured." One year later, Floum convinced U.S. District Court Judge Thelton Henderson to re-revise the law.
"[The case] really drew him in," says David Phillips, director of the Earth Island Institute, of Floum. In short order, Floum became a champion for the organization's cause. He was the lead attorney on a case that ended with victory at federal appellate court in front of Henderson.
"When you see that 'dolphin-safe' label," says Floum's former partner Stolebarger, "that's the result of the case he won."
"It was a resounding victory," Phillips adds. "When we started, some 6 million dolphins had been drowned in tuna nets, and several hundred thousand each year were drowned in U.S. nets alone. After the lawsuits, the U.S. fleet stopped setting nets on dolphins entirely." Floum's work with the Institute ultimately reduced the number of dolphin deaths caused by tuna fishing by 98 percent. 
When he signed on at Visa U.S.A. in 2004, Floum says, he made it clear that while his availability for Earth Island might shrink, his commitment to its cause would not. He is a member of the nonprofit's board of directors, and offers litigation and strategic advice. Every year, when the environmental organization holds its annual Brower Youth Awards banquet, Floum shows up with a handful of young Visa lawyers.
His transition to Visa has meant giving up a few things. "[Litigation] was something I personally did," Floum says. "Now I've got teams of people to do that, but I don't do it myself. We're in a case right now in Ottawa brought by the Canadian competition commissions against Visa and MasterCard. We have rules to protect consumers against surcharging. The commission takes the view that surcharging customers is a good thing, pro-competition.
"We say it's a bad thing, anti-competition."
As the "Microsoft of electronic payments," Floum says, Visa has no way to avoid lawsuits. "As we continue to displace cash and checks, litigants and regulators are always going to look at us. There are a couple of companies that are always going to be getting antitrust challenges."
His first assignment as general counsel, bringing together the elements of Visa into one entity, he says, "was a hard, sustained push for years."
But it was necessary. "There were a number of reasons [Visa needed to change]," Floum explains. "The most important is this: For a company to be competitive today, it needs to be independent and shareholder-driven." Plenty of people, both inside and outside the corporation, disagreed. Visa, after all, had thrived under the association model. It had thrived as a private company. "We drove tremendous profits to the banks," Floum recalls. "Within the company, life in the bank association was good."
But there were wide-ranging, practical and philosophical reasons for which Floum felt change was necessary. "We'd faced a series of lawsuits arguing that we were a bank conspiracy, that the rules we'd made were antitrust violations," he says. "I'm not saying those suits were accurate, but we continued to get them." Visa needed to evolve, he argued, for legal as well as business reasons. The trick would be to convince a board of directors, almost 4,000 employees and a global network of banks that greater success lay in undoing a seemingly successful model.
Visa had more than 100 directors of different Visa entities and six different general counsels and presidents/CEOs  in 2004, when he was hired. "There were all sorts of people who felt they spoke for Visa," says Floum. Almost immediately, he began gathering support and building consensus for a plan designed to change Visa's relationship with banks (they would now be clients, not partners), merge a wide-ranging group of disparate parts into one whole and prepare the company for a public stock offering. To do so successfully, Floum needed to draw on not only his passion for change and his eagerness for challenge, but also his vast competencies as a lawyer and his interpersonal skills. The project began with Visa U.S.A.
"It took about a year to convince our Visa U.S.A. board of directors [of the plan]," Floum recalls. Board members like Pat Phillips (then an executive of Bank of America), John Stumpf (CEO of Wells Fargo), Richard Davis (CEO of U.S. Bank) and Jim Wells (CEO of SunTrust Banks), Floum says, had the vision to see the upside to divesting from banks and going public. Two years of negotiations with skeptical banks operating outside of the U.S. (and its antitrust laws) followed.
Then came Visa's IPO, timed just as the world entered a global economic meltdown. Armed with a conservative game plan, a wary confidence and no shortage of sleepless nights, Visa U.S.A., Visa International and Visa Canada went public as one company on March 18, 2008, with 446.6 million shares selling at $44 per share. The company raised $19.65 billion. It was the largest IPO in U.S. history. Four years later, Visa trades for more than $110 per share.
"Knock on wood, it ended pretty well for all the stakeholders," Floum says dryly.
Consensus within Visa and among those who know Floum is that Visa's restructuring and IPO, while in hindsight necessary, would not have happened without the guiding hand of its general counsel. While Floum characterizes his role in the process as "not taking things personally and keeping pushing because [I thought] it was right and in the interests of the company," others mention his gift for finding the balance between aggressive advocacy and soothing reassurance—something that has served him well throughout his career.
"He's good to work with," says Phillips. "Hard-nosed, forthright. Not afraid to push it, take on big odds, but he also has a style, a competency, a public presentation style, that really does bring people in."
"His style facilitates negotiation, not conflict," adds St. Pierre, who has worked with Floum for over a decade and has seen the entire process play out at Visa. "He's calm in the face of sometimes emotional reactions. That really helped overcome resistance among the [Visa] management team."
"Looking back, [Visa] needed him as much or more for his people skills, charm and charisma as for his brilliance and legal acumen," says Stolebarger.
Floum uses all of those skills each day, continuing what is still an ongoing process of change at Visa and meeting the company's latest challenges. Antitrust cases have continued despite Visa's restructuring, while the fallout from the Dodd-Frank Act's Durbin Amendment has cut approximately 50 percent from Visa's PIN debit product "Interlink" business.
Meanwhile, the payment industry continues to evolve. Whereas Visa once considered MasterCard and American Express its primary industry rivals, it now must confront challenges from PayPal, Google, various telecom companies and the newest elephant in the room, China Union Pay. Floum characterizes these developments as "challenges, but also opportunities."
"It's like going from zero to 100 miles per hour, how quickly things are changing," he says, citing the continuing challenge of transitioning from paper to completely electronic transactions—in which Visa has taken the lead—and the mounting threat posed by China Union Pay. "There are 2 billion China Union Pay cards out there—more than there are Visa cards," Floum says. "This is a government-subsidized, government-mandated monopoly. Under Chinese law, the only network that can issue a domestic payment card is China Pay," which is why there is presently a case pending with the World Trade Organization regarding China Union Pay as the U.S. government seeks to break up the Chinese government's monopoly.
Add to that a global and domestic political environment Floum says has "never been more divisive." Floum's—and Visa's—job is no less challenging today than it was when he started.
"This job uses every brain cell and ounce of energy I have," he says. "I'd like for the intensity level to ratchet down a bit, but I don't know if I ever see that happening." Floum's free time is full of volunteer work, the Earth Island Institute, coaching his son's basketball team, snowboarding and fly-fishing. He also has been a member of the Lawyers' Committee for Civil Rights of the San Francisco Bay Area for more than 20 years, sitting on its board for the past year.
"When I look back on my career to date, I couldn't ask for any more challenges," says Floum.
"What the future holds," he adds, "I don't know; but it's been a great run."
Search attorney feature articles
Helpful links
Other featured articles
Attorneys tell their stories of immigrating to the U.S.
Former Judge Marilea Lewis believes in strength—and also in being nice
Lisa E. Davis' decades-long battle for inclusion in entertainment and law
View more articles featuring lawyers
Find top lawyers with confidence
The Super Lawyers patented selection process is peer influenced and research driven, selecting the top 5% of attorneys to the Super Lawyers lists each year. We know lawyers and make it easy to connect with them.
Find a lawyer near you