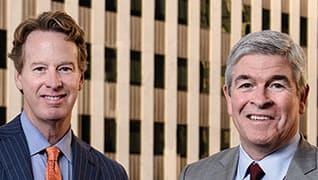 Photo by: Dustin Snipes
The Grinders
The back-and-forth of John C. Taylor and David Ring
Published in 2016 Southern California Super Lawyers magazine
By Stan Sinberg on January 20, 2016
In late 2001, John C. Taylor walked into a Westwood office building looking for a suitable space to open a smaller practice. When he emerged a few hours later, he'd found not only his new digs but a partner as well.
Before that eventful meeting, the two men had either met several times or barely knew each other—depending on which of them you ask.
"I told my wife: If I went into practice I'd want it to be with someone like David Ring," Taylor says.
David Ring: "Maybe we'd met a couple times before."
Thirteen years later, Taylor & Ring is known far and wide for personal injury, sexual harassment and abuse cases. The boutique firm, numbering just seven attorneys and four staff members, has made a name for itself, both for being one of a dwindling number of firms that takes a lot of cases to trial, and for obtaining large verdicts in numerous high-profile cases. Recent examples include: an $8.7 million verdict in Montalvo vs. Los Angeles Sheriff's Dept., involving the shooting death by LA County deputies of an unarmed 29-year-old man; Jane Doe 1 and Jane Doe 2 v. Moraga School District, a $14 million settlement in a case wherein two adult women sued many years later for abuse they suffered at the hands of their middle school teacher; and a settlement in the Phil Spector wrongful death suit brought by the family of Lana Clarkson.
Ring, 50, sandy-haired and wearing a light blue custom-made suit, seems, for a Los Angeles attorney, to be one low-key, laid back dude. Then Taylor, 63, ambles in, clad in a checkered shirt, rust colored jeans and sports shoes, and Ring seems uptight by comparison.
Taylor is the "big picture guy," and Ring the self-described "details man" and managing partner, but both men pride themselves on running a loose ship.
"We don't keep tabs on anyone," says Ring. "I kind of just know where they are because they tell me, but we don't keep tabs."
Taylor nods. "We treat you like a grown-up. You're getting the work done, that's fine. If we need to find you, we look on the calendar. And if I really need to find you, I have your cellphone."
And while they have group lunches with staff three or four times a month, it's not to talk shop. "We just shoot the shit," Ring says with a smile. "And it's not polite."
What they don't have, they're quick to emphasize, is regular "firm meetings."
Mock-banging his fist on the table, Ring proclaims, "From the start, we vowed, 'No firm meetings!' We have maybe two meetings a year."
Taylor shakes his head. "Every three or four months we sit and go over all the cases."
While Taylor says this, Ring puts up two fingers—indicating two meetings—and emphatically juts them into the air.
"We do, we do!" Taylor insists.
At which point Ring shrugs and laughs. "He's just saying that for the malpractice lawsuits."
Such disagreements are part of the game. "Sometimes I'll say to John, 'You gotta be kidding me! You're taking that case?'" Ring says with a laugh. "Or he'll say to me, 'I just don't see how that's a case!' And that's great. We can say whatever we want to each other, and no one takes it personally. We talk to each other like brothers."
As for "I told you so" moments, Ring says, "Of course there's 'I told you so!' But it's always in a good-natured way."
But it would be a big mistake to confuse a "hands-off" philosophy with staff for being anything less than "all hands on deck" regarding clients.
Taylor says, more seriously, "We represent people that bad stuff has happened to, and in a disproportionate number of the cases there's a bad person on the other side, not somebody that we vilify. We believe in the integrity of our cases—I use that word all the time. We like fighting the good fight."
"We're both grinders," Ring adds. "We're here every day, not disappearing for three weeks at a time doing something. We grind away. If we started resting on our laurels, that's the biggest mistake we could make. So we're here every day." He pauses and looks at Taylor. "What's wrong with us?"
Though they came to the law in different ways, both were influenced by their fathers' business experiences.
Ring's father worked at a small manufacturing business and rose to become company president. Consequently, at USC in the mid-'80s, Ring ran with a crowd that assumed you'd get a business degree and go into real estate. It was a prospect that didn't enthuse him.
By happenstance, someone suggested he take a business law course and he was instantly enthralled. "I didn't know one damn thing about lawyers growing up," Ring says. "I had no lawyers in my family, I never dealt with lawyers, I never talked about lawyers. Nothing. Zero," he says.
When the dust settled, Ring landed a job at an insurance defense firm.
Taylor's father worked in the marketing department at Ford Motors. One of his tasks was reading movie scripts to decide which Ford products to feature in various films. According to Taylor, his father was "constructively terminated," meaning he was put under an untenable work position and quit. Taylor's sense of pulling for the underdog was born.
While in law school he clerked for two years in the public defender's office, and upon graduating he traveled to Los Angeles to look for a public defender position; but Prop 13 passed that year, which threw county government budgets into disarray, and essentially meant a hiring freeze in the public defender's office. Needing a job, he finally took one—also with an insurance defense firm.
Separately, both men recall sitting in the courtroom looking longingly at the plaintiff's bench and wishing they could be sitting on that side.
"I knew right away I wanted to be on the other side, the guy representing the individual," Ring says, mentioning Bruce Broillet as a particular inspiration. After a couple years, he joined the father-son plaintiff's firm McNicholas & McNicholas, handling personal injury and employment discrimination cases.
His career took a turn one day when a family walked in, claiming that their son had been molested by a teacher. "It was the mid-'90s. You didn't hear much about sexual abuse and harassment cases. Victims didn't want to come forward." Ring and Patrick McNicholas took the case, and lawyers for the school district agreed on a settlement totaling less than $1 million. Surprisingly, the school board, which had final approval, vetoed the settlement and the case went to trial. "We got a $10 million verdict," Ring says. His phone started lighting up.
Taylor's "Bruce Broillet" appeared in the form of Mike Piuze, who was occupying the plaintiff's seat in 1982. Starting in 1984, Taylor worked with Piuze for four years, then branched out on his own. In 1990, he became a founding member of Greene, Broillet, Taylor & Wheeler.
Twelve years later, when he was turning 50, Taylor decided he wanted to start his own, smaller firm. "I wanted to look out different windows," he says.
Ring, too, was entertaining the idea of going it alone. It was a mutual friend who had the inspiration to pair them up. At that first meeting, Taylor and Ring sealed the deal with a handshake.
From the get-go they tried a lot of cases. "It's a tremendous amount of work, there's lots of risk associated with it, and sometimes we lose. But if you're not losing cases, you're not trying enough cases," Taylor says.
This philosophy has residual benefits. "Knowing that you're willing to go to trial ensures that you get the best result for your client," Taylor says. "It strengthens your position." He tosses in a metaphor. "If you've made it 95 yards down the field, and mediation is the last few yards, the moves you make at the end determine whether you're going to score. You did all that work to get there and you can give it right back by being impatient during mediation."
Ring calls Taylor, "the toughest and best negotiator I've ever seen, hands down."
Although they sometimes work together when a matter is being mediated, the last time they jointly tried a case was in 2007: a motorcycle accident. "It was a big case, ton of work, and we said, 'Let's do it together,'" Ring says. "John took the lead. It worked out great." He believes one day they'll team up again, but concedes, "It's hard when both attorneys really want to be first chair."
Some firms pick up cases a month or two before they're set to go to trial. Not this one. "All our cases come to us at the outset—right after whatever horrible thing happened. We're with them the entire time, one-and-a-half to two years."
Last year, a 28-year-old woman, Jamie Carillo, posted a YouTube video of herself telephoning a teacher who had molested her many years before in middle school. In the course of the eight-minute call, the teacher, Andrea Cardosa, who had become an assistant high school principal, admits to doing so. The video, dubbed "A call to my childhood rapist teacher," went viral. A few days later, Carillo phoned Ring.
"She said, 'There are five news vans on my lawn. I don't know what to do,'" Ring recalls. "I said, 'I'll tell you what to do.'"
Cardosa received 10 years in prison, and Ring is handling the civil case against Cardosa and the Riverside Unified School District.
The firm has always attracted high-profile cases, in part because the firm courts the media. "We try to make it easy for the media to cover our stories. It draws out witnesses for us," Ring says.
The two partners have different styles. "I tend to latch onto the case and live it from the beginning," Ring says. "John really dives in the last third of the case, and gets a grasp of the big picture and says, 'Let's just distill it to its essence and see how we can present it to the real people on the jury so it makes sense to them without all this legal bullshit.'"
Ring attributes part of the firm's success—and their own sanity—to "balance." Ring, married 16 years, says "I always try to get home for dinner, and do my damnedest to spend time with my kids," Jensen, 11, and Carter, 9. When asked how long he's been married, Taylor stops and calculates the age of his son, a recent college grad. "It's got to be a year longer than that …"
The partners rarely socialize with each other outside the office. For recreation, Taylor, who was the stick boy—the NHL equivalent of a bat boy—for the LA Kings in 1967 and 1968, still plays a weekly Friday night ice hockey game with friends. Ring was on the junior varsity baseball team at USC, and practiced regularly against the likes of Mark McGwire and Randy Johnson, which promptly dashed any dreams he had of making the bigs. He's now a self-described tennis addict.
Both men are involved with the 3,000-member Consumer Attorneys Association of Los Angeles. In 1988, it named Taylor its Lawyer of the Year; Ring is poised to serve as CAALA's president in 2016.
"Any trial lawyer will tell you that litigating and trying cases is crazy, hectic and chaotic," says Ring. "I'm fortunate to have clients I admire, a law practice that is never dull and a law partner who is very cool."
Indeed, the two men discuss and advise each other constantly on their respective cases; sometimes they'll even go to court to watch the other make a closing argument.
Taylor encourages trial-watching in general—regardless of the attorneys involved. "If you're in court making an appearance for whatever reason, as you're going down the hallway look in the windows. If there's a trial going on, walk in and sit down. In 15 minutes you'll think, 'That worked' or 'That didn't.' I do it all the time. I'm a big fan of trials."
Search attorney feature articles