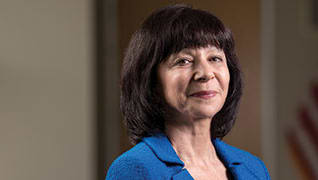 Photo by: Dustin Snipes
The Lawyer Off Main Street
Juanita Brooks knows what to do with "a dry patent case"
Published in 2018 San Diego Super Lawyers magazine
By Joe Mullich on March 30, 2018
In 2016, as Juanita Brooks geared up to defend Fresenius Medical Care Holdings over charges it had infringed patents for a dialysis machine from archrival Baxter International, she knew her biggest challenge was getting jurors to give a damn. Two multibillion-dollar companies slugging it out over a tiny part of a complicated medical device? Hardly a riveting issue. So Brooks focused on a more relatable theme: fairness.
"It wasn't covering technology that they actually developed," says Brooks, a principal at Fish & Richardson, about the patent in question. "Our allegation was that the patents were not valid—that they shouldn't have been issued in the first place." 
Over and over in the 2016 trial, Brooks argued that Baxter was latching onto technicalities that had nothing to do with common sense or fairness. During closing arguments, she seemed on the verge of tears, says her co-counsel Tom Melsheimer, now managing partner at Winston & Strawn's Dallas office. "She doesn't turn the waterworks on frequently, but like the best actress she can do it in the right circumstance. It was a powerful moment."
And it worked. Along with the favorable verdict, the jury foreperson included a note about how extraordinary it was to see a woman as lead attorney in a case in which many of the participants and experts were older white men—a common scenario for patent cases.
"Sometimes patent cases are boring," Melsheimer says. "But Juanita has the unusual combination of being both intelligent and able to appeal to jurors from all stripes—from truck drivers to schoolteachers. A lot of patent attorneys sound like they walked off Wall Street. She sounds like she comes off Main Street."
Brooks presents every case with a nod to Aristotle's "pathos, logos and ethos" dictum, attempting, in her arguments, to encompass all three modes of persuasion. Her down-to-earth manner has encouraged jurors to decide complex cases in her favor in less than 40 minutes. In 2017, she was inducted into the California State Bar Litigation Section's Trial Lawyer Hall of Fame, but that's not a sign that she's winding down. Brooks is full steam ahead. She has been lead counsel in 15 patent trials in just the last three years.
Not bad for someone who was discouraged from going to college in the first place. 
Brooks was an Air Force brat whose father left the family when she was 9 years old. No one in her family had ever graduated from high school, and when Brooks expressed a desire to go to college, her mother wondered why she couldn't just work at one of the places around town. 
"My sister had her first baby at 15 and dropped out of school in ninth grade," Brooks says. "I just wanted to break out of that cycle." 
She did it in a hurry—graduating from San Diego State University in 1974 after three years while holding down two jobs. Her debating skills were so good, a professor encouraged her to become a lawyer. Though she thought Harvard and Yale were the same place—because they were often mentioned in the same breath—she was accepted into the latter. "I was in heaven," she says. "It was so different than anything I'd ever experienced."
After Yale, Brooks joined the Federal Defenders of San Diego—a landmark organization whose founding executive director, John Cleary, had successfully argued three Supreme Court cases, including one challenging law enforcement's use of racial profiling. Cleary introduced Brooks to his 80-24 rule: defense attorneys had to put in a minimum of 80 hours a week; and when they received a file, they saw the client within 24 hours.
"He taught us to be real lawyers," she says. "We cared and worked hard."
At 23, Brooks tried her first case, winning acquittal for a man accused of smuggling people across the border. Soon after, she had her first appellate case before her idol, Judge Shirley Hufstedler (who, in 1979, would become the first U.S. Secretary of Education). "She swore me in, and when I raised my right hand it was shaking so badly it looked like I was waving to the judges," Brooks says. She won that case too—a media-saturated affair in which she represented a federal officer accused of rape and murder. 
In 1980, she hung a shingle—the first female criminal defense attorney in San Diego to do so. A few of her former colleagues from the Federal Defenders, all men, had set up their individual practices in an old house, and Brooks took the only unoccupied spot in the corner of the sun porch. "It was so small I had to get a miniature desk," she says. "Luckily, I'm not a big person."
She shared a secretary with three other lawyers but found a double standard in play. Shortly after she referred a co-defendant to a colleague, he, in a position to do the same for her, referred his case to someone else. "He has a wife and children to support," the lawyer responded when she asked why, "and you don't."
Another attorney offered her a $10-an-hour gig as his law clerk, explaining, "I assumed, as a woman, this is the type of job you'd do," while a third attorney reacted in horror after asking her what her fee was. "I thought it was too much, but then he explained it was a tenth of what they were charging," she remembers, "and I needed to at least triple my fee to keep them from looking bad." When she was referred clients, it often involved repping "the girlfriend" in cases with multiple defenders. 
All of that changed in 1985 when she met John DeLorean, maker of the iconic car made famous as a time machine in Back to the Future. He'd weathered one trial in which he was accused of trafficking cocaine; now he faced embezzlement and tax evasion charges. Howard Weitzman, who defended DeLorean in the first case, asked Brooks to come aboard on the second trial as jury selection adviser after seeing her give a presentation on the topic at a National Association of Criminal Defense Lawyers meeting. He was so impressed, she wound up staying on as co-counsel, sharing closing arguments.
It was a difficult case. Undeniably, millions of dollars from the DeLorean Motor Co. had found its way into DeLorean's personal bank account. The defense contended the money had been paid to a man named Colin Chapman for R&D work he did for the company, and that Chapman had lent the money to DeLorean as a personal favor. Proving this was difficult: DeLorean wasn't going to testify, Chapman was deceased, and the loan had been handled without a paper trail.
Brooks says the first step was to identify jurors receptive to the concept that such a large sum might be exchanged so informally. How to do that? Find jurors who loved Dallas and Dynasty, which featured brash businessmen who would lend millions on a handshake. The silver-haired DeLorean was even a dead ringer for Blake Carrington, the lead character on Dynasty. 
However, the questionnaire could identify only jurors who had a prejudice against their clients, not a predisposition for them, so the judge didn't allow defense attorneys to ask potential jurors about the TV shows. Brooks, though, argued it was important to see if the jurors regularly watched news shows like 60 Minutes, which had run many negative stories on her client and may have tainted him in their eyes. Based on that logic, she says, "the judge let us ask the jury what their favorite show was, and four we got said Dynasty and Dallas." 
How big was the turmoil after DeLorean was acquitted? Brooks was literally knocked over by reporters trying to reach him for a comment. The next morning, limos whisked her to all the morning shows: "Today, Good Morning America and whatever the third one was back in those days," she says. Things changed after that case. No more law clerk offers. Instead, she says, "prosecutors went out of their way to get a case I was handling so they could say they beat me." 
One such prosecutor thought he had a slam dunk. Brooks' client was a young Hispanic woman who was found with 3 pounds of heroin she admitted she was bringing to a dealer to sell. Brooks used a battered-woman defense. She smiles remembering the shocked look of opposing counsel when she won. Her smile is just as wide as she explains she met her first husband, attorney Barton Sheela, when he was opposing counsel on her first case. "I beat him, too," she says.
That twinkle in her eye suggests how she can woo a jury. She is, as Melsheimer puts it, innately likable and open, possessing none of the stuffiness one might expect from a Yale-educated lawyer.
Brooks likes to tell a story about how she began a difficult criminal case while she was in the process of adopting a child from India. Toward the end of the trial, she and Sheela separated. "I started the case married with one child," she says, "and ended it divorced with two children."
She met her current husband, San Diego attorney Michael Pancer, back when she first started going to federal court. "I was 23 and single, and thought he was the neatest guy I'd ever met," she says. "But he was married with a baby, so fast-forward 30 years, and we got it right."
Jonathan Singer, a principal at Fish & Richardson, praises her fearlessness but says her real advantage is her willingness to listen. "Most lawyers will present their work to a junior lawyer and say, 'This is what I'm going to do, and I need your help filling in x, y and z,'" he says. "Juanita says, 'Tell me what you think' before she presents her work, and it results in a much better work project." He says it creates an environment in which people are candid rather than just saying what they think the lawyer wants to hear.
It's inclusive, yes, but it's also another way of looking for an edge. "People don't realize how competitive she is," Melsheimer says. "She's soft-spoken and doesn't look like she's going to cut your throat, but she will if it helps her case. She's not afraid to embarrass or humiliate a witness if the situation warrants."
In 2000, the year she joined Fish & Richardson, Brooks shifted to patent litigation. She enjoyed the intellectual rigor and scientific bent of it. Though she lacked the engineering degree many patent attorneys have, her pathos-logos-ethos approach ran up a string of successes.
Even so, she has frequently encountered pushback in the courtroom. Expert witnesses often bristled about being cross-examined by a woman. "I find I get under their skin quickly and they have a 'Who do you think you are, missy, to be questioning me?' attitude," she says. This dynamic, she notes, is just one part of the ongoing drama of patent litigation that often goes unnoticed.
"In 1954, the year of my birth, a judge gave a speech called 'The Romance Discoverable in Patent Cases,'" she says. "He said a good patent attorney can teach a criminal attorney everything he knows in a couple of hours, but a criminal attorney couldn't teach the patent attorney everything he knows in a lifetime." She still reads the speech for inspiration before every trial. 
"Every case has a good guy and a bad guy—someone you want to believe and someone you don't," she adds. "When the opposing counsel thinks he has a dry patent case, he loses most of the time."
Search attorney feature articles