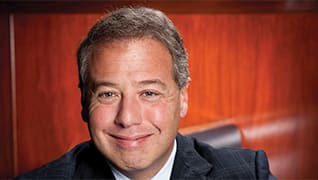 Photo by: Raffi Alexander
The Problem Solver
Brian Kabateck's grandparents survived the Armenian genocide; now he represents the descendants of those who didn't
Published in 2011 Southern California Super Lawyers magazine
By Jim Walsh on January 20, 2011
When the author and teacher William Arthur Ward said, "It is wise to direct your anger toward problems, not people; to focus your energies on answers, not excuses," he could have been talking about Brian Kabateck.
Start with the case of Leon Robbins, a retired, African-American railroad worker whose South Central L.A. home was damaged by the 1994 Northridge earthquake. When an insurance representative came around, he assessed the damage at $7,200 against a $7,400 deductible; Robbins was told he was owed nothing. Not satisfied, Robbins hired a contractor who came up with a different damage assessment: $22,000. The insurance company still denied the claim.
That's when Robbins hired Kabateck, an insurance and class action attorney with Kabateck Brown Kellner in downtown Los Angeles.
"They just cheated him, and that actually made me very angry," says Kabateck, 49, his voice calm. "This was a guy who, his whole life, had been cheated and treated as a second-class citizen. Then he goes and makes a legitimate claim, and his insurance company basically beats him down.
"We found out that the insurance company was doing this all over the neighborhood but we called them on it. They assumed these disenfranchised people would not get a lawyer and the claim would go away."
It didn't. Robbins won ($45,000 for repairs, $200,000 for emotional distress and $7.2 million for punitive damages—although the case was settled confidentially when it was appealed), and Kabateck, directing his anger, found his niche.
But he had help getting there—not only from family but from two icons of Americana: Otis the drunk and Bruce Springsteen.
"I wanted to be an actor or on the radio," says Kabateck, about an ambition he had growing up in the suburbs of Los Angeles. "My parents were both in the television business when television was very new. My mother did all the music at ABC television in Los Angeles in the '50s, and my father produced a show called Criswell Predicts, which was made famous by the movie Ed Wood.
"When I was about 14, they introduced me to Hal Smith, who played Otis, the town drunk, on The Andy Griffith Show. He sat down with me at one point and said,  'Acting's wonderful. Acting's a great profession. But you know, Brian, there's going to be lots of times when you don't have any money, so you've got to save up your money for those thin times.' And I remember walking away thinking, 'Maybe the law thing is a little better than the acting thing.'"
Two years after receiving Otis the drunk's sober wisdom, he heard Springsteen's Born to Run. 
"His songs are about people trying to find the American Dream, and quite often the American Dream isn't there at all," he says. "The line from 'The River'—Is a dream a lie if it don't come true or is it something worse?—really touched me, because I feel like I've been very fortunate. I grew up with great parents who had good jobs, and I've always been able to get work. But for a lot of people, they try to pursue something that is sold to them as being there—whether it's the ability to get a loan or a house or whatever it is."
After Kabateck graduated cum laude from Loyola Law School, Los Angeles, he did what was expected of him and went to work for a big firm. "I did that for a year," he says, "but got away from it pretty quickly because I didn't like representing big corporations and big business. It just wasn't right for me. Now I look at people who went that route, and they look like they get the living shit beat out of them on a regular basis. They look like someone stole their soul."
Kabateck spent one year in that corporate world, and 11 years at a midsize firm, before starting his own firm in 2002.
In the late 1990s, an Armenian lawyer contacted Kabateck regarding the "Great Crime," in which, during and after World War I, 1.5 million Armenians of the Ottoman Empire were wiped out through genocide and deportation. The lawyer needed someone experienced in class actions and insurance lawsuits to help sue, on behalf of Armenian families, New York Life Insurance Co., which had sold life insurance policies to several thousand Armenians but never paid off claims after the genocide.
This wasn't dusty history to Kabateck; his grandparents were survivors of the Great Crime.
"Being someone who is half-Armenian and growing up with stories about what had happened to them, I thought it was a very good way to do something that's positive and reinforces my belief about social justice," he says.
Thus far, $37.5 million in claims have been delivered to the heirs and Armenian charities.
"He's a tremendous lawyer," says Mark Geragos, of Geragos & Geragos, who has been working with Kabateck for more than 10 years on the Armenian genocide cases against New York Life, AXA Insurance, Deutsche Bank, and now the Republic of Turkey. "He's a great cross-examiner and he's got a folksy style that endears himself to jurors.
"We did a recusal hearing in federal court [in the Deutsch Bank case] that lasted all day," Geragos remembers. "His witness was a lawyer. And he really just eviscerated this lawyer. I remember giving him a hard time, telling him, 'You know, with a little practice, you could make a living at this.'"
Kabateck's work on the Armenian genocide case caught the attention of Austin Tighe, of Feazell & Tighe in Austin, Texas, in 2007. Tighe's firm and two other Texas firms were working on a class action for the NAACP against Wells Fargo and other banks, accusing them of predatory lending practices: offering white borrowers in similar financial conditions lower fees and interest rates than African-American borrowers, who were steered toward subprime mortgage loans.
The case's jurisdiction was L.A. so Tighe needed an L.A. lawyer and he knew Kabateck by reputation. "Much of the class action practice is a national, federal court practice," he says, "so you quickly learn whose name is showing up in these cases from coast to coast." Within five minutes of their first phone conversation, Tighe knew he'd found the right man.
"He's a problem solver," Tighe says of Kabateck. "That might sound simple, but you come across a lot of lawyers who sometimes create as many problems as they set out to solve. So saying 'problem solver' to me is one of the greatest compliments you can give a lawyer. And Brian is truly a problem solver."
Tighe mentions the limitations that organizations like the NAACP have in prosecuting claims in court on behalf of their members. "A lot of lawyers might have looked at [those limitations] and stopped. Brian said, 'Let's look at what we can do to achieve our goals and not let that be an insurmountable barrier.' And I think what we have ended up with, with Wells Fargo, is a result, in many ways, beyond what we could've achieved at the courthouse."
"We filed in July 2007," Kabateck remembers, "well before the whole [subprime mortgage] crash. At the time, the banks were very, very receptive to us. They wanted to talk and work things out. … When the bottom fell out, the silence was deafening.
"Ultimately," he adds, "the banks that survived have been willing to enter into agreements with the NAACP to change their practices."
Not only did Wells Fargo agree to abide by the NAACP's principles on fairness in lending—including banning zip codes in determining loan terms—it agreed to open its books to regular audits to ensure that those guidelines are met. Kabateck was presented with the NAACP's Civil Rights Champion Award and he hopes the settlement will lead to similar agreements with 10 other major lenders who are still defendants in the suit.
"The truth is, down deep, a lot of corporations are reptilian in the way they work," he says. "They just want to make money, the most money they can, and it doesn't matter to them that a black person might be paying 200 more basis points because [the lender] can get away with it—and they're not putting anything into effect to try to prevent that. That makes me angry.
"And that anger is current."
Kabateck's practice is booming. He recently represented Steve Kolodny, the lawyer for Lisa Bonder Kerkorian in the Anthony Pellicano wiretapping litigation, and achieved the only settlement to date ($2.5 million) among its civil cases. He filed suit on behalf of California homeowners against several insurers over bad faith failure to pay claims related to the recent Southern California wildfires. He continues to work on behalf of victims of the Northridge earthquake and of the hurricanes in the Gulf. Plus he's a vice president of the Consumer Attorneys of California, which assures access to the courts for all.
"From my observation," says Tighe, "I'm not sure Brian Kabateck needs to get up and go to work every day? But I can't see Brian Kabateck not practicing law, not doing consumer fraud, not trying to right the kind of injustices that he addressed with an Armenian genocide, with an NAACP predatory lending. He's absolutely passionate about these things."
Kabateck and his wife of 23 years, Roxanne Hampton, also own, or co-own, two buildings and a restaurant, Engine Co. No. 28 ("American Food at Its Best"), in downtown Los Angeles.
As for the career Otis the drunk urged him away from? "To this day," Kabateck says, "my lovely wife says that when I'm done practicing law we're going to wind me up and start acting workshops. So yeah, [I'm a] frustrated actor, but the last thing I want to do is community theater. Oh my God. I can imagine telling my clients, 'I'm sorry. I have to go now. I have rehearsal for Arsenic and Old Lace.'"
Search attorney feature articles