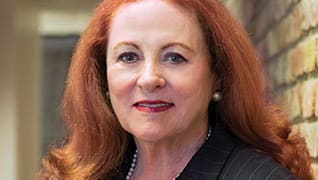 Photo by: Gregory Cowley
Who We Do This For
Divorce lawyer Esther Lerner makes it her business to see that kids don't get caught in the crossfire
Published in 2014 Northern California Super Lawyers magazine
By Rose Nisker on July 3, 2014
Dozens of children smile down from a bulletin board at the San Francisco family law offices of Lerner Poole.
"We ask people to bring in pictures of their kids—it's a nice reminder of who we're doing this for," explains firm founder Esther Lerner, scanning the photos and smiling back at the representation of three decades of work.
Lerner's family law cases often involve wealth and power. But whether she's working out the financial complexities of a venture capitalist's divorce, or representing a wife who found her husband trying on her dresses, Lerner keeps an eye focused on the welfare of those who get caught in the crossfire when a marriage dissolves: the children.
Before she was an attorney, Lerner worked for many years as a special education teacher and school counselor. Her interest in children's welfare still extends beyond her legal practice—she served for many years on the board of Kids' Turn, an organization that helps children understand and cope with divorce and custody issues.
Sometimes the kids she protects are the offspring of celebrities. In the early '90s, Lerner represented Jerry Garcia's girlfriend in a custody-support case involving their daughter. Garcia passed away while the negotiations were in process, and Lerner worked hard to make sure the only one of Garcia's four daughters who was still a minor was taken care of. "I focused on ensuring she would have a stable environment for the duration of her years as a minor," Lerner says, tight-lipped about the details.
"I never spoke to the media about the case, but I was getting calls for years afterward to comment on celebrity divorces or make TV appearances to talk about them," she recalls, shrugging her shoulders at the media's insatiable fascination with celebrity divorces.
Most of Lerner's cases stay out of the public eye, but her stockpile of fascinating stories is immense. Drugs, betrayal, exceptional wealth and privilege—she's seen it all in 30-plus years in family law. Lerner has represented a transsexual woman in her divorce from a straight man; she once fought for the release of a client who was wrongly admitted to the Betty Ford rehabilitation facility by a vindictive spouse.
Amidst the most contentious of divorce proceedings, Lerner is known for her congenial manner. "She's a true pleasure to work with," says Diana Richmond, an attorney with Sideman & Bancroft and a private adjudicator, who has served as judge on a few of Lerner's cases. "She stays calm and works to keep maximum goodwill amongst everyone in the room."
Which isn't to say she's not tough. "I can't count the number of times someone has told me I'm an iron fist in a velvet glove. I always try to resolve things, but if someone doesn't want to resolve them or crosses my client, I'm very tenacious," she says with a laugh. "Very."
"I always enjoy having a case against Esther," says Brent Seymour of Schapiro-Thorn, who has opposed her on several occasions. "But that certainly doesn't mean she's not a fierce and challenging representative for her clients."
One of Lerner's earliest memories is of being on a ship with her parents, who had just come through the most horrific of experiences. "I remember running around and visiting with everyone onboard as we sailed from Europe to the U.S.," recalls Lerner, who was 3 years old at the time, an outgoing little girl with a head full of ringlets. Her parents were Holocaust survivors, and in 1950 the family was en route to the U.S. to start a new life. Lerner's father had experienced the death of his first wife and daughter in the camps, and her mother had made it through by relying on her sewing skills. "Given my parents' background, it's always been pretty easy for me to see the bigger picture and feel grateful," Lerner says.
Lerner was greatly influenced by her parents' resiliency in rebuilding a life from nothing. When the family moved from Germany, they were sponsored by a couple in Florida and made their home in Miami. Lerner's father, a mechanic by trade, started a small sewing machine business and eventually expanded to include apparel manufacturing, including buying and setting up warehouses for factories. The Lerner family still manages those warehouses, which now house part of the Wynwood Arts District of Miami. "Art Basel [a renowned international art show] takes place right in our neighborhood," says Lerner, clearly delighted.  
Lerner describes her father as a self-made man—the archetypal Old World immigrant who arrives with nothing. Not surprisingly, Lerner herself was a high achiever—she was an excellent student and a class officer throughout high school. As an undergrad, Lerner was already certain she wanted a career in which she could help those in need. "I've noticed that many children of Holocaust survivors want to be of service," she says. "We are so close to what happened that we want to help others who are experiencing hardship."
For Lerner, this desire led her to a degree in special education from the University of Florida at Gainesville. After graduating in 1969, she took a job teaching in an impoverished area of Miami, near Homestead, managing a classroom of children with a range of learning disabilities, emotional disorders and mild mental disabilities.
"The classroom was isolated in a bungalow away from the main school, so it was just me and them all day long." Lerner remembers starting the mornings by singing Simon and Garfunkel's "The 59th Street Bridge Song (Feelin' Groovy)" to the kids in an attempt to calm them down. It worked.
"I've always loved to sing," says Lerner, who has taken opera lessons for 12 years. A classical music lover, she is a member of the San Francisco League of the San Francisco Symphony and the San Francisco Opera Medallion Society. She's also a member of the St. Francis Yacht Club and Corinthian Yacht Club, and she and her husband have a yacht—named Lady E.
After a few years in the special education classroom, Lerner went back to school to get her master's in educational psychology at the University of Miami and became a school counselor at Shenandoah Junior High School, which she once attended. But it was the early '70s, and the call to move out West was strong. "I had visited San Francisco, and it completely captured my heart—the feel, the mentality, the beauty—I knew I had to live here."
She wasn't the only one. At the time, there were an unprecedented number of teachers in the area, but Lerner managed to find a job as a counselor at Roosevelt Junior High. Her focus was building communication among the many cultures that make up San Francisco.
Even so, she says, "I had a career in law in the back of my mind." Lerner began attending nighttime law classes at Golden Gate University. Two weeks later, she resigned from her job and enrolled in law school full time.
Before graduating, she clerked for Judge Richard H. Breiner and the late Marin County Superior Court Judge Henry Broderick. "I was greatly influenced by both of them," she says. "They were wonderful judges." Judge Breiner, who is retired and in 2012 received a lifetime achievement award from the Marin County Bar Association, recommended Lerner for a short-term clerkship to Gary Ragghianti, a well-known Marin County attorney with a successful practice.
Once admitted to the state Bar, Lerner hit the ground running. She opened up her own practice, getting referrals from Ragghianti and the late Robert Burke. Lerner says she knew right off the bat that she wanted to start her own practice. "I had met an attorney, Catherine Valentine, who said, 'If all the guys can do this, you can, too.' That sounded very true to me." About four years later, Lerner joined forces with the late San Francisco attorney Walter Winter, infamously referred to by many as the "barracuda," for a year before once again going out on her own.
She opened her office on a quaint street in San Francisco's financial district. Her first big case was for the late Arnold Laub, a prominent and flamboyant San Francisco personal injury lawyer. "I thought he would have gone with Winter," Lerner recalls. Apparently Laub was impressed with the young attorney's approach; he continued to send her family law cases when they came across his desk.
Lerner and her boutique firm have flourished ever since. "I like to nurture relationships," Lerner says of her 18-plus years of working with law partner Stacey Poole and paralegal Bonnie Jacobsen. 
Gretchen M. Wallacker of San Mateo's Berra Stross & Wallacker remembers being mentored by Lerner. "I am so grateful she showed me the joy and satisfaction that comes from this practice of law," says Wallacker. "She taught me to look for ways to settle a case that brought both parties relief and finality, but was an effective advocate if settlement was not an option."
As Lerner navigates through her third decade in the law, the iron fist is still at the ready, but so is the velvet glove. "I'm continually impressed by how often things can be resolved more amicably than anyone could have ever expected by staying focused on the bigger picture," she says. "It's a wonderful thing."
Search attorney feature articles
Helpful links
Other featured articles
Dan Gustafson doesn't shy away from representing society's biggest pariahs
Pamela Price has been lawyer, plaintiff and defendant. Next up: Alameda County D.A.?
Abou Amara brings capitol experience to his practice
View more articles featuring lawyers
Find top lawyers with confidence
The Super Lawyers patented selection process is peer influenced and research driven, selecting the top 5% of attorneys to the Super Lawyers lists each year. We know lawyers and make it easy to connect with them.
Find a lawyer near you