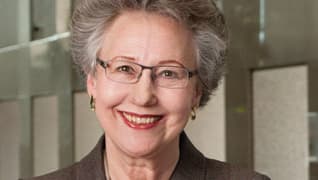 Photo by: Susan Goddard
Krendl's Methods of Practice
As mentor and force of nature, Cathy Krendl has left a permanent mark on Colorado business law
Published in 2013 Colorado Super Lawyers magazine
By Ron S. Doyle on March 15, 2013
Cathy Krendl rises from her seat at the table, walks over to the window of her conference room on the 53rd floor of the Republic Plaza Building, and raises a finger to the glass. As reference points along the skyline, she identifies the iconic Denver Art Museum, with its titanium exterior and wildly skewed angles, then the stately Wellington E. Webb Municipal Building. Just to the right, Krendl points to an old brick building—her destination—the former home of the University of Denver's Sturm College of Law. "That's where I used to teach," she says. She's looking down 53 stories and 40 years into the past.
Since 1983, Krendl has served as a director of Krendl Krendl Sachnoff & Way, a firm focusing on corporate, corporate governance, commercial, and securities law. Before that, she served for 10 years as a professor at DU's College of Law. On occasion, she is an expert witness. She also authored Colorado Methods of Practice, widely considered the definitive text on Colorado law.
Not bad for a career her father believed would only be a backup plan.
"My father said education was an insurance policy in case something happened to our husbands," Krendl says. "If you're a woman in 1963 with a college education and a teaching certificate, you can get a job."
Despite this, Krendl says her father leaned toward feminism long before the term came into fashion. He watched his two sisters work harder than his brothers on the family farm and always respected the challenges women faced. "My father was a very humble man," Krendl says. "He had nothing to begin with in life and didn't get to go to college, which he really regretted." When he married Krendl's mother, who was a teacher, education became a top priority for the family—in more ways than one.
Krendl's father ran a grocery store in Glory, Texas. When the farming industry dried up in the region, so did the town and her father's store. The family relocated briefly to Mansfield, where her mother took up teaching again, a career she had postponed in order to raise a family. Eventually, the family landed in Garland, Texas. "My mother always wanted to teach in Garland, so when she got the opportunity that's where we went," says Krendl.
"My mother was a wonderful role model," she adds. "She was a working woman before other people were. And she was a very good teacher. Everybody always fought to get in my mother's class because she was very nice but extremely strict—you learned in my mother's class."
Krendl laughs. "I was a super nerd all my life. I always did very well in school and always loved school." Chemistry and math were favorite subjects in high school, along with debate. That passion led her to North Texas State University and Dr. William DeMougeot, a renowned collegiate debate coach at the university, whom she credits with helping develop her analytical thinking skills. She lasted one semester studying chemistry before switching to government; then she took a compelling constitutional law course with professor Clovis Morrison. "When I took that course, the professor was quite demanding, but I thought, 'This is so easy!'" says Krendl. "I knew then that I had found my home. My brain could work as a lawyer."
Krendl continued her education at Harvard Law School as one of fewer than 25 women in a class of 550. A business-planning course in her third year shaped her future. The professor's wife was a lawyer—the first female attorney Krendl had heard of. The course focused on drafting legal memoranda that suggested the best business formation for a fictional client and what tax or regulatory concerns might affect them. That practical, applied-learning technique really clicked with Krendl and inspired her to become a business lawyer. Added bonus: she took the course with her husband, an Ohio farm boy, whom she'd met in the first weeks of law school.
After graduating, in a job interview with a legal firm from Alaska, the recruiter asked her if she used birth control. "I liked that he just got right out there and asked the question, instead of being prejudiced about women and hiding it," she says. "In other states, especially Texas and even Colorado, they just didn't hire women because they thought you were going to get pregnant, have children and then quit." The firm hired both Krendl and her husband in 1970, right out of law school, assigning him to business law and her to litigation. They lasted two years in Anchorage before the relentless cold weather got the best of her.
They came to Colorado, in other words, for the warmth. The couple knew the state—her husband had previously been stationed at Fort Carson in Colorado Springs. "And we liked the people of Colorado," Krendl says. "I still love the people of Colorado because they're from everywhere. And Colorado has a very sophisticated group of lawyers and practices." In 1972, Krendl took two part-time teaching positions at Regis University and the University of Colorado at Denver, then moved the following year to a full-time, tenure-track position teaching corporations and securities law at the University of Denver.
"I didn't want another legal job because I hated litigation," she says. "And I had my teaching certificate. Besides, my grandmother was a teacher, my mother was a teacher, and my sister was a teacher. I really loved teaching and I loved the law, so it was a perfect combination, but I was the only woman professor, the first one since World War II." In contrast, Krendl says the student body at DU's College of Law was increasingly female: around 15 percent when she started, she estimates, and 30 to 40 percent by the time she left.
Krendl was seen as a pioneering mentor for female students, a role she both relished and rebelled against. "In my generation, you always wanted to be treated the same as a man. You didn't emphasize that you were a woman," she says. When women at DU urged her to teach a sex-discrimination course, she did—but refused to teach it from the female standpoint. "I told them, 'If you're here to bitch, just leave, because this is going to be an academic subject.' Despite what I said, a lot of women saw the class as a refuge. I did not want that. I want women to get out there and be lawyers, not woman lawyers."
She led through example. Pregnant during her first year of teaching, she was offered the option of maternity leave—a progressive and unorthodox move at that time. "I said no because I thought it was really important to show everyone that pregnancy is not a disability, that you can be pregnant and work," she says. "So I took no maternity leave. I had my baby on December 29, and I was working the first week of January."
University life lost its sparkle after a decade of teaching the same courses and serving as the lone woman on countless committees, so Krendl took a leave of absence for one year to practice with her husband at his new firm. She loved the work—and working with her husband—so she never went back.
In private practice, Krendl continues to demonstrate her dedication. "I usually email her or call her in a panic," says Debbie McCoy, president of Special District Management Services Inc., a 20-employee firm that consults with statutorily controlled government entities. "One time Cathy had her wisdom teeth pulled, could hardly talk or open her mouth, but she got back to me. It was a relief to have her in my court."
Carolyn Fairless, managing partner at Wheeler Trigg O'Donnell, says that she and Krendl unwittingly started a tradition of calling each another on Christmas Eve with work-related questions. "The phone will ring and it will be Cathy in the middle of helping a client with a problem. She's the one person sitting at her desk, and she knows I'm probably sitting at my desk, too."
While Krendl isn't afraid to show her tough side, she prefers to take an understated approach to dealing with opponents, disarming them with gentle pressure, transforming conflict into a simple classroom lesson. "I've had several experiences in meetings with a room filled with male attorneys and clients who underestimate her," says Heidi Chesley, an attorney at Gordon & Rees. "When they realize how quick she is, how smart she is and how she's got the whole case figured out, the whole tenor of the meeting will change."
Currently, Krendl and a group of lawyers are drafting a revision to the Colorado Business Corporation Act. This includes revising the state's business judgment rule, which dictates whether the courts can overturn the decisions of a company's board of directors. The current goal includes a clearer definition of the fiduciary duties of directors, the desired result being guidelines for attorneys advising directors and helping them understand the rules of compliance.
While the statutory subject matter is heavy stuff—and their efforts have been intense—Krendl and the group have come to enjoy the process, as well as each other's company.
"There are a whole bunch of drafting nerds, a number of people who like to get together and write statutes, worry about where the commas are, worry about sentence formation, and most particularly worry about those statutes comporting with the way the law ought to be," says Anthony van Westrum, a transactional lawyer. "We've done it now for years, we can finish each others' sentences like old married people, and after we're done working at drafting we'll go out and have drinks for a while just because we enjoy each others' company. [Cathy] is an integral member because she's such a nice person to be around."
Krendl points to a shelf in her conference room. "I want to be remembered as a good wife, a good mother and an ethical, hardworking lawyer," she says, "but I also wrote those books. That's my legacy." She authored and edited the eight-volume, 72-chapter treatise, Colorado Methods of Practice, which may be the watershed line on a career defined by clear communication.
"You'll be dealing with another law firm in town, and everyone has her book," says Lee Sachnoff, a corporate and transactional attorney who joined Krendl's firm in 1989. "It's a wonderful way to get something resolved. You're negotiating with another lawyer over a point and then [someone] asks, 'Well, what does Cathy's book say?' And that settles it."
Search attorney feature articles