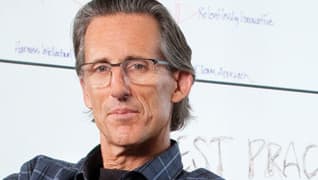 Photo by: Susan Goddard
The Life of Reilly
Dan Reilly has a simple goal: he wants to put together the greatest trial team in the country
Published in 2012 Colorado Super Lawyers magazine
By Jessica Glynn on March 2, 2012
The writing is on the wall, literally, at Reilly Pozner, where every office is splashed with a water-based paint that turns walls into whiteboards. The unique design allows attorneys conferring on a case to write what they need to write, and map out what they need to map out, wherever they happen to be.
In the office of co-founder Dan Reilly, the walls are currently covered with notes and charts breaking down Bank of America's $8.5 billion mortgage-bond settlement to resolve claims from investors in Countrywide Financial Corp. mortgage bonds. Reilly is representing AIG, which is objecting to the settlement in federal court in New York. He also has hundreds of cases in the Lehman bankruptcy, where he is pursuing originators of bad loans. Reilly's home base may be Denver but that hasn't prevented him from being at the heart of the country's mortgage crisis litigation.
It's complicated work, but that's Reilly's business. His firm of 27 lawyers focuses on cases that are complex not only in size—involving millions of documents and billions of dollars—but in content. They don't fit neatly into any legal construct. They are cases for which the law is not yet developed.
"We're not setup to do the same case time after time after time," Reilly says. "The smartest lawyers around come to us as problem-solvers. Our cases require all your creativity. It's why it's stimulating and exciting."
The firm, which does both defense and plaintiff work, currently has cases in 40 states. It's settling thousands of cases against the makers of the diabetes drug Avandia and suing 35 defendants on behalf of 35 insurance guaranty associations over life insurance losses. Reilly, who lectures frequently on delivering opening statements and personalizing corporations, says he and his staff have the same goal: telling a story as simply and compellingly as possible.
"Envision walking into a warehouse full of thousands of boxes of documents," says Reilly. "Our job is to walk in the front door at the beginning of the case, and, just before trial, walk out the back door with a file that is no more than 4 ½ or 5 inches thick and say, 'Here's what matters.'
"It doesn't matter how complex the case is, it comes down to people and paper. You only need the paper to confirm that what the people are saying is true, or to conflict with what the people are saying, because the witnesses tell the story. That is the great thing about the jury system. It's still premised on people coming in and describing what they think happened, somebody else describing what they think happened, and the jury deciding what to believe."
Storytelling runs in Reilly's family. His father was a journalist in the Navy who traveled the world telling stories. "He would have been a great lawyer," Reilly says. "I think he wanted to be a lawyer. He would have loved it."
After graduating from Michigan State University in 1975, Reilly moved to Denver, still undecided on a career. Most of his jobs had been as a laborer: digging swimming pools, hauling trees, working an assembly line. His first exposure to lawyers—beyond his father urging him to become one—came when he worked for the Professional Independent Insurance Agents of Colorado. "I was always impressed by how at the key point in a big meeting, everybody would look to whoever the attorney was and say, 'What do you think?' How much significance and importance was given by those clients to that trained professional," Reilly says.
Reilly's experience at the University of Denver College of Law reinforced that realization. "You could sense how important it was to represent someone," he says. "For someone to ask you to be their adviser, their counselor, their spokesperson. It was a lot of power that came with a lot of responsibility."
In 1981, he went to work for the personal injury firm Hoffman & McDermott, where he gained extensive trial experience over the next five years. One of those cases introduced him to firm partner Larry Pozner. A group of bounty hunters, pretending to be police officers, had kicked in the doors of a house in the projects at 4 in the morning and terrorized a woman and her four kids. They were at the wrong house. Reilly and Pozner sued the bounty hunters along with the bail bondswoman and the insurance company that had appointed the bondswoman. At the trial, which attracted media attention, the lawyers assembled, in the well of the courtroom, all the guns, handcuffs, and manacles the bounty hunters had brought into the plaintiff's home; and Reilly asked each witness to pick up what he'd had with him.
"Our clients received a big judgment and were vindicated from what they clearly felt had been a terrible experience," Reilly says.
Reilly and Pozner quickly realized they enjoyed working together. Pozner was a criminal defense lawyer who rarely saw a witness or piece of evidence he couldn't use. Reilly was a plaintiff's personal injury attorney who was typically assembling evidence and putting claims together. "Together we made a pretty good team, strategizing how to attack a case and anticipate what we were going to hear from other side," Reilly says.
"He's genuine," Pozner says of Reilly. "He likes people and tries to move through life without hurting people. In every interaction with opposing counsel, his first position is going to be something reasonable. … His first thought is, 'What is the right thing to do?' Dan can be your opponent but there's no need to have him as your enemy."
Michael McCarthy of Faegre & Benson got to know Reilly while litigating against him in a business dispute. The case was high stakes and vigorously fought, but they walked away friends. "I consider him one of the best lawyers I have ever litigated against," McCarthy says. "He is creative, a master tactician and a tireless worker. He's also a very nice guy. He obviously cares deeply about mentoring young lawyers and does a great job at it."
It was in the '90s that Reilly and Pozner's cases began to get complex. The brokerage firm Dain Bosworth had recommended that hundreds of clients around the country—all retirees in their 70s and 80s—invest savings in a company that Dain Bosworth actually owned. These clients were the only investors and they lost all of their money after the company was sold and went bust. Reilly sued the brokerage firm on behalf of individuals and guaranty associations that had been covering losses. "We collected millions for the individuals and guaranty associations. Most important for Larry and me, we got the greatest trial experience you could get," he says.
Five of the 18 months they were in trial included a three-week trial in Denver, which they won, then a six-week trial in Seattle, followed by two weeks of jury deliberation, only to have the judge declare a mistrial and do it all over again. They won the second time. Then they won a three-month trial in Des Moines, Iowa. With each trial—there were four in all—they came up with new strategies. Since many of the witnesses were the same, they took turns on cross-examinations so nobody would get comfortable. "It moved us into a whole different world," Reilly says. "We were able to believe we could try anything. There wasn't a case that was too complex or big."
In Colorado, Reilly is best known for prevailing in an equally complex case: the nine-year dispute, through federal and state appellate courts, over the ownership of the Denver Broncos.
"He takes an intelligent approach to cases," says Rich Slivka, general counsel for the Broncos. "On the complex cases—and Dan has represented us on a number of cases now—it truly is a matter of rolling up your sleeves and digging in and making sure you have a handle on all the issues.
"I would go to him for any litigation, no matter what it is," Slivka says. "It's his approach and his intensity and his thoroughness. You believe you're getting the best representation you can get; and I believe we have, and I think we are."
"He's one of the very best counter-punchers I've run across," says Stephen Long of Long & Page, Reilly's opponent in the Broncos ownership case. "He was exceptional at reacting to what we were doing and punching back. He was exceptional in the courtroom. He's a professional. He can be trusted, even as an adversary. And he's very creative in terms of how he thinks of discussing the evidence and arguing the case."
Even attorney Rich Baer, who jostled elbows with Reilly at the lectern in Larimer County Court when he was defending US West against a massive class action Reilly had filed on behalf of a million customers, is impressed. "He's never a guy who's going to raise his voice or be a screamer, but he's an aggressive adversary and advocate," says Baer, now general counsel at UnitedHealth Group. "He's probably the best all-around package, as a litigator, of anyone I've dealt with. He's not only a superb trial lawyer but able to handle very complex matters and get them to trial, which is a different skill set. He is just one of the best around the country."
That's not Reilly's goal, though. His goal is to have the best trial team in the country.
"I wouldn't have said that out loud a couple of years ago," he admits. "It wouldn't have been a realistic goal. But over the last two or three years, with the places our clients have taken us, the cases our clients have asked us to do, the challenges we've had in these massive cases and the kind of lawyers we're able to bring in here, that's a realistic goal. We can be as good as anybody in the country. I think we are right now. I'm surrounded by lawyers who are a lot smarter than me."
Reilly and Pozner opened their own firm in 2000. "I voted with my life," Pozner says. "I had my own firm. I was happy and we were having a good time, but when we had a chance to start all over and do something new, it was just such a wonderful challenge I don't think we could say no to it."
Pozner jokes that the average age at the firm is 16. It's a young, energetic place with lawyer meetings instead of partner meetings, and where employees write on the walls. Collaboration is the norm, everyone gets a vote, and no one is expected to put in as many hours as Reilly.
"He's created a law firm where people enjoy themselves," Pozner says. "Fear is not a good motivator of people. Consideration, dignity and respect are better motivators."
As much as Reilly wants his team to enjoy coming into work, he also encourages them to take time off.
"Dan practices law the way he practices life," Pozner says, "which is to find the best in people and to try to find the best in himself. You really hear a lot of laughter if you hang out here."
Search attorney feature articles