Moving Forward
Three young attorneys on the outlook for the future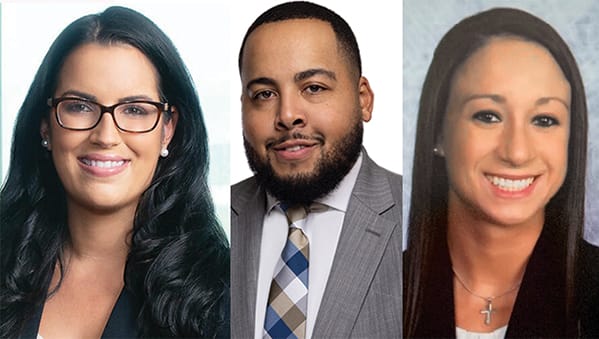 Published in 2023 Pennsylvania Super Lawyers magazine
By Rebecca Mariscal on May 17, 2023
Of all the challenges facing the youngest generation of lawyers, one of the biggest has been navigating disruptions during the very first days of their careers. Thanks to the COVID-19 pandemic, Derrick Maultsby Jr. of Frost Brown Todd in Pittsburgh had to take his Bar exam remotely. In addition to abiding by the standard clothing rules, he had to be on camera at all times and was even told not to touch his face.
"I was able to take it in a corporate office setting, but I felt for people who didn't have that opportunity," he says. "There were folks that had to take it in their homes or in their families' homes, and finding a quiet space when everybody was locked down is difficult."
Caitlin Donahue's first day on the job was March 9, 2020, just days before pandemic shutdowns began. "My experience from the start was very different from a lot of attorneys that I work with," says the employment law attorney with Cipriani & Werner in Lancaster. "We're seeing such a great shift [to remote work] already in such a short amount of time because the profession was forced to make that shift."
That's where adaptability comes into play.
"The market is changing," says Maultsby. "Being versatile and adding value to not only your firm but your client in different ways allows you to be in a better position as a young lawyer."
There can be downsides to hybrid and remote work. "There's something to be said about being able to walk the halls and have conversations or go and sit down at somebody's desk and talk through a matter," he says.
But being digital natives gives them an advantage, and Donahue says younger lawyers might be able to make the transition more easily than others. "You're learning how to do things more efficiently and more effectively versus when everything was on paper or you're traveling for so many miles out of the day," she says.
Still, they're no strangers to hard copies. "We grew up in a time both before computers and after computers," says Sabrina Hendershot of Paul, Weiss, Rifkind, Wharton & Garrison's Delaware office. "So we are not completely reliant on them. I'm still using my hard copies of treatises and articles but I'm also very comfortable with the online resources, and I think that makes our generation pretty unique."
In this way, they feel mentorship can go both ways. "My generation definitely has something to offer and something to teach Gen X or boomers," Donahue says. "We are all lawyers, so we're fit for sitting down and grinding it out."
It's a busy time for the profession, with courts overburdened and work moving at a fast pace. "Something is going to have to give," says Hendershot. She believes the future will see either more lawyers, or slower or less efficient litigation: "I have a feeling it's most likely going to be an expansion of the bench and bar."
"I think the market is looking for young talent," Maultsby agrees. "That allows for us as young lawyers to jump into some cool things and not just be worker bees."
Donahue says that, as a woman, she's still encountering issues that plagued previous generations. "It's unfortunate that we're in 2023 and it's still the case where I get mistaken for the court reporter or the paralegal or the secretary," she says.
Looking forward, Maultsby hopes to see a greater amount of diversity in the profession. "Across the country, the numbers are abysmal," he says. "Seeing more diversity, more equity, more inclusion in law firms is so important. And not just associates. [I want to see] those people be groomed, invested in and be brought up through the ranks, because the numbers drop when you get to the partner ranks. That's on law firms for not doing enough to make sure that they are thinking critically about how to move that forward."
In this regard, Maultsby serves on his firm's Inclusion, Diversity, Equity and Belonging committee, where they're exploring methods to address those issues. "It's a matter of us all doing our job to increase what that diversity looks like," he says.
Hendershot would like to see an evolution in how a lawyer's value is determined. "I think sometimes the practice of law can be a bit archaic, where other fields have moved on from what school you went to as the most important factor," she says. "I think our generation is going to hopefully have less emphasis on that and more on the person as a person, and really appreciating people for their experiences, not necessarily just their credentials and boxes they check."
Donahue is confident that her generation of young lawyers—and Gen Z behind it—will bring a more open mindset to the future of law. "The idea of, 'Well, this is how it's been done for X amount of years and this is how it's going to continue to be done,' that is going to go out the window."
Search attorney feature articles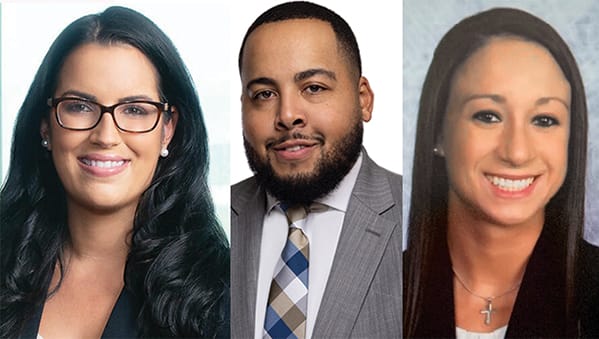 Featured lawyers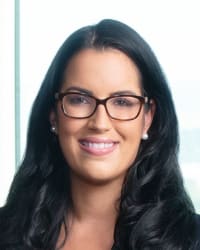 Top rated Business Litigation lawyer
Paul, Weiss, Rifkind, Wharton & Garrison LLP
Wilmington, DE
Helpful links
Other featured articles
Her approach to folk painting and family law is just right
Lawsuits will increasingly be about the technology designed to prevent accidents
Qusair Mohamedbhai tackles civil rights and employee rights in post-9/11 America
View more articles featuring lawyers
Find top lawyers with confidence
The Super Lawyers patented selection process is peer influenced and research driven, selecting the top 5% of attorneys to the Super Lawyers lists each year. We know lawyers and make it easy to connect with them.
Find a lawyer near you