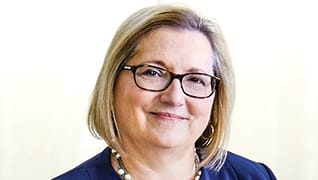 Photo by: Luigi Ciuffetelli
Not Just for Delaware Anymore
Pauline Morgan manages the complex traffic of Chapter 11 bankruptcy and corporate restructuring
Published in 2019 Pennsylvania Super Lawyers magazine
By Matt Amis on May 16, 2019
As past chair of Chapter 11 bankruptcy and corporate restructuring efforts at Young Conaway Stargatt & Taylor in Wilmington, Pauline Morgan would seem expert at determining the value of things.
One area where she seems to fall short in determining value? Herself.
"What I do is not a one-person effort," she says. "I think that I'm very conscientious, I prepare hard, and I really take it seriously. Even if I've done it 50 times, I don't wing it.  … Part of my job is just managing traffic."
"She's a brilliant lawyer," says James L. Patton Jr., partner at Young Conaway, in rebuttal. "The ability to see into the future requires that you also have the ability to not get knocked off track when your prediction doesn't come true. A surprise springs  out of the shrubs, catches you around the ankles—and you want a lawyer who can take those unforeseen outcomes in stride. The very best Chapter 11 lawyers that I know have the ability to navigate the complexity of this stuff with equanimity, and Pauline has that in spades."
A Pittsburgh native and daughter of Croatian immigrants, Morgan was a "shy, nerdy" kid. Her father worked nights in the steel mill so he could be home with Morgan during the day; her mother ironed shirts at the local dry cleaner. She grew up immersed in Steel City's Croatian community. "It's been an essential building block for who I am," she says. "We were part of a community of Pittsburgh Croatians—many of our friends and neighbors were Croatian; we belonged to a Croatian Catholic parish, where I went to elementary school."
Her father's playlist typically included Croatian music, and Morgan was "totally into it."
"I didn't know what all of the words meant, but I still loved to hear them and say them," she says.
She can thank her finesse with a particular Croatian instrument for putting her through undergrad: the tamburitza, a mandolin-like instrument popular in Croatia and other Balkan countries.
"When I was 6, my parents signed me up to join a performing group called the Pittsburgh Tamburitzans," she says. "There used to be many of these groups throughout the U.S. in areas with a heavy concentration of Eastern Europeans, and many are still in existence."
Years later, as a senior in high school, she auditioned for the Duquesne University Tamburitzans. The talent that made the cut received a full ride in exchange for performing up to 120 shows a year. 
Morgan says tamburitza-ing her way through 40 states while maintaining good grades gave her a love for travel and the arts, plus cultivated her multitasking skills. Most important, she didn't have to saddle her parents with a bill.
"With the equivalent of elementary school educations, my parents gave us everything we needed," she says. "While they never put pressure on me to succeed, I never wanted to disappoint them."
After graduating with a journalism degree—"it was the '70s, I wanted to be like Woodward and Bernstein," she says—she was greeted by a sagging print industry where most major cities were losing their afternoon newspaper. She managed to earn some side-hustles with the Pittsburgh Post-Gazette and the Pittsburgh Press, but full-time job prospects were dim. 
After relocating to South Jersey, she found secretarial work at law firm Clark Ladner Fortenbaugh Young.
Quickly she thought: "'I can do this.' So I took a day off to take the LSAT and did really well and that was it."
After law school, she returned to Clark Ladner as a summer associate and stayed full-time for more than eight years. Several partners did bankruptcy work, and Morgan was drawn to its fast pace and complicated puzzles.
But the firm fell on hard times. Luckily, a few miles south in Wilmington, Delaware, Young Conaway was experiencing a growth spurt, and "desperate for talented bankruptcy lawyers," Patton says. "Once she came to our attention, we quickly made her an offer."
The firm is now the biggest bankruptcy group in Delaware.  
"We pride ourselves on really rolling up our sleeves and knowing the case," Morgan says. "We can handle large cases. We can handle small ones where we just assign a few people, but we can also handle and put 20, 25 people on a file if we have to, and we have had to."
In 2007, Young Conaway served as sole bankruptcy counsel for giant sub-prime mortgage company American Home Mortgage. The firm was hired just one week before American Home Mortgage landed in bankruptcy, and a months-long blitz ensued as the company worked to sell off its loans. It emerged from bankruptcy protection in 2010.
"This was a case where Pauline demonstrated that she had moved to the top of the ranks nationally," Patton says.
While Delaware is famous for its speedy bankruptcy and Court of Chancery, Morgan gets results outside of Delaware's borders, too.
In 2012, after nearly a decade of restructuring efforts, film pioneer Kodak filed for Chapter 11 in the US. Bankruptcy Court for the Southern District of New York, citing $5.1 billion in assets and nearly $6.8 billion in debts.
Kodak's longtime reps at Sullivan & Cromwell brought in Morgan and her team. "You need a lot of bodies in those big cases," Morgan says. "There are contracts, there are claims, there are employees—there are so many small pieces within a big picture. We had the depth and size to help them."
For more than a year and a half, Morgan and team steered Kodak through its reinvention, as it de-listed from the New York Stock Exchange, sold off several divisions, downsized staff, and exited the digital camera and inkjet printer business. In September 2013, Kodak announced it emerged from bankruptcy a sleeker company focused on commercial customers.
"It was enjoyable for me to get out of the comfort zone here in Delaware and be in a New York court, with a new judge," Morgan says. "That was an additional challenge."
Kodak may have sidestepped the relentless advance of the digital age via rebranding, but not all businesses fare so well.
"Companies that have been slow to innovate have struggled mightily, and even those that have survived still face challenges and could find themselves in need of further restructuring," Morgan says. "Media companies, newspapers, book sellers and retailers have been especially hard hit. As innovation moves at lightning speed, I imagine there will always be companies and industries that will struggle to adapt and will turn to bankruptcy courts for help."
Lisa Schweitzer, partner at Cleary Gottlieb Steen & Hamilton in New York, has also called upon Morgan for company- and creditor-side matters in Delaware courts.
"Pauline and her team are an outstanding set of lawyers and magnificent co-counsel," Schweitzer says. "They know to be efficient and to work collaboratively. … You fully trust her wisdom and strategy."
Schweitzer teamed with Young Conaway to represent a Mexican bank, Grupo Financiero Inbursa, as it pursued a sale of M&G USA Corporation, which filed for bankruptcy in 2017.
As the debtor-in-possession lender and first-lien lender, the bank sought an immediate payoff of their secured debt or an opportunity to foreclose on the company's manufacturing plant, if the sale proceeds weren't enough.
"Pauline had invaluable insights on the DIP lending and the sales process," Schweitzer says. "In the end, our client got paid in full, so you have to be happy about that."
From the 233,880-square-foot former federal courthouse in downtown Wilmington, Morgan uses her wealth of experience to help usher in Young Conaway's next chapter. On the firm's management committee, she's witnessing growth in corporate litigation, intellectual property and even women partners. Demand for her isn't waning, and the future that she helped write—whether she'd admit it or not—is looking bright.
"It's a great practice," she says. "Fast-paced, intellectually challenging; its rewarding to play an important role in restructuring a business."
But restructurings fail, leaving emotional wreckage in their wake.
"I represented a couple of large retailers  who entered bankruptcy in the hope of a stand-alone restructuring or a going-concern sale, but the end result was liquidation, with thousands of employees losing their jobs and creditors only receiving small recoveries," she says. "It's just heartbreaking."
She combats the toll with travel. She and daughter Kristina are working through their world tour bucket list. "It's such a rush to be in a brand new place, seeing the sights, meeting new people," Morgan says. "There is just so much I want to see." 
Search attorney feature articles