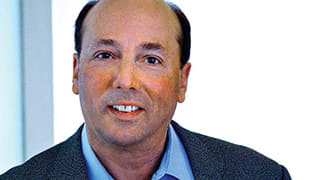 Photo by: Luigi Ciuffetelli
Stuart M. Grant's Double Secret Probation
Inside the record-setting corporate litigation practice of Delaware's most well-rounded man
Published in 2015 Delaware Super Lawyers magazine
By Matt Amis on May 15, 2015
Stuart M. Grant may not be a jack of all trades, but he is at the very least a jack of most.
In conversation, he bounces from animal science (he breeds and races thoroughbreds, and is 11 semesters into a pre-veterinary program at the University of Delaware) to Animal House (a film he quotes relentlessly, even in the courtroom). He mentions his year spent living in Australia, his experiences as a former NCAA soccer referee and his lofty ties to the Democratic Party. He's partied with Jay Z and Beyoncé at the White House, and on the wall of Grant's office, a portrait of him with the Obamas hangs near the coffee pot.
"I've always been interested in lots and lots of things, as opposed to being really invested in just one or two things," Grant says. "At a cocktail party, I like to be able to talk about anything for 15 minutes."
He's a man of few routines, and he concentrates his focus in short, effective bursts. Twenty-nine years into his career, Grant's clout is still growing.
"He has absolutely no fear," says colleague Megan McIntyre. "If he threatens to take a case to trial, he'll take it to trial. He's not afraid of anyone or anything. And he's not bluffing."
From high above the Christina Riverbank in Wilmington, Grant directs the 18-year-old firm of Grant & Eisenhofer, which has emerged as one of the country's highest-profile plaintiff's firms and one of the fleetest of beasts inside Delaware's chancery court. The firm's selective caseload revolves around litigation for institutional investors, whistleblowers and consumers, and it has achieved more securities settlements in excess of $100 million than any other firm in the country. For his part, Grant has served as the lead counsel in seven of the 10 largest settlements in the history of the chancery court.
The courtroom is where Grant's wide range of interests and experiences pays off, as he approaches complex corporate and fiduciary entanglements from a holistic point of view. "Having such broad experiences as I've had allows me to look at problems differently than others," he says. "As I've gotten older, gained more experience and seen a lot of things—with that comes a certain level of wisdom."
The ability to connect with people might be his most important skill. In court he prefers anecdotes and analogies to rehearsed presentations. "I almost never cite a case," he says. "The theory is, the legal briefings you submit are where all your law is. I'm trying to get hold of human beings from inside and say, 'This is why I should win.' The brief will tell you how, but I have to convince you to want me to win."
Says McIntyre: "He's not as straight-laced as other members of the Delaware Bar, so he tends to ruffle feathers a bit."
He doesn't just argue in courtrooms, he helps staff them. Grant currently vice-chairs Delaware's Judicial Nominating Commission—the body that makes recommendations to the governor for judicial appointments.
Delaware Supreme Court Chief Justice Leo E. Strine Jr. is a longtime friend. "He's not for everyone, but he has a big heart, and he does have a way of turning a phrase," says Strine. "He says some things at times which may be shocking, but he also frames things in human ways to tell a story that people can understand.
"He's always been outspoken, always been bold. But he's still the same Stuart that I met 25 years ago. There will be times where a judge may say, 'I've heard enough of your boldness.' Anything that Stuart takes on, he becomes a passionate advocate for."
Grant grew up in Brooklyn and later in Westchester, New York. The son of a "people lawyer," as Grant puts it, he knew from a young age that he wanted to become a lawyer, too. "And not just any lawyer," he says. "I wanted to be a corporate litigator."
That's why, after earning a bachelor's at Brandeis University, a law degree from New York University School of Law, and then clerking for the Hon. Naomi Reice Buchwald in the U.S. District Court for the Southern District of New York, he arrived in Wilmington, where many of the country's Fortune 500 bask in the state's favorable tax policies and speedy chancery court.
"I realized that starting my practice in Wilmington was like being among the mangroves," he says. "It was a smaller, easier place to get things done. I was able to get into court here, to litigate against others. I would also see other members of the bar on the soccer field or at a political or charitable event. Often an adversary from the courthouse would go on to support me elsewhere in life."
He went to work as an associate with Skadden, Arps, Slate, Meagher & Flom, then became a partner at Blank Rome Comisky & McCauley before founding Grant & Eisenhofer in 1997 with Jay Eisenhofer. Before long, he found himself on the board of trustees for the University of Delaware, where he and his wife's contributions have helped transform the school. A $1 million commitment in 2013 spurred the development of an equine studies program; and in 2014, the college officially renamed a soccer facility Stuart and Suzanne Grant Stadium, after the couple picked up a $1.5 million tab for renovations.
He has made friends with many of Delaware's most prominent lawmakers, though he tries to avoid dropping names. "I'd rather just say I've been very active in Democratic politics from both a policy and fundraising point of view," Grant says. He is also a friend to the closest thing Delaware has to a royal family: the Bidens. He's bundled funds for President Obama and Vice President Joe Biden's 2012 reelection, and was finance chair for former state Attorney General Joseph "Beau" Biden's campaigns. At the end of his second term, Beau went to work for Grant & Eisenhofer.
Meanwhile, the cases keep coming.
In the early 2000s, Grant fought for shareholders of Digex Inc. against directors and Digex's parent company, Tampa-based Intermedia Communications, over the issue of Intermedia's planned merger with WorldCom Inc. The case resulted in a settlement to the tune of $420 million, the largest settlement in the history of Delaware's chancery court.
In 2011, Del Monte Foods and Barclays Capital settled a shareholder lawsuit and paid a combined $89.4 million following mismanagement claims surrounding the leveraged buyout deal of Del Monte by a group of private equity firms led by Kohlberg Kravis Roberts. At the center of the case was a financial maneuver that allows banks to profit from both sides of a transaction. Up until that time, this type of financing was a fairly accepted practice among corporate transactions.
During a deposition, Grant, who represented a class of Del Monte shareholders, was struck by the duplicitous nature of Barclays' arrangement, since the bank served as an adviser to the seller and a provider of financing to potential buyers. "Few people would've tied it to this broader picture," Grant says. "The argument was: 'It's always been this way.' I said, 'Well that's a freakin' outrageous practice.'"
The settlement became one of the top 10 settlements ever recorded in the Court of Chancery, and the case resulted in immediate changes to lending policy practices among major investment banks. By 2013, legal observers were calling Grant & Eisenhofer one of the most feared plaintiff's firms.
"My practice," Grant says, "and in large part the firm's practice, exists to be the counterbalance to greed. Whether it's security fraud, corporate litigation or antitrust—we basically oppose greed. I don't look at as a moral calling, but I take pride in the fact that I think we're on the right side of the issue almost all of the time."
In one of the earliest securities class action cases to go to trial following the passage of the Private Securities Litigation Reform Act in 1995, Grant and McIntyre represented several private and public funds and took aim against former officers, directors, auditors and underwriters of environmental services company Safety-Kleen Corporation, which was accused of making false and misleading statements about bond sales. A six-week jury trial in South Carolina federal court culminated in approximately $280 million in settlements and judgments. "And even though it settled before a verdict, the jurors were anxious to tell us what they thought," McIntyre says. "Their feedback was that when Stuart got up, they knew they were going to be entertained."
Following the decision, Grant told The New York Times that the decision ought to teach the defendants a lesson. "If they get money in five years, 10 years, 15 years, we're going to haunt them," he said. "They have to know this is a lifelong problem for them, not a little five-year dip in their career."
In February 2015, Grant went to trial representing Dole Food Co. Inc. shareholders in a case involving David Murdock's 2013 buyout of Dole to take the company private. Grant hammered the 91-year-old Murdock on the stand for over five hours—including playing video clips from Murdock's depositions, questioning whether his testimony was truthful. "You always twist what I say," Murdock said, according to a Reuters report. "You always try to make me look dishonest." To which Grant replied, "I don't need to do that; you do it on your own."
Clearly, Grant, 55, knows how to get going when the going gets tough. But some of his most indelible impacts have been made in the community. In 2011, he and Suzanne established the I Could Do Great Things Foundation with a $1 million endowment aimed to encourage and fund innovative community-based projects. And he's especially proud of his personal role in mentoring and shepherding women in the legal world—a byproduct, he says, of his days as a women's soccer coach.
"He took me under his wing early on," says McIntyre, who's worked with Grant for almost two decades following a summer internship in 1993. "And he's been very good about teaching me the ropes, while also encouraging me and other women to find our own voice and the approach that works for us."
Even at their first meeting, McIntyre experienced a healthy dose of Grant's unpredictable ways. Grant, an associate at the time, deployed some help to interview her: a giant, inflatable California Raisin. "That was kind of my first impression," she says with a laugh. "And it remains true to this day."
Search attorney feature articles
Helpful links
Other featured articles
An oral history of civil rights and the African-American bar 60 years after Montgomery
The many stories of former JAG officer Joel Collins would fill a book—and they do
Clayton D. Halunen aims to afflict the comfortable and comfort the afflicted
View more articles featuring lawyers
Find top lawyers with confidence
The Super Lawyers patented selection process is peer influenced and research driven, selecting the top 5% of attorneys to the Super Lawyers lists each year. We know lawyers and make it easy to connect with them.
Find a lawyer near you