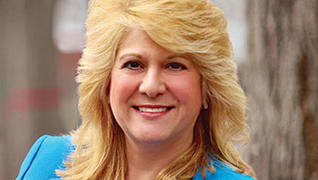 Photo by: Luigi Ciuffetelli
Talking It Out
What's the secret to mediator Yvonne Takvorian Saville's success? Letting everyone have their say
Published in 2014 Pennsylvania Super Lawyers magazine
By Amy White on May 23, 2014
A seasoned pro when it comes to reading body language and facial expressions, Yvonne Takvorian Saville tells a story about fishing with her family. "We just took a trip to Islamorada, Florida," she says of her husband, Erik Saville, and sons Jason and Alex. "We caught over 400 fish in one week. Actually, in five days. Thirty-three species. It was a blast."
The mediator with Weiss & Saville in Wilmington doesn't wait for the follow-up question. She reads the body language and immediately answers, "Yes. That is a lot of fish."
This ability helps her effectively mediate up to eight cases per day and still have time to attend her sons' baseball games. She taps a finger on her daily agenda. "So for example, on this day, I have mediations at 8:30, 10:00, noon, and 2:00 p.m.; break for a baseball game at 3:30, and be back here for a 5 p.m. and then 6:30 p.m. mediation," she says. "Although, of course, those 6:30 p.m. time slots aren't so popular with clients."
They're popular enough. Saville estimates she mediated and arbitrated 1,300 cases in 2013, up from 700 the year before.
"The word is out," says Bernard A. Van Ogtrop, a senior partner at Wilmington's Seitz, Van Ogtrop & Green who has known Saville for 20 years and who has worked with her on mediations. "It's no secret that she's known to be very efficient, energetic, and can get the job done. I've been at this game a long, long time and tried many more jury trials than I wanted, and I'll tell you this—if you can avoid trial, you should, but only if the result you get in mediation is correct."
Of course, neither party walks away from mediation with everything he or she wanted. But Saville pulls no punches in ensuring that all parties know the difference between an offer on the table or a walk out her door.
"I think what Yvonne brings is a dose of reality," Van Ogtrop says. "When a case has warts, she points them out in a very gentle and sincere way. The issues in cases that people gloss over or don't want to think about are made clear. She always asks the right questions."
The question for Saville, almost two decades ago, was "newscaster or lawyer?" She credits her parents for putting her in a position where either was a viable option.
"My parents are the single most influential people in my life," she says. Both were first-generation U.S. citizens born of Armenian immigrants and stressed hard work and education above all else. Her father, who earned a Ph.D from Clemson, spent three decades with DuPont. Her mother recently retired after 33 years with the Delaware Historical Society.
"My mother always pointed out that I was quick on my feet and could make an argument," Saville says. "Once I got to the University of Delaware, and started really considering my options, the law won out."
After a string of clerkships, one thing became clear to Saville: "Litigation," she says. "That's what I wanted to do."
Her last clerkship landed her at the firm of Michael Weiss, who was one month into a solo venture. Twenty years later, she's still there.
"I knew that she was smart, and I could see that she was a hard worker," says Weiss. "Anyone who comes into contact with Yvonne can see her passion and enthusiasm for everything she does. I saw those traits when I first met her, and I continue to see them every day."
A self-described "people person," Saville was drawn to plaintiff's work from the start. "Really every case, when doing this type of work, leaves an imprint on you in some fashion," she says. "You're representing someone who feels they were wronged, or who is looking for lost-wage benefits from medical expenses or who has been catastrophically injured in an accident."
While mediation makes up the bulk of her practice, Saville can't let go of her civil litigation work. A recent case she handled with Weiss, in which a man fell from a ladder and became a quadriplegic, illustrates why. "The way he handled his life after he fell," she says, "from that moment forward, until he passed several years later, was certainly a lesson. He was never bitter about how the remainder of his life was going to be, and he had the tremendous support of his wife and his family, whom Mike and I are still good friends with to this day."
Her civil ligation work also includes workers' compensation matters. Saville recently argued a successful case of first impression before the state supreme court regarding the correct calculation of an average weekly wage for employees who have not worked a full work week. She and Weiss also serve as local counsel for an out-of-state law firm in connection with the Delaware asbestos docket.
"I still represent those types of cases, and won't ever stop doing that," Saville says. "But by the time this goes to print, I will have mediated or arbitrated over 4,000 cases, and that's mostly over the past five years."
Saville is quick to share the credit. "Some people say, 'I don't know how you do this, day in and day out,' but to me it's simple—there is a network of people who make my job so good," she says. "Mediation cannot be successful unless the people who come to your office come prepared. And I have the luxury of working with practitioners and adjustors who come to this office every day prepared in an effort to come and settle the case. I can't do my job otherwise."
Every single one of those 4,000 cases comes with an ironclad confidentiality agreement, so while she can't talk specifics, she can talk legal philosophy.
"Patience and active listening are critical. People want to be heard when they come here and they have the right to. For many of the litigants, I am their day in court," she says. "My experience tells me if you look at the jury verdicts in the state on how cases similar to those that I handle settle, I can have an honest conversation with them. I tell them, I have no vested stake in what they do—I don't. They are here because the court requires that they come here, so my job is either to settle the case or let them know what they're risking if they decide to walk out the door."
"Yvonne's problem-solving style is to listen carefully and intently to both sides and to stay with the case as long as it takes to bring it to a fair resolution," Weiss says. "Maybe most importantly, she does her mediation work in a way that makes the process very comfortable for the litigants. When the parties leave her, I really think they feel that the system has worked for them."
U.S. Magistrate Judge Sherry Fallon, who worked on a number of mediations with Saville before becoming a judge, agrees. "She accurately asses both sides of a dispute without wasting any time," Fallon says. "She is very personable and earns the confidence of even the most difficult individuals in mediations."
So what happens when a mediation seems destined for disaster? "Experience tells you what you need to do in that case," she says. "Body language tells you what to do. The emotions that you see on someone's face tell you what to do. I cannot stress enough for anyone who wants to become a mediator how important it is to give them the chance to talk. A lot of times all people want is to talk it out with somebody. And not everything settles at the mediation, either. I have a diary system that allows me to continuously check in on a matter. Often, after having time to digest everything that was said, these cases settle days after the mediation takes place."
The cases that do walk out her door headed for the courthouse steps are tracked by her office. That way, Saville can see how the jury ruled and use that information down the road in similar cases.
The detractors of mediation say it cuts down on the amount of case law being created. But Saville says the benefits outweigh any potential drawbacks. "We have a great court system here in Delaware, some of the finest judges in the country," she says. "I don't think we're lacking in any good case law, and we don't want our courts to be overwhelmed."
If getting on Saville's schedule was tough before, it will get even harder July 1, when she becomes the seventh woman to serve as president of the Delaware State Bar. Saville says that one of her key focuses will be issues specific to the state's small and solo practices. "These types of practices make up 50 percent of our bar here, and I think, if I've done the math correctly, in the last 22 years, only three lawyers from such firms will have served in the role of president."
It's another responsibility for Saville to fit into her agenda, but she knows she can count on the support of her professional and private networks when needed. "My husband works right up the block," she says, "so on those days when I need a little help, he's there to share dropping off and picking up the kids.
"My whole life is really a 10-mile circle, and I love it."
Search attorney feature articles