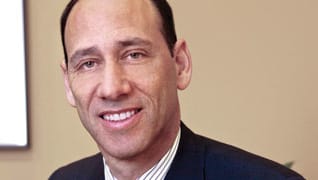 Photo by: Luigi Ciuffetelli
The Brand Name
Health care attorney Adam Balick continues his family's legal tradition
Published in 2013 Delaware Super Lawyers magazine
By Amy White on May 17, 2013
As a second-grade student on career day, Adam Balick and a classmate decided they were fated to be law partners. Didn't happen. But Balick knew where his life was heading. "My father was a lawyer," he says, "my father's younger brother was a judge, his wife was a judge. I had a couple of cousins who were lawyers, too."
His father Sidney (who, once upon a time, took a chance on hiring a young lawyer named Joseph Biden) was the most influential. At the Balick household in Wilmington, Del., dinner came with dialogue. "My father was always talking about cases," Balick says. "He was one of those old-school criminal defense, personal injury, did a little bit of domestic work guys. … Growing up, what I saw was the personal connection that he had to not only his work, but to his clients. I saw this warrior."
Balick spent his childhood shadowing his dad. "He wasn't the guy who sat behind the desk," Balick says. "I didn't want to be that guy either. The first thing we would do is go to the courthouse, and all of the lawyers would gather downstairs and they would eat fried egg sandwiches and drink their coffee and resolve cases with each other."
Defense was in his sights until the day he wandered into a particular murder trial. "An older woman was mugged leaving the grocery store. They couldn't tell what the fatal injury was—there were so many possibilities," he says. "I thought, 'Wait a minute. Prosecutor. Maybe that's the side I want to be on.'"
Balick clerked at the attorney general's office, hired by Bart Dalton, then the chief deputy prosecutor and the lead prosecutor in the case that lured Balick away from defense.
"Once he became a deputy he showed the quality that is the most difficult to teach," says Dalton. "Judgment.
"I left the office as chief deputy shortly after Adam started. I was representing a corporate exec for a DUI as a defense attorney. I went to court and there was a young deputy there who acted like a real jerk. No plea to anything less than the charge and really had a chip on his shoulder. I had the case continued, and got Adam as a prosecutor the next time, with the same case. Still no plea, and we went to trial and Adam won. I called my friend the attorney general to do two things: One: complain about the first deputy; and two: compliment Adam. He handled things like a lawyer should. He was professional and did a very good job at trial. I knew more from that that he was going to be a terrific lawyer."
"To be a deputy attorney general is the best job you can have," says Balick, who stayed for six years before joining Balick & Balick with his father. "I'm almost 20 years out, but even now, I feel a connection to that place that's unlike anything else. And you've got tremendous power. It's very intoxicating. The drama in those cases is unlike anything else."
Balick served in a drug unit at a time in Wilmington when new laws attached significant mandatory minimum sentences to certain crimes. Although more dealers were getting more time, it created a new issue—an open market.  "We were taking Delaware drug dealers off the streets and that created a vacuum in Wilmington," he says. "So Philadelphia and New York drug dealers started coming down, which added another layer."
One of Balick's roles on drug raids was to help with legal grey areas. "We went into a house one time, and [police] searched it top to bottom. They didn't find what they were looking for," he says. "But you could see that the walls had been patched in three different places and that there was a vat of compounding material in the closet. So, you started to wonder, 'That wouldn't be a bad idea, to hide your drugs in there,' but the police didn't know whether they could knock down the wall, whether the search warrant would allow them to. Some of the stuff we were doing involved great danger, but what also felt like great humor."
The great danger came with being in the field. "[I felt] totally unprepared, "Balick says. "While you're sitting in this room waiting to go out, [the police are] putting bulletproof vests on you. They're sliding your arms into the sleeves of these things, and you're trying not to focus on the fact that, 'I've got to be protected.'" 
The great humor came when, for example, SWAT team members barged into the wrong home and were met with a bleary-eyed elderly couple. "One particularly eloquent police officer delivered lines like, 'Sir, this is a war. And in every war, there is collateral damage. You want to fight this war with us, don't you?'" Balick laughs. "In the mean time, of course, the real drug house … they all fled. You know, ask any of my friends who were prosecutors with me, and they'll tell you that their favorite show of all time was The Wire. That was pretty much our life."
Eventually Balick felt the need to leave. "There comes a time when you have to decide whether you're going to be a career prosecutor or if you're going to go do something else. But I had no idea what I was going to do," he says.
A federal judge helped by appointing Balick to represent an ambulance company on Medicaid fraud. "I loved it. It was everything I wanted to do," Balick says. "And it was completely by accident."
A fortunate accident for clients like Kemal Erkan, FACHE, CEO and founder of United Medical, a network which provides services to more than 65 practices comprised of approximately 200 health care providers. "When it comes to health care, Adam is the brand name in Delaware," says Erkan, who's worked with Balick for almost 12 years. "When I have meetings with him, I'm not meeting with my lawyer. I'm meeting with someone invested in and who knows my business. I trust him."
Erkan often goes to Balick for a dose of preventative medicine. "He's not someone I go to after the fact," Erkan says. "He's always step one. In our network, we have this concept of 'one patient, one chart.' So if you are seen by a primary care physician and a cardiologist in our network, you share the one chart. It's very challenging in regard to patient confidentiality and HIPPA. And it's a very new concept—we might be the first non-hospital system to do this. And Adam was able to come up with the language to protect patients' rights. It's not often he doesn't know the answer, but when something is so new like this, he finds it."
"It's a pretty broad practice," Balick says. "There's proactive, the reactive and the disciplinary."
On the reactive side, he may get a call from state or federal Medicare fraud investigators. "They may say, 'We see something that we think is wrong in the way that you've been billing for a service.' A lot of it is understanding some very nuanced billing requirements. Fraud in a health care context is a lot broader than fraud is in other areas. If you're a hospital and you're billing hundred of claims and [you don't periodically review what you're doing to see if you're doing it correctly], you could lose your ability to participate in Medicare and Medicaid, which is a death sentence to a health care provider."
The proactive part involves helping clients make sure they're compliant. "When I was a kid, I would go to my internal medicine doctor, and when he sent me for blood work, he would send me downstairs to a lab that he owned. Everybody was getting blood work done there because he was profiting from that referral," Balick says. "The government started to prohibit certain referral arrangements like that. The problem is that it's very hard [for legislators] to figure out what doctors should be allowed to refer to themselves and what shouldn't they be. There's very little guidance out there. If you get it wrong, and it's a False Claim Act, you're basically [kicked] out of medicine."
The final aspect of his work is representing health care providers who are brought before boards of medicine.
For a guy who didn't want to be sitting behind a desk, Balick spends a lot of time doing just that. "It's funny that I spend a lot of my time here, just answering calls," he says. "It might be something that I can answer immediately or something that I need to investigate further. A doctor calls me and says, 'I've got a patient who's saying that he's going to come back and bring a gun because we won't give him any more narcotics. What do we do?' or 'I've got an investigator here who says she wants my original chart. What should I do?'"
He makes up for his lengthy stays in his desk chair with travel—sometimes on a whim. "My best friend is a bonsai collector," Balick says. "He sends me a text: Want to go to Japan? That's it. So, I sent him a text back that says, Yes. The first text came in at 3:00. By 5:00, I had a ticket."
The bonsai bros took in the highly juried Kokofu show in Tokyo, which selects 250 bonsais from thousands of worldwide applicants. "A pretty small group of people from the U.S., Canada, Europe, China and, of course, Japan seem to pass these trees between them," Balick says. "Many of them know each other. They are all connected by no more than one degree of separation. We visited small private gardens of bonsai masters who invited us in to their homes for tea or lunch and we talked about bonsai trees like they were famous works of art. They could look at a tree and tell you the lineage of the tree for the past 200 years. I'm fighting an urge to not become more interested."  
Balick appreciates relationships based on degrees of separation. "I think everything that I do as a lawyer is influenced by that time at the AG's office," he says. "So many times in my career, that network has been helpful. There's camaraderie there."
Even when he's facing off with former colleagues. "You may get into a little bit of a beef over a particular case or—you know, I had an all-day deposition yesterday with six lawyers. We're all pointing fingers at each other, but I look forward to that. We like being with each other. It goes back to the days of my father having coffee at the courthouse in the morning. That's how they did it," Balick says. "That's how it should be."
Search attorney feature articles