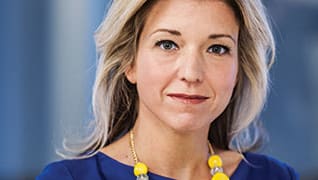 Photo by: Stan Kaady
Hell Out of Dodge
Jennifer Auer Jordan brings a touch of South Georgia to Atlanta
Published in 2016 Georgia Super Lawyers magazine
By Candice Dyer on February 19, 2016
With each answer from a potential juror, Jennifer Auer Jordan's manicured nails flitted across her iPad: question, answer, tap; question, answer, tap.
A founding partner at Shamp Speed Jordan Woodward in Atlanta, Jordan was using an app called JuryStrike, which she helped develop and which facilitates the voir dire process. On this day, Jordan was looking for jurors who combined empathy with a respect for rules. "I was looking for folks who do volunteer work, folks who care," she says.
But she was running into trouble. "They were generally very friendly toward the medical establishment. I worried for a moment that we were in for an uphill battle. We even ended up with a lawyer on the jury, which is a big no-no. If she had been predisposed against us, she could've advocated against us to the other jurors."
At issue was a nightmarish case of sexual assault. An 18-year-old known as J.B. had gone to a high-end Atlanta dental practice for routine oral surgery. While unconscious, under deep anesthesia, her anesthetist sexually assaulted her orally and video-recorded his actions.
"At first glance, it seemed like a case where a criminal actor had committed a crime without the knowledge or help of anyone at the dental practice," Jordan says. "However, as we investigated, it became clear to us that it was the intentional decisions and actions of the principles of [the dental practice] that gave her assailant the means and opportunity to commit sex crimes against multiple patients."
A petite woman with ash-blond hair, Jordan, 41, focuses on complex civil cases, including medical malpractice, investment fraud and consumer class actions. She's tech-savvy. Not only does she help develop apps, but she lectures on the role of social media in the justice system. She knew, for example, that her teenage client would have hyper-documented her life as a University of Georgia cheerleader on Facebook, and that the defense would use these upbeat photos to claim she had not been traumatized by the assault. "I started heading that off in voir dire by asking who posts negative things about their lives on Facebook," Jordan says. "I made it clear early on that this young woman is more than just a Facebook post."
The defense wound up taking a tack that Jordan found more outrageous. The lawyers argued that because J.B. was asleep, she could not suffer from post-traumatic stress disorder. 
"Can you believe that?" Jordan asks. "They showed no awareness that this event will haunt this young woman for the rest of her life. It may affect whether or not she gets anesthesia for childbirth later on. It was a bizarre defense. And it backfired." At one point, the defense introduced into evidence J.B.'s high grade-point average (3.7) as further proof she was not traumatized. In response, the jury handed down a verdict of $3.7 million—a sum presumably calculated to send a message.
Jordan likes this kind of math. It squares with her David-versus-Goliath ethos as a small-town girl who likes to take on the big firms.
Asked where she is from, Jordan invariably answers "Dodge County" in a barely perceptible drawl. "Down there, it's so rural we identify more by county than city."
Technically, she's from Eastman, population 5,000. "Growing up in a place like that lends texture to who you become," she says. "I don't want to say it was idyllic, but it was … different."
Less Mayberry, you might say, than Southern Gothic.
You likely heard of Dodge County a few years ago—it was the site of the nation's most flamboyant and pervasive voter fraud.
"Yeah, a lot of dead people were voting," Jordan says, with a sigh. "A lot of folks I know ended up in prison. Actually, if I start telling stories about things that went on there—the Dixie Mafia was always somewhere in the background, and bodies would turn up in the Ocmulgee River—you would think I was crazy."
She did not know any attorneys growing up. "I was raised by a single mother who was a hairdresser," she says. "I really don't know what prompted me to take up law. I wish I was motivated by money—and my husband wishes I was motivated by money—but I'm honestly not. I just want to help the underdog."
At the University of Georgia School of Law, Jordan was a regional champion on its moot court team, and competed in New York against the top teams in the country. "She is tenacious but charming," says Kellie Casey, director of advocacy at the law school. "A brilliant legal mind but completely unintimidating. For that reason, I think a lot of people—at least when she was 25—really underestimated her. They don't underestimate her so much any more."
The word that keeps popping up in conversations about Jordan is "relatable."
"She connects with jurors in a way that is hard to describe," Casey says. "She relates to them. I think it's just something she was born with."
"I think it's the fact that she grew up in Dodge County but has spent time in Atlanta—she relates to people from every walk of life," adds former colleague Bernard S. Brody, a criminal defense lawyer focusing on sex offense cases. "And she is utterly unafraid to take on the big case."
Admitted to the bar in 2001, Jordan clerked for Judge Anthony A. Alaimo, a Nixon appointee to the U.S. District Court for the Southern District of Georgia. When she eventually got out of Dodge, she landed at Bondurant, Mixson & Elmore in Atlanta. She drafted trial and appellate pleadings, took depositions and conducted document review. It was fine, but defense work, she says, "didn't feed my soul. … I wasn't doing work I felt passionate about."
She found it at Barnes Law Group in Marietta—a firm founded by former Gov. Roy Barnes—where she took on an issue closer to home: payday lenders.
"I was born at Camp Lejeune, the daughter of a career Marine," she says. "I know that near military bases and in rural areas, payday lenders really prey on the quick need for cash. You may need $500 for new tires to get yourself to work, and suddenly you owe more than $2,000."
The problem? Most banks are regulated by the states. If you're a national bank, chartered in a different state, you can skirt Georgia's usury laws. "This bank in South Dakota was fronting for all of these payday lenders in Georgia. What I did was take on these arbitration agreements, which kept people from bringing a class action lawsuit. The law was not really on our side, so I knew I needed to be creative and outthink the other side."
Jordan worked on several of these cases, many of them resulting in multimillion-dollar awards to class members victimized by unfair lending practices; one case even merited an en banc review before the 11th Circuit. Her subsequent appellate work has focused on the enforceability of arbitration agreements in consumer contracts. 
She went on to Pate & Brody, where she developed a civil plaintiff's practice, then to the Bird Law Group, representing individuals harmed due to negligence, recklessness or deception. "In our trials together," recalls Bill Bird, "she would always handle voir dire because of her ability to connect with people."
Along the way, she married into one of Georgia's political aristocracies. Her husband, Lawton, also an attorney, is the nephew of Hamilton Jordan, chief of staff to President Jimmy Carter. Lawton worked for the Clinton White House and for Al Gore during the 2000 presidential campaign. The couple met in law school, but reconnected at a mixer for the Red Clay Democrats. "It's not exactly politically popular to be progressive in Georgia," she deadpans. "We knew we had to stick together. People always want to know why I vote the way I do, and it might sound contradictory, but it's my Southern Baptist upbringing. Jesus was all about helping your neighbor, helping the poor and the downtrodden, helping those who are shunned. I took that to heart. That informs both my politics and my legal practice." 
She and Lawton have a son and a daughter. "My mama cooked for me," she says, "so I make it a point to cook dinner every night so we all can sit down to eat as a family. In the South, we express love through food."
Her current firm gives her that flexibility. The four name partners at Shamp Speed Jordan Woodward met through the Atlanta Trial Lawyers Society, a group of female civil plaintiff's attorneys that gathers monthly for lunch and to talk shop. "We all knew each other by professional reputation," Jordan says of her partners, "but the group allowed us to get to know each other on a more personal level.
 "It's fun to work with women you respect, who share your values. We all want to work hard and do great work, but we all have families and make them a priority, too. This is the most fun I've ever had practicing law."
Her app, JuryStrike, came about because Jordan wanted to automate the pen-and-paper chart system she used during voir dire to keep track of answers. So she put together a concept and design and brought it to a local app developer. "They took my boards and concept and wrote the code," Jordan says. "We would then go back and forth with the prototype. I would run through a mock voir dire to make sure the bugs were fixed and that it did what I wanted it to do."
The process took three months. She says she never meant for it to be marketed to a large-scale audience. "It was a tool that I wanted to be able to use in my practice," she says. "It was worth developing the app if I was the only person who ever used it."
JuryStrike has currently sold hundreds of copies.
"There are a lot of similar apps on the market, and I own all of them, but hers is far and away the best," says Brody. "It includes a seating chart and numbers each seat, so you just tap the number on the chart to correspond with your information. It takes almost all of the legwork out of the process. I used to make a big paper chart, which would get messy. Now I use Jen's app religiously."
Jordan also volunteers time with her alma mater. She just completed a term as president of the University of Georgia's Law School Association Council. "She oversaw a radical redesign of how that body operates," says Peter "Bo" Rutledge, dean of the law school. "It's more robust and diverse."
She's also big on fundraising. "Because [it's] a public law school, all scholarship money comes from private resources—alumni or endowments," she says. "It means the difference of whether or not some kid is able to go to law school or not."
Jordan wants to make sure the next up-and-comer from Dodge County or thereabouts has a shot. This is also true at her own firm, where she hired a Dodge County native.
"He graduated in the top 10 percent of his class but wasn't getting the offers that a student from Atlanta might get," Jordan says. "Where I'm from, you help each other out."
Search attorney feature articles