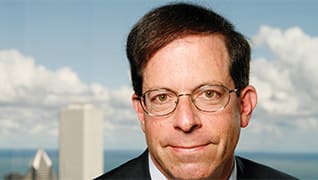 Photo by: Larry Marcus
Air Sperling
Frederick J. Sperling's low-key approach wins cases—and clients like Michael Jordan
Published in 2007 Illinois Super Lawyers magazine
By Josh Karp on January 4, 2007
One evening in 1998, attorney Fred Sperling sat in his Glencoe living room doing something fairly routine for Chicagoans back then—he watched the Chicago Bulls play a game en route to an NBA championship. At one point during the game, Michael Jordan made an astonishing shot that left Sperling momentarily stunned. Mouth agape, he said what was undoubtedly being repeated in living rooms all over Chicago: "He's absolutely amazing!"
One of Sperling's three children piped up with something definitely not being said in living rooms all over Chicago: "But Dad, you're with him all the time."
"Yes," Sperling agreed. "But when I'm with him, I don't think of him as a basketball player."
During the course of the 16 years he's represented the world's most recognizable athlete, Sperling, 53, has viewed Jordan in a light few get to see: as a human being, with complicated legal problems, for which all the no-look passes and gravity-defying dunks in the world can't help.
"People come to you with serious business or personal problems," says Sperling, the head of the media and communications law group at Chicago's Schiff Hardin. "You try to solve them in a way that leaves them better off. I couldn't give Michael the representation he deserves if I thought of him only as a basketball superstar." He adds, "If you're overwhelmed by their persona, you lose your perspective. You need to be able to say you disagree with their proposed course of conduct. You need to be willing to be blunt and direct."
Representing millionaire athletes and other high-profile clients—including two minors in a well-publicized dispute over the Pritzker family fortune—was the furthest thing from Sperling's mind when he decided to become an attorney.
Growing up in Philadelphia, Sperling watched his father, a real estate attorney, work at home weekday nights and weekends. "He loved what he did more than anyone I'd ever met," Sperling says. "He'd be humming as he went over documents."
But when Sperling was 15 his father suddenly died; just as suddenly Sperling began considering a career in law. "He was part of what drew me to the law," Sperling says.
An English major at Amherst College with a strong interest in politics and social action, Sperling spent the year after graduation working for a federally funded anti-poverty program on Chicago's South Side. He created a program that taught Roberts Rules of Order to parents who wanted to be active participants in school board meetings but who lacked the education and experience to do so effectively. "It was the most useful thing I did that year," Sperling recalls, "and it was part of what made me decide to go to law school: so I could attain skills that would help me address the issues I saw people in the community facing."
At the University of Chicago Law School in the late 1970s, Sperling received an education beyond the legal kind. The politically conservative faculty challenged but ultimately deepened his underlying beliefs. "It forced me to re-examine what I believed and why I believed it," he says.
When Sperling spent a year clerking for a federal court of appeals judge, one case went a long way toward forming the kind of lawyer he would become. "I saw a young lawyer who'd written his own briefs argue against an experienced lawyer who hadn't," Sperling says. When the young lawyer prevailed, Sperling learned a major lesson. "I always want to know more than my opponent."
He joined Schiff Hardin partly because of the firm's commitment to pro bono work. "Some of the most gratifying cases I've had were pro bono," says Sperling, who later served as president of the Chicago Lawyers' Committee for Civil Rights Under Law. "The ability to use my legal skills in other areas gives me an opportunity to address the issues of the day and make a contribution."
Some of those issues involved race. In Green v. Windy, the first civil case under the Illinois Hate Crimes Act, he represented an African-American truck driver whose truck broke down in Chicago's Bridgeport neighborhood, where he was attacked by a white resident. When police arrived the resident was smashing a 2×4 through his client's windshield. Arguing before an all-white jury, Sperling won a verdict of $475,000. But there was a larger payoff.
"Being able to stand up to his attacker was very, very important to my client," Sperling remembers.
In 1992, Sperling won a $1.75 million verdict against three skinheads who attacked an African-American school bus driver. Later he successfully prosecuted a civil case on behalf of a biracial DuPage County couple who returned from vacation to find swastikas and racial epithets spraypainted on the walls of their home. The jury awarded Sperling's clients $300,000.
Beyond the social impact of his work, Sperling relishes the intellectual challenges of the civil cases he handles. Developing a sub-specialty in defamation, he enjoys dissecting the interaction between state law and the federal constitution. "I enjoy the whodunit aspect," Sperling says. "What really happened? Who said what? Why? On a human level, [defamation cases] are interesting. Combined with the law, it's fascinating."
In his early years Sperling watched the senior attorneys at Schiff Hardin and learned from them. Among the lessons: 1) No case is perfect, and 2) Be yourself in court. Both are reflected in his practice.
"He's not flashy and he's not a tablepounder," says Paul Greenwalt III, a Schiff Hardin partner who has worked closely with Sperling. "I think he strives to create credibility with the court. If he told something to the judge, it's going to be right. If you start to play games, your credibility is shot. He doesn't go down that path. If he has a weakness in his case, he's upfront about it and explains it, instead of trying to pull the wool over the court's eyes." Those qualities have been instrumental in his representation of high-profile clients whose legal troubles are often litigated as much in the media and court of public opinion as they are in any legal proceeding.
In the late 1980s, Sam Thompson, a well-known tax attorney, ran into Willie Gault, the Chicago Bears star wide receiver, at Chicago's East Bank Club. When Gault mentioned a default judgment that had been entered against him, Thompson recommended Sperling. When Sperling got a judge to vacate the judgment (Judge: "You mean the Willie Gault?"; Sperling: "Yes, Willie Gault of the world champion Chicago Bears"), he found himself representing Gault on a number of matters. More important, when Gault's friend Michael Jordan told Gault he was considering a number of high-powered attorneys, Gault recommended Sperling.
"This guy always calls me back," Gault told Jordan. "And he always wins."
In 1990 Sperling began working with Jordan. In the fall of 1993 the producers of the film Heaven Is a Playground filed suit against Jordan, who'd been set to star in the film (he was replaced by Bo Kimble of the Los Angeles Clippers), alleging breach of contract and seeking $28.5 million in damages. They claimed Jordan's withdrawal caused the film severe financial harm. Sperling filed a counterclaim for fraud on Jordan's behalf, claiming Heaven Corp. had misled Jordan about the film's financing.
The case went to trial in 1998. Sitting at the defense table during Heaven Corp's opening, Jordan listened to a persistently negative personal attack on his character from the plaintiff's attorney. When Sperling stood to address the court, Jordan whispered to him, "Every day."
Sperling leaned down. "What?" he asked.
"Every day," Jordan repeated firmly. "I'll be here every day."
And he was. Sperling says that Jordan brought the same intensity to protecting his name and business interests that he exhibited on the basketball court. He never backed down; he would even sit in on jury selection. "He has the same 360-degree vision about juries as [he displays in basketball]," Sperling says. "He notices things nobody else sees."
Sperling has represented Jordan in matters that run the gamut from contracts to intellectual property to his 2002 complaint against Karla Knafel. He sought a declaratory judgment that Knafel's claim that he owed her $5 million was unenforceable. A decade earlier, Knafel had claimed to be carrying Jordan's baby, although DNA tests proved otherwise. She alleged that Jordan had promised her $5 million if she kept silent about the relationship.
The trial court granted a summary judgment in Jordan's favor and dismissed Knafel's claim as being "extortionate and against public policy." In 2005, the Illinois Appellate Court reversed and remanded the case, after which the trial court judge again granted Jordan a summary judgment, Sperling says, "as a result of Knafel's fraudulent misrepresentation to Jordan that he was the child's father or, alternatively, as a result of a mutual mistake of fact." The case is on appeal.
"He's a person of commitment," Sperling says of Jordan. "Often [high-profile litigants] just pay. But Michael refused to roll over. He was not willing to pay a penny to buy silence."
A prime example of how Sperling's courtroom style has paid off for Jordan involved a suit by Chicago businessmen Gene and Joe Silverberg to enjoin the construction of Jordan's restaurant, one sixtyblue, which they believed violated their partnership agreement with him. Jordan countersued, asking the judge to find that he had the right to own and operate the restaurant while terminating the license agreement for use of his name, which he alleged they'd tarnished with numerous negative public statements to the press.
At trial, Sperling used blow-ups of newspaper articles in which the Silverbergs' statements appeared. When Sperling pressed Gene Silverberg about his negative public comments, Silverberg responded, "What else could I have done?" Sperling promptly turned to the exhibits, reviewed Silverberg's lengthy statements, and then found his own response to a reporter.
"You could have done this," he said, and pointed to his own "No comment" in the article.
"My approach throughout has been to not try these cases in the press, but in court," Sperling says. Ultimately, Judge James Moran denied the Silverbergs' request for an injunction and terminated the licensing agreement.
Though Jordan is one of the world's most famous celebrities, Sperling is low-key about their relationship. "He's not affected in that way," says Steven Varick, a law school classmate of Sperling's and a partner at Chicago's Holland + Knight. "At one law school reunion, we were in a restaurant talking about what we were doing. I was at a table, dwarfed by a federal judge, Fred and his wife Priscilla [a Chicago attorney and fellow classmate]. It took Priscilla to say, 'Fred won't tell you, but he's representing Michael Jordan.' He's not a guy to toot his own horn."
Varick also recounts a recent train commute with Sperling and another partner from Schiff Hardin. After the three men talked about sports and summer vacations, Sperling mentioned how he'd been discussing the concept of free will with his Amherst-bound daughter, and how that discussion led him to research the most recent thinking on the matter, which he then read, coalesced and discussed via e-mail with some of the authors whose books he had read.
"He's a very serious person who is able to maintain a very balanced life. You don't find that every day," Varick says. "He's a very thoughtful analyst of both human behavior and the law. That's what we do as lawyers."
Still, no matter how professional and low-key Sperling may be, MJ is MJ, and, after 10 years of refusing to ask Jordan for anything unrelated to their professional relationship, he requested an autograph for his kids. Jordan flashed the smile that sold a million shoes and asked, "What took you so long?"
"I didn't want to be another person asking for something," Sperling replied.
Jordan looked at his attorney. "I know," he said, signing. "I appreciate that."
Search attorney feature articles