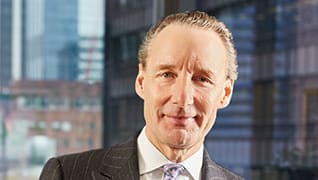 Photo by: Corey Hengen
Batting Cleanup
Personal injury lawyer Patrick A. Salvi is a powerhouse in the courtroom and as a ballclub owner
Published in 2017 Illinois Super Lawyers magazine
By William Wagner on January 13, 2017
The Salvi name pops up in a lot of places. At concession stands. In the University of Notre Dame's football record book. At baseball stadiums. On harps.
And, of course, you'll see it on the door of one of the most successful personal injury law firms in Chicago. Salvi, Schostok & Pritchard, the brainchild of Patrick A. Salvi, has been in business since 1982, accruing millions of dollars in verdicts and settlements for clients along the way. 
"I feel like we make a difference," says the 63-year-old Salvi, dressed to the nines in an immaculately tailored suit on an autumn day. "We help people. You can really give great comfort, aid and peace of mind to people who have either been seriously injured or lost a loved one. It's not uncommon for me to get an email or letter a year or two after a big settlement or verdict describing the difference in the person's quality of life and how the money has allowed them to maximize a recovery."
The law isn't just in Salvi's name—it's in his blood. His late father ran a general law practice in the Chicago suburb of Lake Zurich, which Salvi joined after passing the bar in 1978. Eventually, wanting to ply his craft in the courtroom—an opportunity he was rarely afforded at his father's firm—he hung a shingle.
While still at his father's firm, he also worked on cases when the public defender had a conflict of interest. "It got me into court," he says. "But the problem with criminal law is that your clients are, by and large, criminals. And you almost always lose, so that's tough. I found that personal injury was something I was drawn to. But I didn't have a mentor, so I had to attend every trial lawyer seminar and take any opportunity I could to soak in knowledge."
Circuit Court of Cook County Judge Clare E. McWilliams presided over a case Salvi argued in 2015: "I've been fortunate enough to have attorneys from all over the country try cases in front of me involving multimillion-dollar verdicts," she says. "I can say that Pat is a topflight attorney who is prepared, articulate and fearless. He's measured and methodical, and is able to relate the facts of a case in a way that jurors are going to understand. He's also a fierce negotiator. He knows the value of his case, and he's firm and committed in making sure his clients get every dollar they're entitled to. 
"He leaves no dollar on the table."
Sometimes that's a lot of dollars. Salvi won a $33.2 million verdict in Baldwin v. Klairmont in Lake County in 2009; an $11 million verdict in Lay v. Good Samaritan in Jefferson County in 2002; and a $10.2 million verdict in Wingo v. Rockford Memorial Hospital in Winnebago County in 1996. The list goes on.
In 2015's Neuhengen v. Global Experience Specialists Inc., Salvi's client was an Iraq War veteran whose foot was run over by a forklift while he was setting up for a show at the McCormick Place convention center in downtown Chicago. The man's foot was badly injured and he had to give up his post in the National Guard.
One of the defense lawyers in the case, Adrian Mendoza of Lillig & Thorsness in Oak Brook, says, "Pat is always extremely well prepared. He builds his case well. He's tenacious, but I always thought of him as a gentleman."
Salvi describes his style as "formal and old school," but says he opens up a bit on cross: "I am tough in the cross-examination of witnesses, wherein it's okay to be tough, and in terms of showing my passion to the jury."
In this case, he says a key factor was that the veteran was a likeable witness. "He didn't have some sort of easy duty in Iraq," he says. "He was responsible for making sure vehicles coming into a compound didn't have bombs and weren't filled with bad people. He was definitely in harm's way, but he never got a scratch until he went to McCormick Place and got run over by a forklift operator."
The jury awarded him $15.2 million.
Meanwhile, Salvi's skill at interacting with jurors was on full display in Burns v. New Bern Transport Corp., in which his client suffered a serious spinal cord injury after her car was struck by a truck that had run a red light. 
"One of the things that most impressed me was his style and composure during voir dire," Judge McWilliams says. "He has a way of relating to jurors—friendly and relaxed but, at the same time, getting jurors to appreciate the gravity of their role and the significance of his case. In conjunction with that, Pat was the first attorney I've seen who looked into each of the potential jurors' eyes and asked them if they could award a significant amount of money. He picked a very high number. Getting a jury to commit to a very specific, large amount of money before there's even been an opening statement is brilliant. I was very impressed with that."
While the jury deliberated, Salvi finalized a $14 million settlement; the jury's net verdict was $12.5 million.
Salvi chalks up his success, at least in part, to preparation. "One, it gives you confidence," he says. "Two, it results in a very high likelihood of winning—you don't want to be surprised by anything. And three, you engender the respect of the judge and jury."
The Salvi legal family tree continues to grow. Two of Salvi's five adult sons—Patrick Jr., 34, and Brian, 29—are now practicing at Salvi, Schostok & Pritchard; and his daughter-in-law, Eirene Salvi, 26, also recently joined as an associate. 
"People ask me if he's slowing down, and I always respond that it actually seems like the opposite," says Patrick Jr., who came to the firm in 2007 after graduating from Notre Dame Law School and is now a partner. "I like to think—and he's told me this—that having [us] here has energized him. It's almost like you get a new lease on life. You've been doing it for a long time, and it's like a jolt of energy to have your sons come in."
Salvi savors the chance to be in the courtroom with his sons. "I've tried six jury trials with Patrick and one with Brian, and we've always won," he says. Then he smiles. "It's nice when we win together."
And while he himself didn't have a personal injury mentor, he's made sure to play that role in his firm.
"Whenever I face some sort of unusual question or circumstance in my cases or practice," Patrick Jr. says, "I always have this feeling that I can ask Dad. And sure enough, he pretty much always knows what to do. He is someone I consider to have extraordinary instincts and judgment. He does what everyone ought to do in their respective professions: try to get better and always learn from your mistakes."
If you're looking for a Salvi, you can start in the courtroom. A close second is a sports stadium. Two of Salvi's other sons, Chris, 27, and Will, 25, played football at Notre Dame. As a Notre Dame alumnus, Salvi never took his eyes off the field: "We went to 40 straight Notre Dame football games, home and away."
Then there's Salvi Sports Enterprises. He currently owns two independent-league baseball franchises outright (the Gary Southshore RailCats and the Schaumburg Boomers), as well as one college wood-bat franchise (the North Shore Navigators). He also has a stake in another wood-bat franchise, the Martha's Vineyard Sharks. There aren't any immediate plans to expand the stable, but he always has his eyes open for a team with, as he puts it, "a good fan base, good stadium and positive cash flow.
"I have a nice little organization," says Salvi, whose duties include monitoring the financial performance of the franchises and representing them at league meetings. "I have a president, general manager and vice president who oversee the franchises. I spend a fair amount of time with it. I'm working seven days a week, but Salvi Sports is my hobby."
For a man whose dream of playing in the big leagues made it as far as the Little League field in his hometown of Lake Zurich, it's a way to maintain a connection to America's pastime.
"I love our players, I love our staff and I love the business of baseball," he says. "It's fun being around the ballpark. Even though they aren't major league franchises, you see a lot of great baseball."
It also scratches the same itch as his legal career: "Being a trial lawyer and owning teams are connected to my being extremely competitive and hating to lose … in court or on the field."
A favorite baseball moment happened in 2010. "My wife and I were at a RailCats game, and they were losing 9-2 going into the bottom of the ninth," he recalls. "It had been kind of a long day, and I said to my wife, 'Let's go home.' She said, 'Oh, really? It doesn't look too good for the owner to be bailing on the team.' So on the way out, we decided to sit down in the front row, right by the on-deck circle. Then suddenly it was 9-3, 9-4, 9-5, 9-6, 9-7. There were two outs with two guys on. Randall Simon, who was in the on-deck circle, was about to come up to the plate, and he looked at me like, 'I got this.' Then he hit a three-run homer to win the game."
So that's the law firm and the baseball teams. How about Salvi Food & Beverage, the concessions company? This one isn't a passion so much as smart business.
"Our ballparks used to have Aramark and Levy [provide the concessions], but we decided to take it in-house," Salvi says. "Concessions are a very important component of the bottom line for minor-league teams. It's the difference for us between profitability and non-profitability." 
And those Salvi harps? "My dad's father was a world-renowned harpist, Alberto Salvi," he says. "He was from Italy and came to the United States when he was about 20 to do solo concerts. Then he settled in Chicago because he took an offer from the Chicago Symphony Orchestra. Now our [extended] family makes harps. We own Lyon & Healy Harps in Chicago and Salvi Harps in Switzerland."
But that's a story for another day. 
Search attorney feature articles