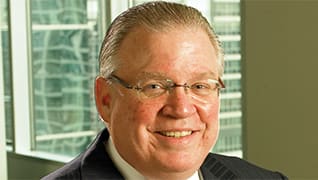 Photo by: Todd Dacquisto
Family Man
Jack Butler Jr. adopts distressed companies
Published in 2009 Illinois Super Lawyers magazine
By Josh Karp on January 8, 2009
In November 2001, Jack Butler Jr. was in Michigan with his family. It was the first Thanksgiving he would celebrate as a father and the last he would share with his mother.
Thanksgiving morning the phone rang. It was about Enron. The energy company, which just a year before had posted $101 billion in revenue, was sinking beneath the weight of a financial crisis that would see its market value decrease by 99 percent and its shares trade at $0.61 by Nov. 28.
So that evening, instead of eating pumpkin pie in Michigan, Butler was en route to Houston, where, the next morning he sat in the company's boardroom, "helping Ken Lay [and other Enron executives] address the company's issues."
Butler relates this story when asked to explain what he does. Then he rattles off four similar scenarios. On July 4th weekend in 2003, he was called at the family summer home in Hubbard Lake, Mich., and asked to meet with Delphi's CEO Steve Miller in New York to help sort out and restructure the company's relationships with General Motors and the United Auto Workers. Butler was also on the first flight from O'Hare to Washington-Dulles after Sept. 11, 2001, to meet with U.S. Airways executives as they confronted financial problems compounded by the industry-wide devastation of the terrorist attacks.
Each of these stories seems like an encroachment of business into family time, but, for Butler, a dedicated father of four young children, companies like these become something of a second family.
"I adopt these companies," says the 53-year-old Chicago-based partner at Skadden, Arps, Slate, Meagher & Flom, who co-leads the firm's worldwide corporate restructuring practice. "I care passionately about their success."
Butler comes from what he calls a "business family," presided over by his late father Jack Butler Sr. To say that the elder Butler had a head for business is akin to saying Larry Bird had a great shot.
Without the benefit of a college education, Butler Sr., at the age of 23, engineered a leveraged buyout of Demery's, a Detroit department store where he'd been working as a stock boy since his teens. He turned one store into three, and, instead of paying rent, he decided to buy the properties and start a real estate company. Eventually he branched out into steel and insurance. He was a self-made man who saw opportunity everywhere.
The second of his five children, Jack Jr., began selling suits at Demery's in his early teens. During summers when he was home from college, he would visit the housewares show and scout products for the store shelves.
"School, sports and the store. That was my life," Butler says.
After graduating from high school in suburban Birmingham, Mich., Butler headed to Princeton University where, in his sophomore year, he applied and was accepted to the Woodrow Wilson School of Public and International Affairs. By the time he was a junior, Butler figured he'd spend a few years at a Wall Street investment banking firm and then move on to business school. His father had a different suggestion: law school.
"I thought he had four heads," Butler says. "I never intended to be a lawyer and I didn't particularly want to go to law school. That wasn't my schtick."
Butler Sr., however, had made many deals over the years and saw that one thing was certain—lawyers were always in need. And lawyers with good business judgment were priceless. So the following year, Butler enrolled at University of Michigan's Law School.
"I went because my dad asked me," Butler says. "It was probably the first thing he ever asked me to do as an adult."
Generally, in these kinds of stories, this is the point where the protagonist takes his first contracts class or federal income tax class and falls in love with the law in ways he never imagined possible. Not here. Butler remained ambivalent. He was, he says, a "somewhat in-absentia law student."
Graduating in 1980, Butler took at job at Honigman Miller in Detroit, where he stayed for 18 months. The revised bankruptcy code of 1978 was just going into effect and Butler decided that such an area, with a new statute, would allow him to enter practice on a more level playing field with more experienced attorneys. Soon he began to see bankruptcy as more than a symbol of corporate failure or a financial waving of the white flag. It could be, he realized, about fixing companies.
Harvey Miller, a partner at Weil, Gotshal & Manges in New York, saw the same thing, and witnessed Butler's emergence in a specialized field of bankruptcy law.
"Jack is a very perceptive guy who looked around and perceived that this was an area in which there weren't too many experts," Miller says. "There is always going to be failure in this country and a need for knowledgeable people. Jack jumped right in and in a short period of time you began hearing the name Jack Butler as a tough, smart, resilient negotiator and restructuring guy."
Soon Butler was a major player in turnarounds, restructuring and distressed mergers and acquisitions: taking a company with substantial debt and working together with unions, suppliers, customers, investors, banks and anyone else with a stake in the company's financial wherewithal or survival and coming to a solution that brings the company out the other side with maximum value and the ability to move forward. It is a business that exists in every economic cycle and through every macro and industry trend.
"With the Chrysler bailout [in 1979] all of the debt was owned by banks. Now [Chrysler] is owned by a hedge fund," Butler says. "Capital flows much more freely now. This has become a very sophisticated business over the past 20 years."
After less than two years, Butler moved to Butzel, Keidan, Simon, Myers & Graham, also in Detroit, where his business judgment and common sense began to pay off—and where he found his passion for the law.
By the time he was a third-year associate, Butler asked if he could travel to Chicago to find new clients. Permission was granted by two senior partners who gave him the space to seek new opportunity even though he risked the possibility of being knocked on his butt. Instead, Butler brought back a relationship with Heller Financial, which would become, as he says, "my McDonald's" and with whom he would do more than 100 deals over eight years.
In 1989 Butler moved to Chicago and Skadden Arps. Since then, he has become an almost ubiquitous figure at major corporate reorganizations—including US Airways, Xerox, Rite Aid, Delphi and, in January 2002, Kmart, which filed Chapter 11 bankruptcy with sales at $37 billion, making it the largest retailer to ever seek protection under the law. Less than a year and a half later, in May 2003, Kmart had reduced its liabilities by $6 billion.
Al Koch, of AlixPartners, a Michigan-based turnaround firm with whom Butler has partnered frequently, was interim chief financial officer at Kmart at the time. They worked together for 15 months.
"He's very hard-nosed and a tough negotiator, who can go toe-to-toe with the best of them," Koch says. "Once you get into bankruptcy and figure out the end game [of maximizing and preserving value], then you have to work toward it and there are a lot of distractions. … You need to develop a reputation among the key players for doing what you say you are going to do—and if you don't, you will pay heavily later. It can be hard to recover."
He adds: "If Jack said something would get done, it would get done. He is incredibly focused and driven to produce the absolute best result. Whatever it takes, he will do."
One thing it takes, according to Butler, is getting quality information from the company; and that takes trust.
"CEOs and GCs have made a career out of being successful, visionary and having the answers, so the first step is recognizing that they have a problem. You need to give them a framework in which to think. But it isn't easy for them to allow you into their head and [let you become] their Tom Hagen," Butler says, referring to the consigliore of the Corleone family.
Though each restructuring poses its own set of complications and roadblocks, Butler says that by far the most complex project he has worked on has been Delphi Corporation, one of the largest global suppliers of mobile electronics and transportation systems, which was spun off of GM in 1999 and remains the automotive giant's largest supplier. During the past several years, Butler has helped Delphi transform its business structure on several levels, including its global footprint, core businesses and its labor, pension and legacy issues with GM during one of the most difficult periods in the automotive industry and global capital markets.
For Butler, the job—or, as he terms it, the relationship—is about far more than helping a single company minimize its debt. It's also about the people who work for the company, who supply the company, and anyone else who will be affected by its failure.
"The easy thing to do is strike out at an opponent. The harder play is bringing groups together in a common solution that everyone can live with," Butler says. "I do think the law is a noble profession. The goal is to preserve corporate value and save jobs, with all that goes with that. [My job] is about making a difference in outcomes that benefit people."
For more than three years Delphi has been, he says, "an almost 24/7 assignment." Yet he remains deeply committed to charities that benefit children—such as the Hugh O'Brian Youth Leadership and the Children Affected By AIDS Foundation. He represents children in guardianship cases, which have exposed him to "things that you never hear about in Glencoe or Lincoln Park."
Butler also lives a very full personal life. For over two decades ("I have my 25-year pin," he says proudly), he officiated college and high school football games. He also teaches Sunday school, coaches soccer and is an active participant in the lives of the four children (the eldest of whom is 7) he has with John VanderLinden, a real estate broker and former manager at the Federal Reserve Bank of Chicago, who has been his partner for the past 17 years. The couple was married in California last July.
"The joy that we and our children experienced when we were legally married in California last summer was extraordinary," Butler says. "Listening to my 7-year-old daughter reading the scripture about love being patient and kind is one of those life memories."
On the day of our interview, Butler was in Chicago because it was the first day of school and he wanted to take his children. Despite being at the center of the Delphi reorganization, his manner was calm and unhurried. Growing up in a business family also prepared him for life outside of the office.
"I try very much to live in the moment," he says. "I have an on-off switch. I inherited that from my dad."
Search attorney feature articles
Helpful links
Other featured articles
Marc Kaplan looks back on his days in the Jimmy Carter administration
Cannon and Dunphy have built powerful legal careers from lessons they learned growing up in Wauwatosa
Greg Westfall repurposes photos into bold pops of color
View more articles featuring lawyers
Find top lawyers with confidence
The Super Lawyers patented selection process is peer influenced and research driven, selecting the top 5% of attorneys to the Super Lawyers lists each year. We know lawyers and make it easy to connect with them.
Find a lawyer near you