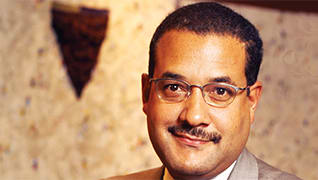 Photo by: Larry Marcus
Like Father, Like Son, Like Son
Langdon Neal carries on the traditions of a great Chicago family
Published in 2006 Illinois Super Lawyers magazine
By Josh Karp on January 11, 2006
Growing up on the city's South Side, Chicago attorney Langdon Neal had a ringside seat from which he observed the inner workings of city politics and what it meant to be an African-American attorney in a nation that had not yet fully embraced civil rights. Neal's grandfather, Earl James Neal, had worked his way through night law school as a Red Cap baggage handler and became one of Cook County's first African-American judges. His father, Earl Langdon Neal, worked for nearly a decade as assistant corporation counsel for the city of Chicago, and as a private attorney was a driving force behind many of the major land acquisition deals that helped create the Dan Ryan and Kennedy expressways, U.S. Cellular Field, the United Center and the University of Illinois at Chicago.
"Earl L. Neal was a giant of the legal profession — an outstanding educational and civic leader and a friend and counsel to every Chicago mayor of the last 50 years," Mayor Richard M. Daley said upon the elder Neal's death in February 2005. "Chicago is a better city because of Earl Neal's contributions in so many areas of civic life."
As important as his father was politically, Langdon Neal was also struck by the price he paid to be a successful African-American attorney. In 1945, when Earl L. Neal, with his father, went to enroll at the University of Illinois, they were denied counter service at a local restaurant. Instead, they took their food and ate at the school's black fraternity. Black students were not allowed to live in the campus dorms, nor could they eat in campus dining halls.
Ten years later, after law school and a stint in the service, Earl L. Neal joined his father's law practice. The first case they tried together was in Lincoln, Ill., 170 miles from Chicago. With no hotels that would accommodate African Americans in Lincoln, they were forced to commute to and from Chicago each day.
"I saw the great sacrifices my dad and grandfather made to be successful attorneys. I knew how hard they worked, and it affected me tremendously," Langdon Neal says, "I realized — more than someone who didn't have a father that was a lawyer — how hard it was to be a practicing African-American attorney. [My father] got shortchanged a lot. He lost some cases he shouldn't have."
Now managing partner of Neal & Leroy, a firm founded by his grandfather in 1938, Langdon Neal is keenly aware that he "stands on the shoulders of those that came before me." Being an attorney, however, was not always his intention.
At Cornell University in the late 1970s, Neal enrolled in the preveterinary program. During freshman year, however, the class had to dissect a fetal pig. That was the end of that career path. Eventually he followed his father and grandfather into the law, graduating from University of Illinois law school in 1981.
"On Friday I got back from law school," Neal remembers, "and was at [my father's] office on Monday. I didn't know that I'd be here 24 years later."
Being the boss' son is one thing, but when your father and grandfather are both trailblazing local legends respected for their integrity, intelligence and civility, finding your way is not always an easy task.
"I needed to carve my own niche and style," Neal says.
He wound up blending a sense of doing things his own way with the traditions and strong suits of his forebears.
Neal's father "was a man of such fine intellect who was able to understand the opposition's point of view and work out a settlement based on that," says Mike Leroy, the other name partner at Neal & Leroy. "That's one of the reasons that everyone respected him. It's a quality that Earl L. Neal learned at his father's knee, and Langdon has become a lawyer who understands everyone's point of view and works things out in the same spirit."
Langdon Neal was also able to refine his trial advocacy skills by observing his father and seeking his counsel during trial preparation. A master at communicating complex concepts to juries and leading them, rather than demanding of them, to a favorable verdict for his client, the lessons were invaluable.
"He had tremendous anticipation of what would happen," Neal says. "He was always right. If you didn't take the advice — boom — [the opponent] would do what he said they would. And he had a tremendous gut instinct. He knew how to get to the guts of a case. The more complicated, the better he was at bringing it down to its fundamental core and explaining the facts in a clear and concise manner that anyone could relate to."
A down-to-earth and soft-spoken man, Neal has earned his spurs by taking his career a transaction at a time and developing a reputation as a fair and service-oriented attorney with a civic-minded focus.
"I recently got a wonderful letter from the president of a nonprofit for whom we did a zoning project, thanking me for our work and discounting our fees," Neal says. "That stands for what our firm is all about."
Working with his father, Langdon Neal was able to help bring about important changes within the firm that kept it in touch with the changing business of law. While his father was an old-fashioned attorney who was entirely invested in the practice of law, Langdon Neal saw the need to expand the firm's services into other areas. He was instrumental in developing a new Zoning and Land Use practice whose major projects have included the North Bridge development and renovations to the John Hancock Center. He also helped his traditionalist father accept the need for things like voice mail, which his father thought might discourage attorneys from speaking with their clients.
"He was very upset when lawyers didn't return phone calls or didn't communicate [with clients]," Langdon Neal says of his father. "I had to persuade him that we could move away from tradition without losing our core values."
Langdon Neal has also found his way into politics of the nonpartisan variety, as a commissioner on the Chicago Board of Elections and the Illinois State Board of Elections. Yet the practice of law in the tradition of his father has remained the focus of both Neal and the firm that his grandfather started. First and foremost, one should always be gracious in both victory and defeat. It is a lesson that came directly from his father, whose kindness is remembered by nearly every attorney who ever faced him.
"My father prided himself on his reputation at the bar," Neal says. "His belief was that you will always have another case or transaction with any attorney and should conduct yourself accordingly."
It's a lesson that Mike Leroy says Langdon Neal learned well. "He has become a lawyer who understands and acknowledges everyone's point of view. It's a wonderful quality, and one that's necessary for a lawyer to achieve that final level of competence and respect that makes him a truly effective representative of his client."
Search attorney feature articles