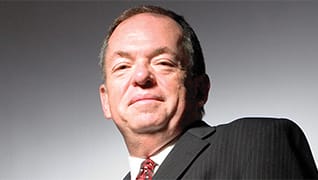 Photo by: Todd Dacquisto
Something He Mostly Liked
Dan Reidy on Operation Greylord and the needs of the client
Published in 2008 Illinois Super Lawyers magazine
By Josh Karp on January 8, 2008
In the lower-middle-class neighborhood on the southwest side of Chicago where Dan Reidy grew up, everyone's father held down two jobs and his was no exception. Frank Reidy worked days at the post office and nights as a bookkeeper at a meatpacking company. It gave him a sense of perspective about what one did with one's life-something he imparted to his college-age son when they were discussing the future.
Reidy, a former seminarian who concluded that the priesthood sounded lonely compared to a wife and children, was all ears.
"He told me that it was unlikely that I'd become fabulously wealthy," remembers the 58-year-old Jones Day attorney and partner-in-charge of the firm's Chicago office, "and that I'd likely spend most of the rest of my adult life and a lot of hours working. So if I found something I mostly liked, I'd be a lot happier than if I found something I mostly didn't like."
He found it. And fast.
After graduating from the University of Michigan Law School in 1974, Reidy clerked for Judge Walter Cummings of the 7th Circuit for a year before joining the U.S. attorney's office in Chicago.
Two years later, at the age of 27, he was asked to head up Operation Greylord, aimed at exposing corruption in the Cook County Circuit Courts. The operation, which targeted judges, police officers, attorneys, sheriffs and clerks, would become one of the most complex and far-reaching government corruption investigations in U.S. history and forever altered the administration of justice in Cook County. More than 90 individuals were indicted and most cases ended in either plea deals or convictions. It was, in other words, a mind-boggling undertaking for anyone, much less an attorney three years out of law school.
Two men gave Reidy the job: Gordon Nash, the outgoing chief of special prosecutions, and his successor, Tom Johnson, who had researched how to mount an undercover investigation of judicial corruption. Both men talked to Reidy about Greylord, and then Johnson handed over his files and asked the young attorney to "find a way" to make it happen.
"No one had done anything like this," says Scott Lassar, partner at Sidley Austin who worked with Reidy at the U.S. attorney's office. "It required tremendous problem-solving skills-and he pulled it off."
Reidy has all the skills required of a great litigator (friend and former colleague Vince Connolly of Mayer Brown says that if Reidy were a major league ballplayer he'd be a "five-tool player"), but there was obviously something about him that, despite youth and inexperience, suited him for the job.
"He is an excellent trial lawyer who is very persuasive with juries and knows the rules upside down," Lassar says. "But I think the most important thing he has is superb judgment."
Connolly agrees. "He has a great reputation in all areas. He's been a remarkable prosecutor and outstanding defense attorney who handles both criminal and civil cases. He's a terrific appellate lawyer. But he always has a very, very good broad overview of the entire situation, rather than getting lost in the individual trees."
And if ever there were a forest to get lost in, it was Operation Greylord.
To uncover the corruption, dummy cases had to be created involving more than a hundred FBI agents working undercover as both informants and defendants. They needed to be charged with specific crimes in specific areas of the city. Their crimes needed to be committed in the open or obviously enough that they could be easily arrested. Yet the crimes also needed to be convincing enough that the suspicions of streetwise Chicago cops wouldn't be aroused. Each case, meanwhile, had to be constructed so that there was a significant gray area in either facts or law, such that bribing a judge might make a difference to its ultimate outcome. No easy dismissals or slam-dunks allowed.
On top of that, there were ethical questions. Were Reidy and his colleagues perjuring themselves by creating fictitious crimes that made it to court? The investigation even involved the first-ever bugging of a judge's chambers, which necessitated that Reidy explain the matter to FBI Director William Webster, a former federal judge, for whom the strategy was a bit "beyond what he was capable of envisioning."
Supervising what he calls a "non-hierarchical" team that included Lassar and several other attorneys and FBI agents, Reidy prosecuted several cases, including the first, against Judge Wayne Olson, as well as the case against the most prominent fixer among the defense lawyers, Dean Wolfson. But Reidy's recollections of Operation Greylord go far beyond what was reported in the newspapers.
"I mostly remember the snafus," he says.
As example, he cites two agents getting arrested on the same day that 1) mob finance whiz Allen Dorfman was murdered in Lincolnwood, and 2) President Reagan just happened to be visiting Chicago. Both events put the police department on high alert. Thus when two men, with no rap sheets or history of any kind, were arrested on gun charges, it aroused suspicion. That suspicion quickly rose to the top of the department when forensic specialists were incapable of recovering the serial numbers of the guns the agents were carrying because the FBI crime lab had done such a thorough job of grinding them off. The men, it seemed, were either assassins or undercover agents investigating the department.
"That was a bad day," Lassar says.
On another occasion, an agent, arrested for shoplifting, somehow had his own identification (rather than an alias) on him when he was booked at the police station. Reidy hired a "straight" lawyer to bail him out, all the while refusing to answer any questions from the cops. Knowing the agent would be followed, the attorney drove him to the Hinsdale Oasis, where the agent got out of the car and walked through a restaurant to the other side, where a car was waiting to take him back into the city. The tail was lost.
In 1987, as his role in Greylord was winding down, Reidy entered private practice. He believed there was little left for him to do at the U.S. attorney's office. Connolly used to joke, "You're not a successful U.S. attorney until you've prosecuted your own alderman." Reidy had, winning a conviction on bribery charges against 3rd Ward Alderman Tyrone Kenner in 1984.
"I was done," Reidy says. "I no longer perceived that I was growing as an attorney."
Besides, Reidy and his wife had been raising their four children in 1,500 square feet. It was a time when the small salary he was paid each semester for teaching trial practice at Loyola was "precious."
As for going over to the other side? "With prosecutors, the transition depends on where they fall in the bell curve regarding zealotry," he says. "I always had an understanding of the defense lawyers. I understood what they were doing and why they were doing it."
Reidy has the matter-of-fact manner of someone whose ego is in proper proportion. He's a good listener who is confident but seems unimpressed with himself, preferring to give credit to colleagues without making it feel like false modesty. Like all high-level litigators, he enjoys the spotlight. Unlike many, he doesn't need it. When he joined Jones Day and took on commercial and criminal cases, Reidy's strategy for dealing with the media was and is rooted in their needs.
"I'd already had my 15 minutes," says Reidy.
When Alderman Lawrence Bloom was accused of corruption in Operation Silver Shovel, for example, Reidy knew his client wanted a spokesperson and held a press conference at the firm the day of the indictment. The opposite was true when he represented a member of the DuPage Seven-accused of concealing evidence in the 1983 murder of 10-year-old Jeanine Nicarico, which ultimately forced an innocent Rolando Cruz onto death row. Reidy realized, he says, that his client "needed his name in the paper like he needed a hole in the head. Every time there was an article, it caused him pain." Even eight years since the resolution of the case, and with his client's name a matter of public record, Reidy declines to mention his name for print.
Other clients have ranged from Abbott Laboratories to the city of Chicago-which hired him to prosecute the Burge police torture case. He represented flamboyant insurance mogul Mickey Segal, convicted of stealing $30 million from a client trust fund for personal use. Reidy took over Segal's defense after another attorney asked to leave the case because of "irreconcilable differences" with the client. It was a difficult case and Reidy lost. He says he hates losing more than he likes winning.
"[Segal] was convicted on every count," Reidy says. "I didn't make a difference. … If he'd been represented by a monkey he'd have had the same result.
"Reidy's focus extends beyond the courtroom and toward doing the best that he can for his client-no matter how low profile the results might be.
"The best work a criminal defense attorney does never makes it into the press," Reidy says. "Getting people off who were this close to an indictment. That's the best work we do here."
One of Reidy's most satisfying moments came in May 1999, when he stood with his client, the unnamed former prosecutor, and another member of the DuPage Seven in Judge William Kelly's courtroom at a pretrial hearing. "I was convinced that my client was innocent," Reidy says, and that day Judge Kelly acquitted the former prosecutor, finding the evidence against him "legally insufficient" for a trial.
There had been no cross-examinations, no rousing arguments, nothing that would remind anyone of To Kill a Mockingbird. It lacked the moments big-time trial lawyers live for. Instead there was a quiet victory that would get his client out of the papers and hopefully return his life to some semblance of normalcy.
Later, Reidy was at the defendant's house where an impromptu party had broken out. Reidy called his wife Elizabeth and asked, "Who's home?" She told him that it was just her and Kevin, the third of their four children. "Put him in the car and get him over here," he told her. "This is something to see. It's something to experience." An innocent man had been granted justice and Reidy want his son to see what that looked like.
Search attorney feature articles
Helpful links
Other featured articles
Jeh Johnson keeps giving back to his country
Three Vegas attorneys on bringing women into gaming law
Why Elena Karabatos is the family lawyer for 95% of the human race
View more articles featuring lawyers
Find top lawyers with confidence
The Super Lawyers patented selection process is peer influenced and research driven, selecting the top 5% of attorneys to the Super Lawyers lists each year. We know lawyers and make it easy to connect with them.
Find a lawyer near you