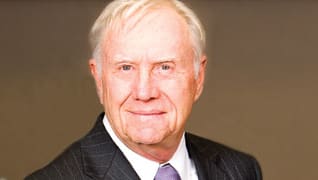 Photo by: Corey Hengen
Supremely Unflappable
How Kevin M. Forde cleared the way for Rahm Emanuel's mayoral aspirations
Published in 2012 Illinois Super Lawyers magazine
By Kevin Davis on January 2, 2012
The week before he was to argue his first case in front of the U.S. Supreme Court, Chicago lawyer Kevin M. Forde couldn't sleep. "I was up all night, night after night after night," he recalls. "This was something that occupied my every thought."
It's not every day that an attorney from a five-lawyer boutique firm appears before the nation's highest court. So the business litigator brought along his wife and two young kids, one of whom was Michael, then 8 years old and now a commercial litigator at Mayer Brown in Chicago. "I remember him getting up at night and pacing all around," says the son. "I knew it was a big deal, but I did not realize the significance of it at the time."
Forde was representing a group of federal judges in a class action over cost-of-living pay adjustments. At stake was whether Congress had the right to revoke pay increases after they had taken effect. Fair compensation for judges was, and remains, an issue close to Forde's heart.
Forde recalls enduring some hard questioning during his oral argument, especially from Justice William Rehnquist, who was particularly uncomfortable ruling on judicial compensation. Nonetheless, two months later, on Dec. 15, 1980, the court ruled 8-0, in Forde's favor, that Congress could not rescind the adjustments. (Justice Harry Blackmun did not participate.)
The landmark victory in United States v. Will led to the largest pay increases in decades for federal judges, resulting in $10 million in back pay. It was one of the brightest moments in Forde's 48-year legal career. "There's been nothing like it," says Forde, 73.
But there have been many other high-profile cases, including representing Rahm Emanuel when the Chicago mayor's residency was challenged during his 2010 campaign. Forde also represented the Chicago Board of Trade during its move to become a public company, as well as its merger with the Chicago Mercantile Exchange. He represented families who lost loved ones in the 1979 American Airlines crash near O'Hare International Airport; and he defended Philip Morris in a 2005 reversal by the Illinois Supreme Court of a trial court's $10 billion judgment against the company over the marketing of light cigarettes.
In 2004, Forde came to the aid of Illinois state judges after the governor vetoed the automatic cost-of-living adjustments. Forde represented Ann Jorgensen (now an appellate judge), then-president of the Illinois Judges Association, in a class action. The state Supreme Court's decision resulted in substantial salary increases and $10 million in back pay.
Through it all, Forde has retained a reputation as cool-headed and thoughtful.
"Nothing really rattles him," says Gino L. DiVito with Tabet DiVito & Rothstein, a former Cook County prosecutor, circuit judge and appellate judge who went into private practice in 1997. "He's focused, insightful and innovative in his approach to legal issues." DiVito has known Forde since their days as students at Loyola University Chicago School of Law.
"When the rest of us are playing checkers, Kevin is playing chess," says Richard J. Prendergast, a longtime friend and attorney who worked on the Will case and who shares office space with Kevin M. Forde, Ltd. "I've worked in private practice with him for 35 years. He has a remarkable sense of good judgment. He's unflappable and he sees what's coming before anyone else does."
"I'm not an unbiased observer," Forde's son, Michael, says with a laugh, "but he is known as being very smart, very capable and very principled."
Law runs in the family. Not only did Michael choose to go into law, daughter Maura O'Meara clerks for U.S. Magistrate Michael T. Mason. And Forde's wife, Jane, once a schoolteacher, has been a lawyer at his firm for more than 20 years.
While the Forde family is now a small legal dynasty, Forde's own upbringing might not have hinted at such a path. One of four children, he grew up on the working-class South Side of Chicago, between West Englewood and the Back of the Yards. His father was a factory worker at a plumbing-fixtures manufacturer; his mother was a nurse.
Forde studied accounting at Marquette University, but found the field "boring as a career" and decided to try law school. He went to Loyola and graduated in 1963 in a class of 17 students.
He interviewed for a job with Seymour Simon, a top antitrust lawyer who was the Democratic president of the Cook County Board (later an Illinois Supreme Court justice). Simon tried to recruit him to work on the board rather than for his law firm.
"I told him I wasn't particularly interested, because I was interested in law but not necessarily in government work," Forde says. "He's a very persuasive man. He said, 'C'mon, you'll have some fun. You can do it for awhile, then move on.'"
Forde dove into the work, learning about the structure and operations of county government, warts and all. He documented examples of waste and inefficiency that he later published in a manuscript through Loyola University Chicago's Center for Research in Urban Government. In The Government of Cook County: A Study in Governmental Obsolescence, Forde proposed eliminating several government offices, shifting the power of some officials and doing a better job of collecting taxes.
Forde left his county job after two years to take a clerkship with U.S. District Chief Judge William J. Campbell for the Northern District of Illinois. The judge had a busy docket, including numerous draft-evasion cases and charges brought against protesters during the 1968 Democratic National Convention.
"I was learning something every day," Forde says. "It was just a fabulous experience because Judge Campbell was a remarkable judge."
Four years later, Forde struck out on his own. "I didn't want to go into a large law firm," he says. "It was not unusual for people like me at the time to do contract work for other lawyers, because some of the best lawyers in town were sole practitioners."
Forde handled a variety of referral cases, including wrongful death and personal injuries, products liability, consumer fraud and securities fraud. "I had an opportunity to work with some great lawyers," he says, including famed aviation lawyer John J. Kennelly and personal injury lawyer John J. Sullivan. One of his biggest cases involved acting as liaison for the plaintiffs in the 1979 crash of American Airlines Flight 191 at O'Hare that left 273 dead.
After five or six years, Forde had more work than he could handle and began to take on staff, eventually creating a five-lawyer firm in the same office building where he works today.
In 1975, he got a call from Judge Campbell, who believed that low pay was driving judges from the bench and deterring others from seeking judgeships. "He said, 'I think you ought to do it,'" Forde says. "And you never say 'no' to Judge Campbell."
Campbell explained to Forde that, while he trusted his legal skills, the judges needed a high-profile lawyer on the case, and the team would be led by Arthur Goldberg, former Supreme Court justice, famed labor lawyer and former secretary of labor.
Goldberg brought in one of his own former clerks to work on the case: Stephen Breyer, then a Harvard professor. The lawyers lost the first round before the U.S. Court of Federal Claims, and the Supreme Court declined to hear the case. But federal judges, including Campbell, believed that they had a legitimate cause, and the issue was revived in 1978 in a similar lawsuit brought by U.S. District Judge Hubert Will of Chicago on behalf of the federal judiciary.
Goldberg and Breyer were unavailable. Forde became the lead attorney; Prendergast, who also had clerked for Campbell, was co-counsel.
Prendergast remembers how driven Forde was to win. "He was determined," Prendergast says. "If you get to argue before the Supreme Court, you feel quite privileged. He took some tough questions from the court, but he had a great command of the case."
Forde went on to serve as general counsel and litigation counsel for the Federal Judges Association, which he helped found with Prendergast and others. He also served from 1984 to 2009 as chairman of the Illinois Compensation Review Board, which sets proposed salary levels for Illinois constitutional officers, legislators, judges and agency heads.
Forde also helped sort out one of the most complex and significant cases in Chicago's financial world when the Chicago Board of Trade (CBOT) decided in 2004 to become a public company. At issue was a dispute among members over matters of compensation and the exchange's move to become a public company.
"When it came to divvy up the pie, there were a lot of disputes," recalls Charles Carey, then chairman of the CBOT and now vice chairman of the Chicago Mercantile Exchange Group. "We knew Kevin could help us navigate the treacherous waters we were in."
Forde was also instrumental when the company became public, and later was called in to work on the case with his son, Michael, at Mayer Brown when CBOT merged in 2007 with the Chicago Mercantile Exchange in a $12 billion deal. "He was part of a group of lawyers who helped restore the CBOT as a world-class financial institution and helped us work through a maze of legal issues," Carey says. "Without Kevin on that team, things would not have gone so smoothly."
In 2010, Michael Forde invited his father to work with Mayer Brown in representing then-mayoral candidate Rahm Emanuel, who had been renting out his Chicago home while working as chief of staff for President Barack Obama in Washington, D.C. The firm was assembling a team to handle appeals on the issue of Emanuel's eligibility to run.
"It was great fun, because I got to work with my son. I took the case, even though I told them I knew nothing about election law," Forde says. "But that's not unusual for us; we always get into things we have to learn about."
He also got to become acquainted with Emanuel. "Meeting him and getting to know him was a very positive part of it," Forde says. "It was fun to work with him because I found he is very, very smart; gets right to the heart of things; and he's very, very passionate about everything he does and has incredible energy. Just to work with him was an experience for me. That part of it was worth all the anguish and late nights."
The legal team sought an accelerated hearing because of the election filing deadline. The Illinois Supreme Court decided the case unanimously, based on Forde's briefs, without oral arguments. "I was sure we were right. But obviously, you never know what a court would do with it," Forde says.
"He's at a phase in his life when many people his age begin slowing down," says Michael. "He's in the office from 7 to 7. When he's working on a case, he does not like to lose. He's incredibly competitive. I can say this because I just played against him on the golf course. He doesn't like to lose on the golf course or in court."
Forde devotes much of his free time to heading up the Wendy Will Case Cancer Fund, named after Judge Will's daughter who died of cancer at 39. The foundation provides seed money for young, innovative researchers with strong ideas but no track record. Forde learned that getting funding from the National Institutes of Health or the American Cancer Society was virtually impossible for newcomers without previous funding.
Making sure smart people have the money and independence to do their work is in line with Forde's longstanding commitment to ensure the best judges stay on the bench and are properly compensated.
"I feel so passionate about that issue. The judiciary is so important, and in my experience working closely with judges over the years, I know that our whole democracy is based on a competent judicial system," Forde says. "To keep good judges, you need adequate compensation and tenure."
So why hasn't Forde become a judge? "The right opportunity never came at the right time," he says. "But I haven't given up."
Search attorney feature articles