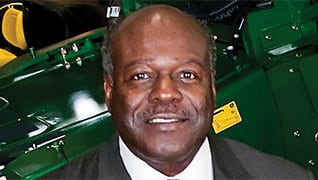 Photo by: Louis Brems
The Eternal Optimist
A minister's son, Deere & Co.'s Jim Jenkins credits his father for his worldview
Published in Corporate Counsel Edition - November 2009 magazine
By Josh Karp on October 12, 2009
The epiphany came during an embryology class in college in the 1960s. Jim Jenkins was in the midst of an exam, peering into a microscope with instructions to identify, describe and draw what he saw.
"I thought, 'This isn't what I want to be doing,'" he says. "The 'solution' I was looking for wouldn't be found under a microscope."
Despite scoring highest in the class on the exam, Jenkins dropped the pre-med course and switched his major to philosophy with the intention of going to law school.
"I came to the realization that the societal, political and economic issues of inequality in the world would not be resolved under a microscope," says Jenkins, referencing the issues of the day, "but through societal discourse, public policy and law." 
And what a varied path he has taken.
Before starting law school, Jenkins served in the Vietnam War, then took his J.D. to the Federal Defender office, spent a quarter-century at Dow Corning Corp., and today sits at the top legal post for Deere & Co. in Moline, Ill.
Describing the nature of his success, he says, "I set a goal, achieve it, and then set another."
Friends and colleagues describe him as principled, intelligent and having broad, but deep knowledge of the law. He is also a big man with a commanding presence and considerable gravitas who, at the same time, is a consummate team player who never seeks to be the center of attention. 
"Because of Jim's experience and way of expressing his ideas, his advice is highly valued," says Michael Mack, president of Deere's worldwide construction and forestry division. "He is trusted as having only the best interest of the company in mind. He never has his own agenda."
In other words, Jenkins can see outside the microscope.
The son of a minister and one of eight children, Jenkins grew up in North Chicago, Ill. A high achiever, he was president and co-salutatorian of his high school class and chose to attend the University of Michigan. He was drafted upon graduating in 1967, and then joined the elite Army Security Agency.
At the West Coast Branch of the Defense Language Institute in Monterey, Calif., he underwent day-long training sessions studying Mandarin Chinese, where he learned an essential underpinning of the Chinese culture: never make anyone lose face.
"For someone who thought there were many issues [in society circa 1967], it really changed my approach to dealing with others," he says. "I learned that sometimes you can be mistaken about one's intent, and it is better to resolve an issue in a private setting than in public."
He didn't end up using his Mandarin abroad—his orders changed when he arrived in Vietnam, and he became an interrogation officer. But he still used the lessons he learned during training, and left the military with a high honor: the Bronze Star for Meritorious Service as a first lieutenant, section chief, at the Combined Military Interrogation Center in Saigon, Republic of South Vietnam.
Upon arriving stateside, Jenkins returned to the University of Michigan, this time for law school, graduating in 1973. He clerked for Illinois 2nd District Appellate Judge Glenn K. Seidenfeld before joining Michigan's Appellate Defender Office, and then the Federal Defender Office in Detroit. As a federal defender, Jenkins won nearly half of his cases under what he describes as "daunting" circumstances.
When federal budget cuts meant a possible reduction in work time or layoffs, Jenkins interviewed with Dow Corning and was offered a job in-house at the Midland, Mich.-based specialty chemical company. At first, Jenkins viewed it as a temporary stop. He planned to one day start his own firm.
"I thought the more I learned, the more I'd know for private practice," he says.
Early in his tenure, he enrolled in a 13-week management program at Harvard Business School. While studying in Cambridge, he received a call from Dow Corning's then-CEO, John Ludington, who explained that the company's general counsel was moving to American Motors Corp., and offered Jenkins the job, pending board approval.
Jenkins accepted, and never looked back.
Immersing himself even more deeply into the company's inner workings and as secretary of the board, he knew what was going to be discussed at every meeting. Until, that is, a meeting in 1984, when the CEO named a new vice president: Jim Jenkins.
"That's a mistake," Jenkins interjected.
"You don't know everything that's going on at this company," Ludington joked.
Among the many things Jenkins learned at Dow Corning was that "nice people can get into difficult situations—and have some very serious issues," he says.
He was referring to one of the most noteworthy products liability cases of the 20th century: the long battle over the safety of Dow Corning's silicone gel-filled breast implants.
In the 1980s, several lawsuits were filed against the company,  contending that the implants caused systemic autoimmune diseases. Soon after, cases were filed in jurisdictions across the country. Meanwhile, Congress held hearings on the safety of implants, and in 1988, the FDA required implant manufacturers to prove that their products were safe.
"We had 75 trial dates when we filed for Chapter 11 in May 1995," Jenkins says.
Amidst this legal avalanche, he "learned that there are a number of different battles in litigation. You need to win in the court of public opinion as well as the court of law. And you always try to stay ahead of the game."
    The lessons from the implant lawsuit have had a substantial impact on Jenkins' work at Deere, which he joined in 2000 as senior vice president and general counsel after putting Dow Corning on the road toward reorganization. 
During his nine years at Deere, he has created an office of corporate compliance, put more focus on intellectual property issues and improved the company's government relations strategy. Jenkins recently took on added responsibility for the company's corporate communications and global brand management organization.
Managing a staff of nearly 200—half of whom are lawyers—with specialties that range from government relations to patent work, in countries around the world, Jenkins has what Mack calls "a particular passion for talent management, and is regarded as a strong, creative and wise leader."
And he maintains those qualities even when handling the more difficult aspects of his job, such as responding to a product-related incident.
"When an accident occurs, someone from Deere is out there in 24 to 48 hours," he says. "If it's our fault, we resolve it as quickly as possible. If it's not, we explain and we empathize."
Fred Krebs, president of the Association of Corporate Counsel, says that Jenkins tends to bring out the best in people. "Those on his staff want to do well, he inspires people and they want to play up, they want to do better. They don't want to disappoint him."
He can also get along with anyone. In 2005, when a Chinese delegation of government officials and in-house counsel attended a meeting of the ACC, Jenkins "just blended" with the visitors, says Krebs, noting his colleague's 6-foot-3-inch frame. "He was able to interact in a way that seemed like things were natural. He just fit with them." (Although the Mandarin may have helped.)
According to Mary Jones, global and regional director of human resources at Deere, "Jim takes a very holistic view of what it takes to be a good attorney at a large corporation like John Deere." His calm demeanor, she says, can temper any storm.
"I'm a minister's son," Jenkins says. "I believe that every being has a purpose and there's an anchor in that which allows me to want to keep learning, balanced with the knowledge that there are things I will never know and that I will never understand."
Smiling, he pauses for a moment. "Basically," he says. "I'm an optimist."
Search attorney feature articles
Helpful links
Other featured articles
Lawsuits will increasingly be about the technology designed to prevent accidents
Greg Westfall repurposes photos into bold pops of color
The problematic past (stolen antiquities) and problematic future (AI) of art law
View more articles featuring lawyers
Find top lawyers with confidence
The Super Lawyers patented selection process is peer influenced and research driven, selecting the top 5% of attorneys to the Super Lawyers lists each year. We know lawyers and make it easy to connect with them.
Find a lawyer near you