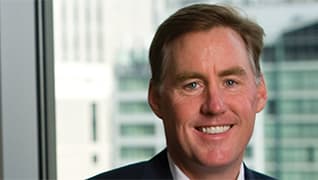 Photo by: Corey Hengen
The Game Changer
Tim Cavanagh turns lost causes into courtroom victories
Published in 2011 Illinois Super Lawyers magazine
By Amy White on January 3, 2011
One morning when Tim Cavanagh was about 18, he ducked into a courtroom, as he did regularly, to sit in on trials at the Cook County Courthouse. His mother worked for a judge in the circuit court while Cavanagh was in high school and college, so his interest in the law formed early.
"I loved to go downtown and watch some of the big personal injury lawyers in town—people like Phil Corboy and Tom Demetrio—try cases," Cavanagh says. "This is clearly one of the things that made me want to be a trial lawyer."
But on this particular morning, even more powerful than the thrill of watching Chicago legends like Corboy and Demetrio, was the profound silence caused by an empty chair in the front of the courtroom.
That seat was previously occupied by the plaintiff, a woman with cancer who was suing her doctors for failing to diagnose the disease. "The day before closing arguments, she passed away," Cavanagh remembers. "I was there when the judge informed the jury that it wasn't just a PI medical malpractice case anymore, but a wrongful death case. It was one of those moments when the air was sucked out of the courtroom and it occurred to me just how very high-stakes and serious these types of cases are."
Those high stakes are what motivate Cavanagh and his staff at Cavanagh Law Group in Chicago. "When you represent an individual—a widow, a widower, someone whose child was terribly hurt—there is a tremendous amount of pressure," he says. "I enjoy that pressure; even enjoy it the night before closing arguments when it's even greater. I don't know why exactly. … I think this part of the law chooses people, as opposed to you choosing it."
Cavanagh has seen both sides of the courtroom. A born and bred Chicagoan, he went straight from the Chicago-Kent College of Law to the state attorney general's office, where, he says, "the best part of the job certainly wasn't the paycheck—it was the fact that we were in trial right away." Cavanagh was there for two-and-a-half years and thrived, but says, "I represented the state, I represented some big companies. … I didn't find tremendous enjoyment in that. There was something in my DNA that spoke to representing the little guy." He landed a job at Corboy & Demetrio doing just that, until he put his name on his own door in 1997.
"One of the hallmarks I wanted to establish was personal service," he says. "We are big on that here, and I think it makes the difference."
In the 1998 case Ajmeri v. Illinois Central Railroad Co., et al., Cavanagh represented Hanifa Ajmeri, who was severely injured after a car she was riding in was hit by a train. "She and a friend were on their way home from work and were coming over a railroad crossing," Cavanagh says. "It was snowing quite heavily, almost parallel to the ground. Unbeknownst to them, the crossing lights for the direction they were traveling in were covered with snow, so they couldn't tell if they were blinking or not blinking. The train was coming, and crashed into the car, causing [my client] severe orthopedic and brain injuries." There weren't any witnesses. "The attorneys for the railroad right away told me that obviously the driver of the car struck the gate and knocked it down."
Cavanagh filed a protective order for all evidence—documents, audio tapes, video tapes, internal procedures. "One of the deans of the defense bar told me it wasn't the railroad's fault, and they'd never pay anything consequential in the case." However, at his desk, sorting through the thousands of documents, Cavanagh came upon something that proved to be the game changer. "It was one of those moments that you'll never forget for the rest of your career," he says. "So I called the defense lawyer and said, 'Am I reading this correctly?' His answer: 'Yes.' That's all I needed to know."
The document? A record that proved that about 45 minutes prior to Ajmeri's accident, a police officer called the train's dispatch center to alert them that a gate was down. "In that situation," Cavanagh says, "that dispatcher is supposed to radio ahead to any approaching train so that the conductor can get out at the crossing and do a stop-and-flag, in which he waves down cars until they stop, and then the train can proceed." The dispatcher forgot to radio it in. "The case settled for $9.1 million just as I was about to begin opening statements."
Several months later, he was hired in another case against Illinois Central, Velarde v. Illinois Central Railroad Co., et al. This time, an SUV was hit by a train, dragged 600 feet down the tracks where it flipped and spun out, causing severe brain damage to a couple inside the car. Again, miscommunication was at the core of the tragedy. "The same dispatch center on the South Side of Chicago erroneously alerted oncoming trains that a damaged crossing was fixed when it was not," he says. The Velardes and their daughter were awarded $55 million in damages.
Cavanagh is currently working on a case on behalf of the Bruce family in Chicago. "Mrs. Bruce's husband was a longtime employee of United Airlines, which was hired by the government to transport troops," he says. "The U.S. has an airbase over in Kuwait, and for the last decade or two the government—particularly during the Bush administration—has done a lot of hiring-out of jobs typically run by the government." In this case, the government hired CAV International to run its airbase in Kuwait. A CAV employee was running a piece of equipment used to deplane luggage, and moved it; Bruce was on the piece of equipment at the time and the move caused him to fall onto the tarmac, hitting his head. He died from his injuries.
"Right away we filed a discovery lawsuit, which is pending in Cook County," Cavanagh says. "The CAV employee says he wasn't distracted; [that] Mr. Bruce didn't tell him he was on it. However, the troops that witnessed the event contradict his defense." The question right now is one of jurisdiction. "Already the company is claiming that they're not subject to jurisdiction here in Illinois, which we're fighting them on," he says. "They're going to claim [the] suit should be filed in Kuwait, which is absolutely absurd.
"[Kuwait's] damage laws would not fairly or reasonably compensate the family for their loss. … Their civil justice system is almost nonexistent."
Cavanagh by the numbers is impressive. There's $350 million in career totals. And the $55 million in the Velarde case, which set a state record for a railway case. But perhaps most impressive is this number: six. It's the number of children Cavanagh and his wife, fellow firm lawyer Stacey, have under the age of 4—two sets of triplets. What are the odds? "A gazillion to one, maybe? That's not a technical answer, but it might be true," Cavanagh says. The first set, born in 2006, were conceived with the aid of fertility drugs. The second set were born in 2008, thanks to good, old-fashioned luck.
The Cavanaghs live in downtown Chicago. "You know, one of my prized possessions—and I mean this—is a triple jogger. So I can push these kids around Lincoln Park, around the zoo, around the lakefront, and that is something I really enjoy," he says. "They're strapped in, I'm running. It's great. I don't know how much longer I'll be able to do that with them, so I really cherish it now.
"When I say my firm thrives on personal service, I truly mean it," says Cavanagh. "But, hey. When it's bath time, I'm here with them, and that's where I want to be."
But when it's not bath time, Cavanagh worries about injury victims getting the compensation they need.
"There are huge efforts on behalf of the [U.S.] Chamber of Commerce [to ensure that] big business is not held accountable in U.S. courtrooms," he says. "They've sought to have caps on damages, and have been successful in some states. The Supreme Court here just overturned a cap on med-mal cases, but rest assured … if the Republicans in the Chamber of Commerce have their way, damages are going to be capped. Big business won't be held accountable for the tragedies that they cause.
"So that's why we fight 'em. Every step of the way."
Search attorney feature articles