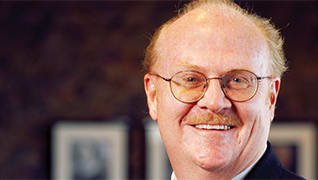 Photo by: Larry Marcus
The Lawyer With a Song in His Heart
Joseph N. Welch II has a famous grandfather and a sense of decency
Published in 2006 Illinois Super Lawyers magazine
By Josh Karp on January 11, 2006
It was June 1954 and a nation newly accustomed to owning television sets sat rapt in their living rooms watching the Army-McCarthy hearings, in which Wisconsin Sen. Joseph McCarthy and his attorney Roy Cohn accused the military of employing communists. Representing the Army was 64-year-old Joseph Welch, a commercial litigator with the old-line Boston firm of Hale and Dorr.
During an examination of Cohn, Welch touched a nerve in the combustible senator, causing McCarthy to explode into accusations that Fred Fisher, a young Hale and Dorr associate, was a communist as well. When McCarthy insisted on pressing the matter, Welch, with tears appearing to well up in his eyes, said, "Let us not assassinate this lad further, Senator. You've done enough." Then he uttered some of the most famous words of the 20th century.
"Have you no sense of decency, sir, at long last? Have you left no sense of decency?"
It was, for all practical purposes, the end for Joseph McCarthy.
One month later, Joseph Nye Welch II was born in Ann Arbor, Mich.
A big, affable man with an easygoing manner, Joseph Welch II is an intellectual property attorney at Chicago's Pattishall, McAuliffe, Newbury, Hilliard & Geraldson, where he has carved out a niche within a profession where his grandfather is a legend.
The author of two books on trademark law and an adviser to the U.S. Patent and Trademark Office, Welch "is a man with many talents and a song in his heart," says Pattishall McAuliffe partner David Hilliard. "Almost nobody in the law has a song in their heart."
Unlike many children and grandchildren of the famous or important, Welch is a man clearly at ease and unburdened by his legacy. The legend of Joseph Nye Welch has followed his grandson throughout life, as a topic in grammar school, college, law school and even at his son's bar mitzvah two years ago, where numerous attorneys let the boy know how much they admired his great-grandfather.
"It's pretty easy being the grandson as compared to the son," Welch II says. "I'm always happy when people remember [my grandfather]."
Only once, Welch says, has his name been anything but a point of pride.
"When I started law school, a professor picked up on the name and just grilled me," he says. "I felt like the assumption was that I was already a brilliant lawyer."
The younger Welch's path to the law was not as straight as his grandfather's, who grew up on a dirt-poor Iowa farm, and then attended Grinnell College and Harvard Law School before joining Hale and Dorr.
The Welch house in Ann Arbor was a place where creativity and social justice were just as important as their famous relative. Welch's father, Lyndon, was not an attorney. The Harvard and MIT grad, perhaps understanding the pressures of following in his father's footsteps, became an architect and engineer who lobbied for scattered public housing and told his son and two daughters stories about their grandfather, who died in 1960. Welch's mother was active in the Salvation Army and Planned Parenthood, while his sisters pursued artistic interests from an early age. Welch loved to write poetry and does so to this day.
"Creativity was a big part of my upbringing and it underlies a lot of what I do," he says.
After attending Harvard as a psychology and social relations major, with a minor in English and writing, Welch had no idea where he'd end up. He took a newspaper job in Ann Arbor, ran a natural-food restaurant on the West Coast and managed an independent bookstore in Chicago, arriving there in the late 1970s to visit one of his sisters.
When the bookstore's owner, a nonpracticing attorney, spearheaded an effort to combat the preferential discounts being given to chain stores, Welch became involved while other independents were being gathered to negotiate with publishers. He was hooked.
"I got caught up in it and thought it was fascinating," he says.
This experience dovetailed with something that had happened a few summers before when Welch ran a lunch program for underprivileged children in Ann Arbor. A Detroit caterer provided terrible service, often sending sandwiches in dirty bags, and fed up with the situation, Welch fired the caterer, which necessitated writing a detailed justification for Ann Arbor's corporation counsel. Creating that document, some of his friends believe, was when the attorney was born.
Enrolling at Northwestern University Law School in 1981, Welch became taken with intellectual property, which touched on his love of all things creative, including the level of innovation involved in misappropriation.
"My mindset came from the idea that something that's been created needs to be protected, and [from] a sense of moral outrage that someone could copy or imitate that to benefit themselves," he says. "The variety of ways that people will try to deceive others is unbelievably creative."
Since joining Pattishall McAuliffe after graduation, Welch — who was recently elected managing partner — has dedicated his career to protecting the creative work of his clients. And this is where his personal passions and the legacy of his grandfather came together. The elder Welch's wit, intelligence, civility and grace still profoundly influence his grandson, who tries to fight hard and fight clean, while keeping his sense of humor about each transaction and case.
Sitting in an office where a picture of his grandfather hangs on the wall, Welch discusses a recent exchange with an attorney for Publish Britannica, a company he believed was infringing on the naming rights of his client Encyclopedia Britannica. After sending a letter explaining that some of Publish Britannica's bad press was reflecting poorly on his client, Welch received an e-mail asking, "Have you no sense of decency?"
Too modest to mention his grandfather in any professional capacity, Welch wrote back explaining that the origin of the quote was about a young man being unfairly linked with communism — just as Publish Britannica was unfairly linking his client to negative stories in the press. The response helped defuse the tension.
The elder Joseph Welch's post-McCarthy life befitted a man who, like any good litigator, enjoyed the spotlight. In 1959, Welch played a judge opposite Jimmy Stewart in Otto Preminger's classic Anatomy of a Murder and was nominated for a Golden Globe as Best Supporting Actor. He hosted two television shows: The Dow Hour of Great Mysteries and the public affairs show Omnibus. He even began exchanging letters with Groucho Marx, who, after seeing the long list of attorneys on the Hale and Dorr letterhead wrote: "How do you get along at the office? Do you trust each other? Or does each have a separate safe for his money?" Of his grandfather's late-life celebrity, the younger Welch says, "He enjoyed the heck out of it."
The grandson's personal recollections of his grandfather revolve around childhood visits to his vacation home in Harwichport, Mass., where the pair would take walks together on the beach. He cherishes these memories. "I was just so excited to be with my grandfather and have him treating me like an adult," he says. He remembers a devoted grandfather who loved tailored suits and owned scores of shoes — the legacy of childhood poverty — and he remains enormously proud to bear his name. Lyndon Welch, the man who bridges the gap between two Josephs, said it with class in a recent e-mail message to his son. "How nice it is," Lyndon wrote, "to be the son of a great lawyer and the father of one as well."
Search attorney feature articles