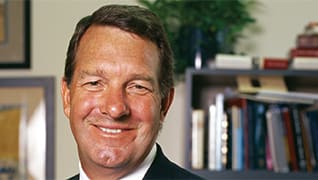 Photo by: Larry Marcus
The Regular Guy
Philip Beck's clients include Bayer, Merck, DuPont and, oh, the president of the United States
Published in 2006 Illinois Super Lawyers magazine
By William Wagner on January 11, 2006
For as long as Philip Beck can remember, he wanted to be a trial lawyer. He grew up watching Perry Mason and The Defenders with his dad in their suburban Chicago home, entranced by the courtroom dramas that played out each week and dreaming of someday being in the same position.
That dream came true. Several decades later, images of Beck were beamed into living rooms around the country — around the world, for that matter — as he tried the mother of all cases: George Bush v. Al Gore. The pictures emanated from a Tallahassee, Fla., courtroom, where Beck was cross-examining witnesses for the Bush legal team in the disputed 2000 presidential election.
But the reality of having a role in such a high-profile production was somewhat different from what Beck imagined as a child. "I've been involved in cases that were just as difficult but I've never done it where, when you walk out of your office in the morning, there are hundreds of news cameras trailing you over to the courtroom," says Beck, 54, a founding partner at Chicago-based Bartlit Beck Herman Palenchar & Scott. "And just because of the coincidence that they allow cameras in the courtroom in Florida, the whole thing was televised around the world.
"It was an interesting experience because when I was in the courtroom, all I was focused on were the witnesses and the judge. While I was aware that there were a lot of cameras, they didn't really intrude on my consciousness. But when I'd get out of the courtroom and the media would ask me for comments, then I'd get nervous. When I would step out of the role of a trial lawyer and into the role of a spokesperson, I was out of my comfort zone."
The distractions didn't disrupt Beck, whose arguments helped convince the court in Tallahassee that no recount should take place and that Bush was the rightful winner of the election. (Although the Florida Supreme Court overturned the verdict, the U.S. Supreme Court subsequently ruled that a recount would be unconstitutional, and George W. Bush became the 43rd president.)
"I had my 15 minutes of fame," Beck says with a sheepish laugh. "I was briefly a minor celebrity for that small segment of the population that cares about politics. I had friends from all over the world who sent me copies of newspapers in foreign languages that had my name in them. But it all faded very quickly. I recognize that I was nothing more than a bit player in all of this."
In the legal community, however, Beck remains a star. Ask those who have worked with him about his prowess in the courtroom, and the answers are eerily similar:
G. Irvin Terrell, a lawyer for Baker Botts who also was part of the Bush team in George Bush v. Al Gore: "Phil is a great cross-examiner. He's very down-to-earth and comes across as a regular guy. That's an important thing, because the jury will identify with him rather than his opponent."
Skip Herman, the managing partner at Bartlit Beck: "To me, he's a throwback to the classic trial lawyers in that he has great cross-examination skill, in addition to an ability to make complex matters seem simple."
Gerson Zweifach, of Williams & Connolly, who argued against Beck in a private arbitration matter in 2004: "He's a superb cross-examiner of experts and other witnesses. He's very credible. That makes him a powerful advocate."
George Lykos, chief legal officer of the Bayer Corporation, which Beck represented in Haltom v. Bayer Corp. in 2003: "He's a credible lawyer who stakes out honest and legitimate positions. I think that quality is not lost on either the court or the jury."
Who says kids can't learn anything sitting in front of the TV? Of course, in addition to watching fictional courtroom dramas, Beck's formal education paved the way for his courtroom exploits. After earning his B.A. from the University of Wisconsin in 1973, he attended law school at Boston University, where he graduated magna cum laude in 1976. He also was editor in chief of Boston University's law review, an experience that would serve him well in later years.
"It was the first time I managed people," Beck says. "In addition to the things you learn editing other people's writing, I probably learned as much about interacting with people and getting a bunch of type-A personalities to go in the same direction. I go to trial now with teams of lawyers, so I need to be able to manage those teams when I'm on trial."
Beck himself fits the mold of a type-A personality. Although he may appear to be, as Terrell says, "a regular guy," the arc of his career indicates otherwise. Beck started in Chicago in 1977 with the powerhouse firm Kirkland & Ellis, where he specialized in complex commercial litigation and eventually became a partner, and then set out on his own in 1993 with Bartlit Beck Herman Palenchar & Scott.
All the while, he developed a reputation as someone who was at his best when the stakes were highest. His client list reads like a "Who's Who" of, well, everything. In addition to working on behalf of a future U.S. president and the United States Department of Justice (United States v. Microsoft, 2002), he has represented some of the largest companies in the world — from Bayer and Merck & Co. (Irvin v. Merck, 2005) to DuPont (TicoFrut v. DuPont, 2005) and Dresser Industries (SK Hand Tool v. Dresser, 1998).
"He's a tremendously quick study," Herman says. "He can get up to speed faster than anyone I've ever seen. He goes from case to case — subject matter to subject matter — and whether he has a year, six months or two weeks to prepare, he is always ready for trial."
Some of Beck's most impressive work has fallen into the "two weeks to prepare" category. He was summoned to Florida eight days before Gore v. Bush was to begin. The following week was a blur of preparations, so much so that he didn't have a chance to contemplate the historic significance of the trial. Then the alarm sounded, literally.
"I was working 18 to 20 hours per day," Beck says. "If I've gone several days in a row with very little sleep, when the alarm clock goes off, I'm disoriented for a couple seconds and don't know where I am and why I'm there. The morning of the first day of the trial, the alarm clock went off and I was trying to remember what I was doing there. It took a second or so, and then I thought, Oh, that's right, we're having a trial over who's going to be the president of the United States. I'd better get up. I got dressed and walked over to the courtroom."
Beck operated under similarly hectic circumstances in another high-profile case, Haltom v. Bayer Corp. Hollis Haltom, a retired oil company engineer from Texas, claimed he became seriously ill from taking Bayer's cholesterol-lowering drug Baycol, and he sued the company for $560 million in actual and punitive damages. Haltom v. Bayer Corp. generated national media attention because it was the first of thousands of lawsuits involving Baycol to go to trial; the outcome of this case would set the tone for the others.
Bartlit Beck Herman Palenchar & Scott represented Bayer, but Beck himself was committed to a different trial in Boston. When the Boston trial was postponed, however, Beck headed straight for Corpus Christi, Texas, to try the Baycol case. There was only one catch: It was scheduled to begin in 10 days. As it turned out, that was enough time for Beck to get ready. A jury wound up clearing Bayer of any liability.
"It was a difficult case in many respects," says Bayer's Lykos, "but especially because it was the first [Baycol] case. There was a great deal of media attention and scrutiny being applied. That was an additional pressure, but Phil obviously understood that and dealt with it quite nicely."
To help ensure victory, Beck slipped into his regular-guy persona. "The challenge was to make the fairly complicated scientific story comprehensible and to neutralize the play for sympathy," Beck says. "Part of that was to present Bayer witnesses and have the jury understand that what [Bayer] cares about is developing medicines that save lives, and that [Bayer's employees have] devoted their careers to doing that. They're not money-grubbing ogres. They're good people who care about people. Otherwise they wouldn't be in that line of work."
Considering Beck's success in Haltom v. Bayer Corp., it's not surprising Merck hired his firm for Irvin v. Merck. The case was similar to Haltom v. Bayer Corp. in that it centered on a pharmaceutical company's product, Merck's painkilling drug Vioxx, and was being followed closely by the national media. But there was a notable difference: The precedent-setting first trial took place before Beck came aboard. In that Texas-based suit, Merck suffered a crushing defeat, as the family of Robert Ernst, a 59-yearold marathon runner and aerobics instructor who had been taking Vioxx for fewer than seven months before dying of a heart attack, was awarded $253 million in damages.
That verdict forced Merck to fight on at the federal level rather than try to settle the thousands of other Vioxx-related suits. And who better to have at its side in the initial federal trial than the battle-tested Beck? Irvin v. Merck, which was scheduled to take place in New Orleans starting November 29 but was moved to Houston because of Hurricane Katrina, involved a 53-year-old named Richard Irvin who had been taking Vioxx for about a month when he died of a heart attack. Beck applied the same basic principles to this case that had worked for him in many of his others, particularly Haltom v. Bayer Corp. "You need to put a face on the corporation," Beck says. "It's about humanizing a corporate defendant."
As driven as Beck is to win the big cases, his most personally satisfying achievement may be the formation of his firm. The setting of the practice is steeped in tradition — historic Courthouse Place, where Clarence Darrow defended Leopold and Loeb — but everything else about it is progressive. For one, the firm has fully embraced technology, which Beck believes gives him and his colleagues an edge over the competition.
"Everyone in our firm, from the senior partners down to the junior people, are all very good at using computers to help us prepare our cases," he says. "The other side will often have a computer specialist who can run graphics, but while they're doing that, I'm often able to search all the deposition transcripts and the database of documents myself. I don't have to pass on a request through three levels of people and then get an answer 10 minutes too late."
Beck and his fellow founding partners deliberately have kept the firm relatively small (around 55 lawyers) in order to do away with a traditional hierarchy and foster an all-for-one, one-for-all environment. Every day seems to be Casual Friday at Bartlit Beck, where coats and ties have been replaced by more comfortable attire.
"Phil's office is right off of what we call 'the forum,'" says Herman. "It's not off in a corner with a guard dog by the door. It's an open atmosphere. People will wander into his office, swing a golf club and give their opinions on anything that happens to be going on. The hierarchy is gone. We think of it more as a hub and spokes, where Phil works with everybody and not just the next-most senior person."
Beck's little social experiment has enabled him to act on another of his passions: teaching, which he might have done for a living if he hadn't been bitten by the trial-lawyer bug. Mentoring the firm's young lawyers brings him as much gratification as arguing a case in a courtroom. And those young lawyers are lining up to learn from the master.
"One of my jobs as managing partner is to staff cases," Herman says. "Everybody says, 'Well, I'd really like to go to trial with Phil.' Even if it means being away from home for two to 10 weeks, they want to get that training and experience from a world-class lawyer."
Beck's firm is what keeps the fire burning within him. It's his legacy.
"We're still a young firm," he says. "Those of us who are the senior people are doing two things at once: We're practicing law and doing the best we can for our clients, and we're trying to build a firm that will be healthy and stable when we ride off into the sunset. I thought I would get more opportunities in a small-firm structure. It ended up being correct for me."
That small-firm structure has worked out pretty well for a lot of other people, too — from presidents of major corporations to the president of the United States.
Search attorney feature articles