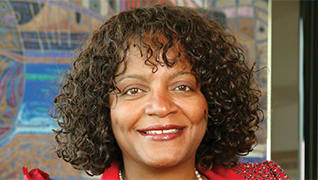 Photo by: Larry Marcus
The Three Elements of Sharon Barner
An IP attorney stakes out the new Wild West: China
Published in 2008 Illinois Super Lawyers magazine
By Larry Marcus on January 8, 2008
Sharon Barner is fond of bold moves. Her mother, no shrinking violet herself, always told her that if there was something new to conquer she should just do it. Barner's most recent bold move started with a small observation. In 2001, on her first trip to China, she noticed that every store she passed was filled with designer knockoffs: shoes, purses, clothes—all gorgeous, all counterfeit.
How could she tell? She's an appreciator of fine goods, beginning with the silver link bracelet from Tiffany's she always wears. "A gift from me to me," she says. More important, in 2006, she was named chair of Foley & Lardner's intellectual property department, which is consistently ranked one of the top five IP departments in the country. In this capacity she directs the efforts of 200 attorneys in the firm's 18 offices. She reports directly to the chairman and sits on the firm's 12-member management committee.
So that first trip to China, with all its designer knockoffs, confirmed what she had merely suspected based on conversations with clients doing business there: China is the new Wild West of global intellectual property infringement.
"It was clear to me that this was a new frontier for law," she says from her high-rise office on Clark Street in Chicago. "Here in the United States, we have always had a notion of the rule of law and jurisprudence brought from England. You can't liken the situation in China to that—it's really a blank slate. In China, part of what they learn from an early age is to copy characters. There is no real notion that anything belongs to a private party. Intellectual property is a whole new concept for them."
While companies increasingly view China as an attractive place to make and sell goods, they remain leery of getting entangled in its still-evolving legal system. "The Chinese have done a lot [to develop their legal system]," says Barner, "but it's like trying to empty Lake Michigan with a thimble. There is so much more to be done, especially where technology has come to in 2007." As a result, both global and Chinese companies are eager to be represented by firms with broad expertise in these issues.
Shortly after returning from China, Barner began developing a case for opening an office there. "Sharon saw an opportunity in China to differentiate us from dozens of U.K. and U.S. firms," says Foley & Lardner chairman and CEO Ralf R. Böer, speaking from the company's headquarters in Milwaukee. "She saw a real business need not being served by other firms and developed a business case for spending significant resources. Then she convinced one of the top IP lawyers in China to join us before we had a presence there. She instills confidence in everyone."
Catherine Sun, the China-based lawyer Barner recruited as managing partner of the operation, was not looking to change jobs when she met Barner through a mutual friend. "Sharon and her team did a thorough study on China, which impressed me as a very practical approach to the market for a firm like Foley," Sun writes from China. "According to Chinese philosophy, in order to achieve something big you must have three elements: good timing, favorable location and harmonious people. Sharon brought all three of them together."
Barner, 50, who grew up in Twinsburg, Ohio, population well south of 20,000, has a long history of getting what she wants, beginning with leaving her hometown. "I wanted to get away from Twinsburg and establish my own identity," she remembers. "I got so tired of being asked 'Aren't you so-and-so's sister?'"
To bolster her credentials for college, her mother suggested that Barner, already a good student, get involved in high school sports and student council. She did. In her senior year in 1974–75, her 440 relay team ended up at the state championships and she was elected president of the student council in a school with few African Americans. Barner is passing along her mom's advice: She gives talks to Chicago public high school students, telling them it is their responsibility to get an education and do something with it.
"My mother was quite a force and a real inspiration," remembers Barner of her mother, who died of cancer at age 54. "Her job was to get jobs for youth from corporations. I learned from her not to take no for an answer."
Barner's most treasured possession, in fact, is a photo of her mom in her 30s, which sits on a shelf in her Oak Park, Ill., home surrounded by photos of her husband and three kids. Her father, who died recently, was a steelworker.
Barner was the fourth child of six, and the first in her family to travel out of state for college. She went to Syracuse University, majoring in psychology and political science. In her senior year, gunning for med school, she entered an early-admission program and discovered that she hated hospitals and medical work. "I had a feeling in the operating room that I couldn't really accomplish anything new," she says. Law school was her fallback.
She had to load up on coursework in her last term in order to qualify, but she was admitted to the University of Michigan's "Summer Starters" program, giving her six days between graduation and the start of law school. "I liked it there, being a part of that group, because the students were older, mostly, and had come to learn, not compete."
After law school, Barner returned to Ohio to practice mergers and acquisitions in Cleveland. Big mistake. "I lasted three days in M&A," she says. "Then I went into IP because I felt it was more creative, having to do with inventions. It took me about a year to realize that I needed a bigger city and no transaction work."
On a cruise ship on her 28th birthday, she had what she now calls a "real early midlife crisis," struggling to decide what she was going to do with the rest of her life, realizing after her mother's death that a long life is not guaranteed. She decided to put down roots in Chicago, and, in 1985, joined Karon, Morrison & Savikas, a boutique IP firm.
It was a good time to be practicing IP. The first subject matter court, the U.S. Court of Appeals for the Federal Circuit, had been established in 1982. All patent cases that were appealed ended up there. And the information age was arriving, making intellectual property a more tangible, valuable and contentious asset for business.
Barner's first case for the firm was one of the defining cases of the field—both for its scope and its payout to the plaintiffs: Hughes Aircraft Co. v. U.S. After the court found for Hughes, Sheldon Karon, now of counsel to Foley & Lardner, led the 10-month effort to set the proper level of royalties. "I don't remember interviewing Sharon [for the firm]," Karon says. "But the next thing I knew, she was in the midst of the most important case in the office. We were just starting damage discovery on Hughes, which would eventually result in a judgment of $156 million for our clients. Sharon had a scientific background so she took to intellectual property like a duck to water. She was a natural at analyzing legal issues."
Barner remembers it as a life-changing case. "It was my first experience traveling around the globe, a girl from a small town gathering information from foreign governments all by myself. … Spending 19-hour days in rooms filled with documents, I experienced every issue in IP in this case and I fell in love with IP."
In the most challenging moments of this long case, she also clung to what she calls "the human element." The case involved determining the ownership of intellectual property rights to the invention that made geosynchronous satellites—and thus global communication, GPS positioning and satellite radio—possible. Prior to this invention, international communications were conducted by underwater cable and ship-based radio: 200 conversations at most were possible at any one time. Then along came Donald Williams, who invented a cheap, lightweight "attitude control system," the key piece of technology he was certain would hold satellites in place.
No one believed him. How could such an inexpensive bit of technology be the answer? Williams, who had invented it as an employee at Hughes, eventually mortgaged his home to build a prototype; then he convinced Hughes Aircraft to market it to the government, which would almost immediately base its whole satellite industry on it. But he would never enjoy any benefit from his invention—he committed suicide soon after the first launch of a geosynchronous satellite carrying his invention. Whenever the case became too stressful, Barner would try to remember that she was really fighting in Williams' memory, fighting to prove that even the simplest invention could have enormous value.
Hughes would fight the government for years, including twice in the Supreme Court, to receive an equitable share of the royalties it had earned from Williams' invention. The case also made it easier for companies operationalizing future inventions to be compensated, making it more likely that new inventions would be green-lighted. "This case was just notorious across the government," Barner says. "It changed the way research units handle intellectual property."
Barner has come up in the world considerably since the final document was filed in Hughes. In 1991, she made partner. In 1992, she married Haywood E. McDuffie Jr., who is now a lawyer for U.S. Customs and Trade, Department of Homeland Security, and the two selected Oak Park to raise their kids. ("I was in full plan-ahead mode," she says.) They are now the parents of Haywood III, 12, and 10-year-old twin girls Devin and Meredith. All three attend Montessori school and have participated in full-immersion Spanish classes, where every class, even English, is in Spanish.
Barner and her husband have also taken them to China several times, always creating a sensation, and not because they are American, or African American, but because the couple has three kids in a one-child country. "A lot of people came up to take pictures of us," she says. Once Barner even left her kids on their own for several weeks in China (they stayed with Barner's associate, Catherine Sun) for an immersion course in Mandarin Chinese to build on their Spanish immersion experience. "As I started traveling, I was amazed that people [abroad] spoke many languages and I spoke only one. It was clear to me that this was going to be a global world and [my kids] need to be prepared for it," she says.
Barner's rise has been literal as well. She joined Foley & Lardner in 1996 and occupies a corner office on the 28th floor of a high-rise that overlooks the Chicago River and Wolf Point, where Jean Baptiste Point Du Sable established the first home in Chicago. "I hardly ever look at the view," Barner says with a laugh. "Sometimes I have to come back to the office for an umbrella because I don't notice it's raining."
In 2004, she became head of the IP litigation practice for the entire 18-office firm. In 2006, she took on the greater responsibility of IP chair, which includes managing seven skill-based IP groups, plus IT and trademark. It isn't always easy. "I've got eight boats to turn in the right direction," she says.
She says CEO Ralf Böer encouraged her to take the job by saying, "Sometimes you have to get out of your comfort zone." She remembers responding, "I'd like to spend a little more time there, thank you."
Not for the moment anyway. Says Böer: "I wish I could figure out where she gets her discipline, tenacity, intellect and collegial behavior. I wish we could clone her. I think she has the stuff to be our leader someday." 
Search attorney feature articles
Helpful links
Other featured articles
After cancer, Scott Lundberg became Iron Man 
Seattle attorney Thomas Ahearne wants all Washington schools to get equal construction money
Eugene Pettis' plan to lift others up the ladder
View more articles featuring lawyers
Find top lawyers with confidence
The Super Lawyers patented selection process is peer influenced and research driven, selecting the top 5% of attorneys to the Super Lawyers lists each year. We know lawyers and make it easy to connect with them.
Find a lawyer near you