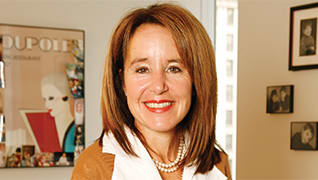 Photo by: Larry Marcus
The Velvet Hammer
Vicki Abrahamson has a reputation for toughness, but wins clients with compassion
Published in 2007 Illinois Super Lawyers magazine
By Robert Bittner on January 4, 2007
Although Vicki Abrahamson has practiced law in Chicago for 26 years, she's a Detroit native and a University of Michigan graduate who continues to exemplify two of the traits of her alma mater's mascot: She's disarmingly smart and strategically cunning—a wolverine dressed in a Paris blouse.
She began with no real legal role model. Her mother was a homemaker and her father owned a Detroit-area industrial supply service. She was, in fact, the first person in her family to go to college.
But she remembers being intrigued by the lawyers she saw on TV shows, and she was excited by the intellectual stimulation offered by the law. For her it was like "solving a puzzle and trying to come up with a solution," she explains. Most significantly, she was drawn to law because of the sheer dearth of women lawyers. If there's anything that gets Abrahamson's blood pumping, it's a challenge.
"In law school," Abrahamson remembers, "I was particularly interested in civil rights issues, which became intertwined with such issues as union strikes and, of course, discriminatory employment practices." Yet upon graduation in 1980 she wound up working on the management side when she was recruited by Fox and Grove, Chartered, a small labor law firm. It didn't take. Her personal convictions slowly edged her toward the plaintiff's side of the table, and, in 1985, she left to launch Vicki Lafer Abrahamson & Associates.
"But there were no associates!" Abrahamson says with an easy laugh. Now Abrahamson Vorachek & Levinson has three partners in addition to Abrahamson—Lori Deem, Roberta Levinson and Darlene Vorachek—all of them drawn by the prospect of working for a firm with a reputation for being the go-to plaintiff's firm for labor law cases.
"At Fox and Grove, Chartered, I learned how to research an issue thoroughly and analyze it, picking up on all the nuances. They demanded a very high-caliber work product, and you had to have the capacity to research and evaluate.
"What I didn't have—and what was different at my own firm—was experience doing one-on-one with just one client. In employment matters, an individual has needs that are remarkably different from management's needs."
Addressing those individual needs is paramount at Abrahamson's firm.
"I'm emphasizing skills that not all law firms emphasize," Abrahamson says. "Associates obviously have to be able to read and understand the cases in the law. From the get-go, they have to be able to write, because we're spending a lot of time communicating with the other side. But interpersonal skills are probably the most important skills. People are coming to us in a crisis. You have to be able to deal with these clients."
One former client, who requested anonymity, was inspired by those skills when, as a representative for her company's management team, she first faced Abrahamson from the defendant's side of the table. "My company had negotiated with her firm before, regarding other cases," the client says. Struck by Abrahamson's detailed knowledge of the law and no-nonsense approach—coupled with a disarming sense of humor, which underscored her extreme confidence—the client says, "I could recognize that I was facing the best in the business." That first impression led her to seek Abrahamson's help when she found herself with a discrimination case of her own. "I went to her because I know she's a strong advocate on her clients' behalf. That's what she does exceptionally well."
Linda S., another client who asked not to be further identified, knew of Abrahamson's reputation long before she needed her help. "I knew Vicki was a strong litigator, her knowledge of case law was phenomenal, and she got great results." After watching Abrahamson win her a "very happy resolution," Linda realized her attorney "also has tremendous integrity, and she's tough. When she has to put the hammer down, she knows how to do it."
Abrahamson's reputation for advocacy helped earn her a spot in a March 2002 Chicago magazine cover story highlighting the city's "30 Tough Lawyers." While Abrahamson seems uncomfortable with the connotations of being called a "tough lawyer," framed copies of the article nevertheless hang in the firm's lobby and in her modest office. "Opposing counsel realize that our partners really know our area of the law," she says. "That's where the 'tough' label came from, I think: our knowledge and our ability to handle cases."
Joseph Yastrow, an executive committee member at a Chicago employment law firm, has faced Abrahamson on nearly a dozen cases. He says she's "one of only a very, very few [plaintiff's lawyers] who have the expertise, the brain power and the practical business sense that enables them to represent their clients better than any of their peers. If it's a negotiated resolution of a claim, she's going to get the best deal out there."
That was exactly the kind of lawyer Massachusetts consultant Charlotte Jerace needed when she suddenly found herself with an age discrimination claim. "I had met Vicki socially here on Cape Cod, where she and her husband have a home," Jerace says. "Word got around that she was a top labor attorney. So when my problem arose, she was one of the first names I thought of."
What sealed the deal was Abrahamson's well-honed people skills. "The questions she asked during our pre-client conference over the phone were far more intelligent and sensitive than the other lawyers I interviewed," Jerace remembers. "The others—and these were very well-known Boston attorneys—were more inflammatory. Vicki had a calming effect on me. She also was compassionate, without being patronizing."
When the case went into mediation in Chicago, Jerace saw Abrahamson's approach firsthand. "Representatives from my former employer were there, their general counsel was there, their Chicago counsel was there. When I walked in with Vicki, she took the opposing counsel completely by surprise. She's stunning. Her body language, self-confidence, attitude and directness worked very much in my favor."
"I remember this vividly," Abrahamson says, laughing. "I was wearing black pants, a white shirt—no blazer—and hot-pink shoes. Later, the mediator said to me, 'Only you could walk into a room wearing hot-pink shoes and command the kind of attention you command!' It wasn't at all calculated; I just don't dress in a suit typically, unless I have to go to court. But I think they immediately perceived me as someone who doesn't think she has to fit a mold, someone so confident that they can just come in and take control of the situation."
Activities that don't involve some element of creative thinking—the mundanity of a typical three-day deposition, or by-the-numbers paperwork accompanying a class action suit—hold zero interest for Abrahamson. Thankfully, she notes, "employment law changes all the time. Every time a good case comes down, we're arguing it one way in our letters to employers. And, of course, they're arguing it another way. You never know how, here in the 7th Circuit, they're going to interpret what these cases mean. It's not an easy area of the law to understand or apply. You really have to study it."
For Abrahamson, that intellectual stimulation is what makes employment law so interesting. "So many [lawyers] are so burned out," she says. "But I like it because of what I've created here. I like being an entrepreneur, I like not having a boss, and I have terrific, terrific staff. In terms of work, I can't think of anything else I'd rather do."
Her life isn't all about the work. Childhood photos of her three sons—now 15, 18 and 20—decorate one wall. All of the shelves on another large wall are overflowing with handmade crafts and memorabilia from the boys' elementary school years. " I just moved everything off the floor and stuck it up on the shelves!" she explains with a laugh.
Clearly, life means more than just the law for Abrahamson. In addition to flexible schedules that allow associates to balance work and family needs, she requires all associates to take serious vacation time. She does the same.
"I go to Paris four times a year," Abrahamson says, pointing out a map of the city that hangs behind her desk. "I feel like it's my second home. Paris has a soul. There's just something about walking through the streets, sitting at a café, watching the people and seeing how they live. Talk about quality of life. They have something like 13 weeks off, and they're always in cafés."
Even so, there's little chance she'll abandon the Windy City for the City of Lights—or any other city, for that matter. "I've lived in Washington, D.C., I came from Detroit, and I've been in New York City a lot over the years," she says. "Chicago's a more civilized city. It's a small labor law community. It's easy to practice here. And it's a very livable city. My husband, Terry, and I live just a few miles away from my office, and I can walk to work if I want to."
Meanwhile, Chicago's companies—and their frustrated employees—continue to keep her busy. "At any one time, I would say there are 100 to 120 open matters for our five lawyers," Abrahamson says, noting that cases are resolved in a matter of a few weeks or several months. "The companies would rather resolve the cases, and we really push our clients to explore that option. Between the three name partners, we see 15 to 20 new clients a week, so it's easy to replace work that's going out the door."
The majority of cases—"the heart and soul of our business," according to Abrahamson—involve employee discrimination, in which an employee is treated differently or terminated due to race, sex, religion or age.
During the course of her years in labor law, she has seen some improvement in how employers treat their employees. "You don't see as much overt discrimination as you did 20 years ago," she says, "particularly in the sexual harassment area. Everyone is trying to be so careful about what you can and cannot say, what you can and cannot have in the office.
"On the other hand, you still see women reaching only a certain point. You're still seeing minorities reaching only a certain point and being cut off from future opportunities."
And some aspects of the workplace seem to be here to stay. "What hasn't changed at all is the way people fire employees and make up reasons for doing it. If you're manufacturing a reason, you're going to get into trouble." Even so-called great companies aren't immune. "Corporations are made up of individual personalities. You'll always have the manager who isn't that savvy or that smart or that just doesn't have the patience to do what he's supposed to do, and it gets people in trouble."
She laughs again. "There are so many stupid people out there. And I don't see that changing."
Search attorney feature articles