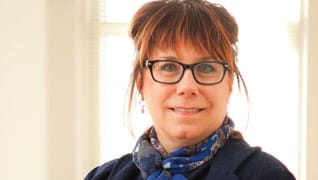 Photo by: Dario Impini
Death Row Defender
Outspoken and caring, Monica Foster is one of the nation's foremost death penalty attorneys
Published in 2012 Indiana Super Lawyers magazine
By Nancy Henderson on February 10, 2012
In 1985, Monica Foster opened her mail and discovered a signed death warrant. "I stood up and my knees buckled," recalls Foster, now of Monica Foster, Esq. in Indianapolis. "And then the first time I argued for [the client] in court, the room started spinning and I thought, 'I'm arguing for this man's life.' I felt like I was talking in tongues."
Now one of the nation's most sought-after experts in death penalty litigation, Foster's knees don't buckle. The courtroom doesn't spin. Her success rate is undisputed; she has never lost a death penalty trial and has only seen two clients, both of whom she defended at the appellate stage, executed. She frequently lectures at national legal seminars and is highly respected by her peers.
What hasn't changed since that day in 1985? She still takes it all personally.
"Do I get over-involved? You bet, but that's part of my personality. I get over-involved in everything. I'm a person that's all in or all out, go big or stay home," says Foster, 52. "At the end of the day, I always want to save my clients more than the other side wants to kill them."
Born in New Jersey and raised in Buffalo, N.Y., Foster grew up in a big Italian family that was "loud, and, by Midwestern standards, obnoxious." (Her grandfather changed his surname from Fostiggi when he immigrated to America.) Obsessed as a young girl with Perry Mason, during summer breaks she preferred to read Nancy Drew mysteries at home while her siblings splashed in the community pool. Today, she admits, "I hate reading legal stuff—hate, hate, hate it. And I don't watch any legal crap on TV either."
In part because her November birthday prompted an early kindergarten enrollment, she started studying criminal justice and economics at State University of New York at Buffalo State College at age 16. "I loved trying to figure out what causes aberrant behavior and what people can do to stem the tide," Foster says. She also gained a new perspective on crime—"not as just a person behaving badly, but rather as a function of things that happen to a person in society."
She worked part time at the public defender's council while attending Indiana University School of Law and was hired full-time when she passed the bar in 1983. Two weeks later, Foster assisted in her first death penalty case and soon realized the specialty suited her. Litigating capital cases, she reasoned, would also boost her chances of arguing before the U.S. Supreme Court. "Ninety-nine percent of lawyers in America don't get to [do that]," she says. "It really is kind of like being hit by lightning twice on a sunny day."
In 1987, Foster launched her own practice and, in one of her first major cases, participated in an international campaign on behalf of 15-year-old Paula Cooper, who had been sentenced to death by electrocution after fatally stabbing an elderly woman in Gary. "I remember going out [to Indiana Women's Prison] the first time to meet her and thinking, 'Wow, a 15-year-old with no criminal history. … She's got to be some kind of an animal. She must be frothing at the mouth,'" Foster recalls. "It was the exact opposite. I found a scared little girl who was indeed suicidal. My primary involvement in the case was trying to keep the client alive … while her case was being argued in the Indiana Supreme Court [by Cooper's original attorney]."
The case turned into a worldwide uproar that drew millions of signatures in support of Cooper; triggered protests in Rome, where capital punishment was outlawed; and prompted Pope John Paul II to formally condemn the death sentence for the girl known in Italy simply as "Paula." In 1989, after the Indiana Legislature raised the minimum age for a defendant in a capital case from 10 to 16 years old, Cooper's sentence was commuted to 60 years in prison. 
By that time, Foster was developing a reputation as a savvy death penalty litigator. Robert Hill, chief public defender for Marion County, sought her advice in his first capital case in the late 1980s. She spent many hours coaching him, offering ideas and steering him away from potential mistakes. The result: The jury unanimously opted for a life sentence instead of execution. "It was successful in large part due to Monica," says Hill, who describes Foster as "tenacious, hardworking, intelligent and, most of all, caring." Since then, he says, "I've had 26 death penalty cases and I've consulted with her on every one of them. She's the go-to person."
Foster's dream of arguing before the U.S. Supreme Court came true in November 1993, when she became the state's first female attorney to defend a criminal case in the nation's highest court. Convicted of raping and strangling an Evansville woman in her home in 1981, Thomas Shiro had exhausted all but one sentencing appeal by the time Foster shouldered the case. She lost her Supreme Court argument but later convinced the Indiana Supreme Court to reduce Shiro's sentence to 60 years in prison under a rare successor post-conviction relief appeal.
One of Foster's most memorable cases unfolded in 1991, when she freed an innocent man on death row. Convinced that Orville Jack Dobkins didn't commit the sexually sadistic murder of his next-door neighbor, Foster and two colleagues persuaded the prosecutor to drop the charges without prejudice. Five years later, the victim's son-in-law confessed to the brutal killing.
Defending an innocent person is "completely overwhelming," says Foster. "Every time I see Barry Scheck"—the co-founder of the Innocence Project, an organization that uses DNA testing to exonerate wrongfully convicted defendants—"I'm like, 'You know what, Barry? You can take those innocent people. I don't want them—too much responsibility. Gimme the guilty ones.'"
This outlook, however, doesn't affect her ability to understand both sides of a case. "I do care if my client gets executed, no matter what hideous, horrible thing they've done. And believe me, most of them have done pretty hideous, horrible things," she says. "I also have empathy for the people that they have hurt. I really believe that you cannot do this work effectively unless you can embrace that hurt and that gut-wrenching sorrow. You have to sort of own it all in order to stand up and ask that a jury spare somebody's life. And so there are many nights when I go home and sob."
Foster's latest cause doesn't involve the death penalty. She recently filed an appeal on behalf of a 12-year-old Warsaw boy whom she believes was in the wrong place at the wrong time with the wrong kids. On a plea agreement in January 2011, Paul Henry Gingerich was sentenced to 30 years in adult prison, with the last five served on probation, for his role in the fatal shooting of his friend's stepfather in 2010.
Foster says that Gingerich was incompetent to stand trial because his brain was not fully developed at the time of the murder, and she is adamantly opposed to his incarceration with grown men. "What happens to them when they go to the adult system is an abomination, and it's not fit for the American justice system," she says. "So I agreed to take on his representation pro bono and it's one of my most important cases right now."
These days, she concentrates on trial work. "With appellate stuff, there's already a painting that's been painted, and you have to change the picture," says Foster, who for the past decade has also represented the government of Mexico in violations of U.S. treaty obligations involving Mexican nationals in capital cases. "If you are doing trial work, you get to pick what it is that you're going to paint, how you view the evidence and how you view the importance of different pieces of information. I just like that a whole lot better."
In her leisure time, Foster, who graduated from a Culinary Institute of America Boot Camp, loves to experiment with exotic dishes and watch football on Sundays. "My favorite team is the Buffalo Bills 'cause that's the team that I grew up with, and I'm Italian, so I'm really loyal," she says. "The Miami Dolphins beat us 23 times in a row once, like 30 years ago, and I'm just never gonna get over that."
In addition to opening their home to rescue animals—right now she owns four tiny dogs that "only add up to one medium-sized dog," she says with a laugh—Foster and her husband host foreign exchange students from Saudi Arabia. "We're trying to bring peace to the Middle East, one young Arab boy at a time," she says.
This quest began when, while struggling to think of a way to make a difference in that war-torn region, she suddenly felt compelled to help just one person. "I want people in the Middle East to know what Americans are about, not just what American policy is about," she says. "These kids have enriched my life in so many ways, and we've become close with their families. … You can't change the world, but you can change people's views a little bit.
"It's kind of all wrapped up with the death penalty stuff," she adds. "You can't hate what you know, if you know how someone came to be a certain way. And you can't kill if you don't hate."
Search attorney feature articles
Helpful links
Other featured articles
Trey Robinson's gig as an NFL agent
Clayton D. Halunen aims to afflict the comfortable and comfort the afflicted
Why you can't fluster Mona Hanna
View more articles featuring lawyers
Find top lawyers with confidence
The Super Lawyers patented selection process is peer influenced and research driven, selecting the top 5% of attorneys to the Super Lawyers lists each year. We know lawyers and make it easy to connect with them.
Find a lawyer near you