The King of Uphill Battles
Unlikely causes don't faze personal injury attorney Terry Noffsinger
Published in 2015 Indiana Super Lawyers magazine on February 12, 2015
Updated on February 18, 2015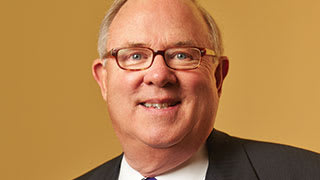 When Terry Noffsinger graduated from law school in 1969, he put his legal career on hold and joined the service. His first year was served as a Signal Corps officer for the 52nd Air Defense Artillery Brigade in New Jersey, where he manned the artillery brigade's communications center.
But a week after finding out his wife, Cheryl, was expecting their first child, he received new orders that took him a bit farther from home: Vietnam. He was assigned to the 101st Airborne infantry division, but when he arrived, the army discovered he had a law degree. "My orders [were] changed to be a lawyer in Vietnam instead," says Noffsinger. "Right away, I had a full order of courts martial."
The catch: He'd never tried a case before, and had no intention of becoming a trial lawyer.
But Noffsinger quickly embraced the role of legal officer for the 2nd Signal Group. Cases involving drug use, illegal sales of Army paraphernalia, assault, falling asleep on guard duty and going AWOL came across his desk. "His desk" being a subjective term.
"I would fly all over the southern half of Vietnam to try cases. Sometimes the court martial would be in a tent or under a tree. But the neatest time was when it was held in the dining room of a French mansion," an animated Noffsinger explains. "It was on a rice plantation that the Army had taken over as a command post."
He credits that year spent in Vietnam—for which he was awarded the Bronze Star—with inspiring his love of trial law. "I learned just how much I enjoyed being in a courtroom," Noffsinger says, sitting at the kitchen table in his Carmel home while Cheryl plays with their grandson in the next room.
"And I've been trying cases ever since."
Now at Hensley Legal Group in Indianapolis, and with more than 100 jury trials under his belt, the personal injury attorney recalls one of his earlier cases. "The first case I ever had that received national publicity was for the murder of Kathy Kohm back in the 1980s," recalls Noffsinger. The 11-year-old girl had been abducted from Christmas Lake Village and was found three months later, shot in the head.
Criminal charges were never filed in the case because the prosecutor believed there wasn't enough evidence, but Noffsinger successfully represented the girl's parents in a civil suit against the prime suspect.
"The night we won, we had company coming in and I was cleaning the toilet," Noffsinger says. "My wife called me and said, 'Terry, you're on TV.' NBC Nightly News had a chalk drawing of me doing my closing argument."
But there was a downside. Recovery was limited to funeral and burial expenses: approximately $5,000 at the time. State lawmakers have since removed the cap, thanks in part to the Kohm case and others like it.
Noffsinger also likes to note: "People say that the O.J. Simpson case was the first one where a murder case was filed as a civil case. But we were before O.J. Simpson by a long shot."
It wasn't his only first, either. In 2013, Noffsinger earned a record-breaking verdict in a medical malpractice suit against St. Mary's Medical Center in Evansville. He argued that the negligence of an OB-GYN/maternal-fetal specialist at the facility had caused irreparable damage to the unborn child of Jamie and Crystal Bobbitt. The fetus was at high risk of developing a condition that would decrease platelet counts. The couple decided to take part in a research study on the condition, which included regular fetal blood sampling, a procedure that normally has a 1 percent risk of fetal injury or death.
Bobbitt was scheduled for a routine umbilical blood sampling during the 33rd week of pregnancy. Unfortunately, during the procedure, the fetus showed signs of distress, including a decreased heart rate. The suit charged that the physician disregarded those warning signs, and as a result, Bobbitt needed to undergo a Cesarean section. The Bobbitts' daughter suffered a severe brain injury and developed cerebral palsy.
After a 2009 trial resulted in a hung jury, Noffsinger and co-counsel Evy McElmeel went on to secure a $15 million jury verdict for the Bobbitts in a 2013 retrial.
"When he's in the courtroom, he owns that courtroom," says McElmeel, a Seattle-based medical malpractice attorney and former nurse practitioner. "Terry really connects with the jury and presents the case in a way that makes it easy for the jury to understand. … He uses humor and civility in a way that makes the jury want to find for his clients."
Despite the case setting two records in Indiana—the largest verdict for that year and the largest medical malpractice verdict ever—the fight isn't over. "Indiana places a cap on [med-mal] damages of $1.25 million. Brought back to present value, there is a lien to Medicare for almost that amount, so the family could ostensibly get nothing," says Noffsinger. "The child's life care plan is $8 million. Where is the fairness in that?"
He's not deterred. He and McElmeel are set to appeal the constitutionality of the cap. "Other states have overturned caps as unconstitutional," Noffsinger says. "I'm feeling good about the case. Although from the outside, if a lawyer would look at it, he would say that [my] chances aren't very good. I'm in a couple of uphill battles but"—he smiles—"it turns my crank, I guess."
That other uphill battle? It's one for which he's been both applauded and scrutinized.
About two years ago, Noffsinger received a call from Stacy Stevens, whose husband, Scott, committed suicide in 2012 after losing millions of dollars gambling at Mountaineer Casino, Racetrack & Resort in West Virginia. Before ending his life, Stevens had drained his family's savings, 401(k) and college funds, and had been fired from his job after embezzling millions from his employer.
Noffsinger was empathetic. "Not everybody is going to become an addicted gambler, but there are some people who will [keep] going back," he says. "And those are the people [the casinos] go after. They are predatory. They identify those people and lure them in, using [input from] psychologists and all kinds of things to get people trapped. The public doesn't know that."
Noffsinger had already lost two cases against casinos in procedural rounds, and was even threatened with sanctions when the court declared one of those suits frivolous. Given his track record, he planned to refer Stevens to another lawyer. "My goal was to get somebody to take [the case]," he says. "I told her I couldn't really help her but then doors kept opening."
The first door opened when Noffsinger was invited to speak at Harvard Law School for its Frontier Torts Project. To his surprise, they were most interested in hearing about those two unfavorable gambling cases.
"I made fun of the fact that I lost the cases, but then after I gave the presentation at Harvard, I found out that there are people interested in this issue who want to help," he says.
The speech at Harvard also eventually led him to Sharon Eubanks and Natasha Dow Schüll. Eubanks had successfully spearheaded the U.S. Department of Justice's early 2000s lawsuit against U.S. tobacco giants, including Philip Morris. Her book, Bad Acts: The Racketeering Case Against the Tobacco Industry, helped Noffsinger connect the dots—the tobacco and gambling industries, he says, used similar strategies to lure in customers.
A cultural anthropologist at MIT, Schüll had compiled 15 years of research into her own book, Addiction by Design: Machine Gambling in Las Vegas. She described the intense marketing and research strategies employed by the gambling industry, from complex algorithms to tracking systems that maximize player spending.
"It was like a light bulb went off," Noffsinger remembers. "I understood the science of addiction and how [manufacturers] potentially make the machines to be addictive. The more addictive the machine, the better they will sell."
Noffsinger brought Eubanks on board, but they still needed to obtain local counsel in West Virginia, where the suit was to be filed. "I called numerous lawyers and no one was available," recalls Noffsinger. "Some of them even said, 'You've got to be kidding me. The gambling industry is too big.' But then I got the name of Jim Bordas."
Noffsinger drove to meet Bordas at his office in West Virginia. Time was running out; the day he arrived at Bordas' office was just before the statute of limitations to file a potential lawsuit expired.
Luckily, Bordas' was the final door that Noffsinger needed to open. Bordas shared with Noffsinger vivid memories from his youth, when he witnessed a close family member struggle with gambling addiction. He joined.
That afternoon, the suit was filed not only against Mountaineer Casino, but also International Game Technology, the manufacturer of the machines Stevens had regularly played during his casino visits. Noffsinger and his team argued that both companies used targeted methods to incentivize and entice Stevens, actively encouraging his destructive behavior for their gain, even though they knew or should have known of his addiction.
Noffsinger ventured into unchartered waters by employing a products liability theory as well. "What's interesting is that we have branched out from just marketing techniques to how they manufacture the machines," he says.
At press time, Noffsinger and team had responded to the defendants' motion to dismiss, and were working to build their case. His colleagues aren't surprised he's gotten into another uphill battle. "Terry is one to take on a cause," says Steven Deig, who practiced with Noffsinger in the 1980s. "He's got a legitimate complaint, but it's a unique and unusual type of lawsuit."
"He's so innately believable, juries can't help but trust everything he says," says Larry Mackey, a partner at Barnes & Thornburg, who, as a former federal prosecutor, stood across from Noffsinger many times. "He carries his client's cause literally on the strength of his own credibility. Anybody on the other side knew that Terry would have that advantage."
Other Featured Articles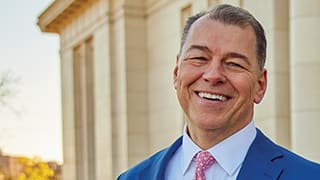 Providence Over Coincidence
Paul Sinclair's life and practice are guided by his LDS church principles Featuring Paul Sinclair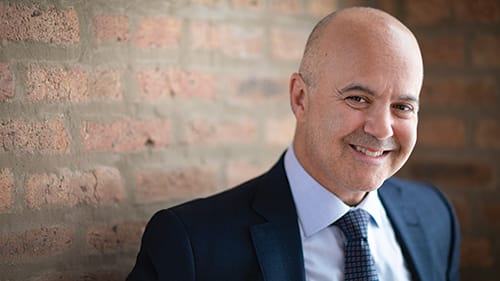 Courtroom Drama
Richard Hanus' deportation case went from the courtroom to the stage to the screen Featuring Richard Hanus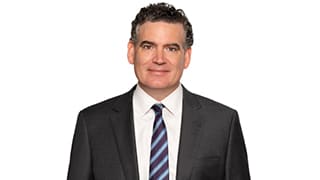 Seeing it Through
Adam Doerr led the charge to get COVID relief to overlooked families in need Featuring Adam K. Doerr