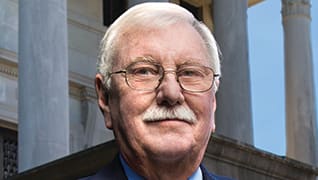 Photo by: Romero & Romero
Class in Court
Educating law students—and juries—sharpens Ed Walters' courtroom skills
Published in 2020 Louisiana Super Lawyers magazine
By Nancy Henderson on January 1, 2020
In 1979, three years into his career, Edward J. Walters Jr. was serving as second chair in a lawsuit against a Baton Rouge utility company when senior partner Charles Moore allowed him to deliver the most crucial evidence in the case. Their 18-year-old client had sustained brain damage when the long-poled aluminum rake he was using to groove the pavement on Greenwell Springs Road accidentally touched a power line. His injuries included intention tremors that flared when he concentrated on even simple tasks. 
Walters picked up his own chair, placed it in front of the jury, and asked his client to sit down and read from a Dick and Jane children's book. The man shook with each word as, from the stand, his speech therapist explained what was happening. 
"The jury and I were mesmerized watching him tremble while he tried to read," recalls Walters, 72, founding partner at Walters, Papillion, Thomas, Cullens in Baton Rouge. "You could hear a pin drop in the courtroom. And the lawyers on the other side, what are they going to do—object?"
The jury returned a verdict of $3 million—"an astronomical sum of money in 1979," says Walters—and put his firm, Moore & Walters, on the map.
Despite the gravity of his personal injury and wrongful death practice, Walters refuses to take himself too seriously. A gifted communicator, the distinguished adjunct professor at LSU Paul M. Hebert Law Center comes across as easygoing and good-natured. 
"He is very hard to dislike," says Darrel Papillion, a co-founder of the firm. "He has the highest social IQ of any person I have ever met. He always knows how to say the right thing, whether to a judge, jury, opposing counsel, or anyone with whom he has a case. In addition, Ed is a gifted legal strategist. Ed is a careful thinker and spends a lot of time looking at a legal problem like pieces on a chess board, always anticipating his opponent's next couple of moves."
Raised by a single mom and grandmother in New Orleans after his father died when he was 11, Walters preferred books over ballgames. His playful side, which he inherited from his grandmother, a men's clothing tailor on Canal Street, would later surface in his work. "Humor is important in a courtroom, even in a terrible case," he says. "It relaxes people."
At LSU, he jumped from electrical engineering to history to journalism before settling on accounting, simply because he had more transferrable hours in business than anything else. Then he decided to follow some of his friends to law school.
But the U.S. government had other plans. When he arrived home after taking his last college final in 1969, his wife, Norma, confessed, "I've been holding this envelope until after your exams." 
It was the draft notice he'd been dreading. To avoid going to Vietnam, he enlisted in the Air Force. For four years, he was stationed at military posts from Fort Walton Beach, Florida, to Fairbanks, Alaska. "I enjoyed the work, but you can imagine what it's like at 50 below zero. It's not a place for a kid from New Orleans." He operated computers "as big as a building," he says, and although it wasn't particularly exciting work, "it was better than being shot at."
The Air Force also gave him a crash course in dealing with people—for good and ill. When his less-than-perfect eyesight barred him from officer school, he automatically became the lowest-ranking person in the office. Still, Walters didn't think anything of playing ping-pong with his officer buddies or inviting them to his house for dinner. But one day the colonel at Eglin Air Force Base in Fort Walton pulled Walters aside and scolded him for "fraternizing with the officers too much" before sending him to the warehouse to load trucks.
"I had never experienced discrimination before in my life," Walters says. "I just didn't like the taste of it."
After earning his J.D. at LSU Law Center in 1975, he was anxious to return to New Orleans. But no job offers came; so the next year he joined Moore & Walters, where he had clerked for personal injury attorney Charles "Chick" Moore in the firm's office across the street from the courthouse.
Three days after he was sworn in as a lawyer, Walters handled his first matter: two divorce proceedings for two different clients, who then married each other the same day. "To this day, Harry and Mary are friends of mine," Walters says. "I talk to them probably once or twice a year."
His practice brought a wide range of cases. He wasn't good at bankruptcy, he hated divorce work, and criminal defense didn't pay much. But personal injury energized him. "I love helping people and righting wrongs, and taking care of people's families," he says.
The groundbreaking $3 million case he won for the client with brain damage spurred him on, as did a 1983 case in which he repped a 17-year-old boy named David who was hit in the back of the head and paralyzed from the neck down by an 18-wheeler side mirror while walking along Airline Highway in Baton Rouge. On the fourth day of a jury trial, Walters wrangled a structured settlement, something he seldom pursues. The client still receives a large check every month. "We were able to assist him in getting medical treatment, which taught him how to walk and taught him how to function," Walters says. "Ultimately, David ended up getting married, having children, having a job. 
"Had we given David the money in 1983, it would've been gone in 1984," he adds. "[The structured settlement] was the right thing to do for him."
In 1997, Walters and defense attorney Mike Patterson, a friend since they were both 17, pitched LSU Law School on a hands-on, year-long trial skills course called Advanced Trial and Evidence. Two teams of students—10 for the plaintiff's side, 10 for the defense—worked a real accident case Walters had won years before, from initial client interview to discovery, depositions and motions, and culminating with a trial before a real judge in a real courtroom.
"Ed enjoyed tremendous respect from his students," says Papillion, who took Walters' course in 1993, "and I had a great deal of respect for him."
Not long after Papillion joined the Moore firm in 1999, he and Walters began working cases together involving psychologists, psychiatrists and other professionals who abused their power to have sex with their patients. They also represented families of children sexually abused by Boy Scout leaders and Catholic priests and school teachers. "We were kind of ahead of the curve," Walters says. 
"Once this whole Catholic priest thing in Boston blew up, then it got to be more prevalent, but a lot of people didn't want to tell anybody."
In 2009, the three younger partners decided to leave and start their own practice. The decision to go with them wasn't an easy one for Walters, who by then had been with the firm for 33 years. Ultimately, he says, "I didn't want to practice without Darrel."
Walters now concentrates on industrial accident litigation, although he occasionally takes on a malpractice suit. "I always try to see it from the other person's viewpoint and try to figure out what it is that that person wants and whether I can give it to them," he says. "Juries and judges want to do the right thing. Well, somebody's got to tell them what the right thing is, and I understand people pretty well."
Walters credits an Air Force sergeant with teaching him a "fake it till you make it" strategy he routinely applies to his cases. "He said, 'Walters, if somebody comes up to you and says, "Can you run a forklift?", the answer is yes. If you need to run a forklift on Monday morning, between now and Monday morning, you go learn how to run a forklift, because they need somebody to run a forklift more than they need somebody doing whatever the hell it is that you're doing. That's how you get ahead in the Air Force, in the military, and in the world.' 
"I have used that many times," Walters says with a chuckle. "I'll go figure out how to do it by the time I need to know how to do it."
In the courtroom, he says, "I'm calm. I'm prepared. A lot of lawyers are flamboyant and loud. My technique is more like a teacher telling them what the deal is and why they should do what I would like them to do."
The trial course he and Patterson launched at LSU Law Center more than three decades ago is as popular as ever. It now lasts one semester instead of a full year, and, to better accommodate student schedules, happens in a mock courtroom onsite rather than downtown. Either side can win, depending on how they approach the case. "I didn't want to choose a problem that's so biased one way or the other that the plaintiff always wins or the plaintiff always loses," Walters says. "That's what makes it fun for the students."
Still, he adds, "We learn more than they do because you've got to keep your knife sharp. It makes you stay current in the law. It makes you meet young people who are energetic and excited about being a lawyer, and their excitement bleeds over to you. I like watching someone change from a person who doesn't know how to act in a courtroom to someone who's fairly accomplished in a courtroom. I have had people tell me in the elevator [years later], 'Hey Ed, I used something today in court that you taught me.'"
For relaxation, Walters enjoys fishing for speckled trout at the family "camp" on Grand Isle with his wife and four grandkids. Walters has supplied a number of cover photos, from pelicans to crab boils, for Louisiana Advocates magazine. "I wouldn't call myself a photographer," he says, laughing. "I've taken a lot of pictures, and some of them come out good."
The most gratifying aspect of his law practice, he notes, is helping his clients and fixing their problems. And learning, of course. "I enjoy learning who they are, what their deal is, and how to convey that to the jury or to the judge," he says. "I enjoy new types of cases. You learn all kinds of new areas of life and the law."
---
You Just Might Be a Lawyer
Last September, Walters stepped down after 34 years as editor of The Baton Rouge Lawyer (formerly Around the Bar). His 1987 article "What It Means to Be a Baton Rouge Lawyer" is a sort of bullet-point mission statement that begins with "Baton Rouge lawyers don't lie to each other or to the Court"; it was reprinted in 2019 for the 90-year anniversary celebration of the Baton Rouge Bar Association. 
"Like everything else in the world, the law business is kind of getting into tribalism," Walters points out. "Baton Rouge is a particularly special place to practice law because the lawyers like each other and treat each other with courtesy and respect. We're losing that in many places and we're trying hard to save that and keep it in Baton Rouge."
But Walters' style isn't always so serious. His "Last Word" column for the Louisiana Bar Journal offers both insights about the profession and more than a few zingers. His 2016 piece "Items For Black's Law?" invents new legal terms like counselitis ("the constriction in the throat and inability to speak during oral argument when the judge asks you that one question you hoped she wouldn't think of") and lexting ("communicating with another lawyer by text because he or she doesn't return emails"). 
But his 2015 tongue-in-cheek spin on Jeff Foxworthy's signature "redneck" schtick might be his signature moment. Among the gags:
If you've ever corrected something that you thought was very poorly written and then found out that YOU wrote it, you just might be a lawyer.
If you've ever left your coat hanging on the back of your chair so your senior partner would think you must be just down the hall, you just might be a lawyer. 
If you've ever been in a deposition and took your shoe off and now you can't find it, you just might be a lawyer.
Search attorney feature articles