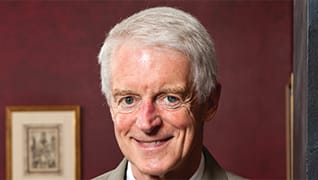 Photo by: George Long
Font of Wisdom
Mike Fontham has saved Louisiana consumers more than a billion dollars
Published in 2011 Louisiana Super Lawyers magazine
By Kevin Featherly on December 27, 2010
Mike Fontham's most notorious case might be among the least representative of the New Orleans attorney's long career. As a court-appointed counsel in 1977, Fontham, now 64, ran the defense in the first reverse discrimination suit under Title VII of the Civil Rights Act ever to hit the U.S. Supreme Court in the wake of affirmative action legislation.
At the time, Fontham had already earned a solid reputation thanks to his representation of consumer advocate and supermarket-chain kingpin John Schwegmann, who had filed a series of suits that helped lower Louisiana utility rates and bust up milk price fixing.
In a sense, the reverse discrimination case came out of left—or perhaps, more accurately, right—field. Fontham was in the court of a very conservative judge, before whom he'd argued several civil rights cases involving minorities who had complained of discrimination.
In walked Brian Weber with a right-to-sue letter. Weber, a white steelworker, charged that his employer, Kaiser Aluminum & Chemical Corp., had discriminated against him because he was white. Because of self-imposed racial quotas, Fontham says, the company had moved black workers ahead of Weber on the seniority list at the Gramercy plant where they worked.
"It was a relatively modern plant and because of that, it really did not have a history of race discrimination," Fontham says. "In fact, its history had been one of trying to have the right percentages to satisfy government requirements. But they were having difficulty getting those percentages in the training programs, so they imposed a racial quota."
Fontham was initially reluctant when the judge appointed him to the case, but he soon became convinced Weber had a valid claim. "I got to become a real believer in the case," Fontham says. "I felt like there was a clear distinction between preferring somebody to correct identifiable past discrimination and preferring somebody just because you think that society has been hard on a particular class of people in the past."
Fontham and Weber won in District Court and in the U.S. Court of Appeals for the 5th Circuit. The case then went to the U.S. Supreme Court. Lined up against Fontham and his client were 140 amicus briefs filed by a large number of parties including the American Civil Liberties Union. Some of the media were also unsympathetic. But for a young lawyer, it was a moment in the sun.
"So here I am basking in it," Fontham recalls. "I argue the case. It goes real well, although it was clear I was probably going to lose by the way the court was conducting itself. Afterward, I come outside and I get interviewed by every national network—CBS, NBC, ABC—right out there on the steps of the Supreme Court with my client."
Afterward, he says, he rushed back to the hotel to see himself on TV. He was disappointed. The date was March 28, 1979—the day of the Three Mile Island nuclear accident in Pennsylvania. Fontham didn't make the news that night.
He was also disappointed by the ruling, and not just because he lost. The opinion in United Steelworkers of America v. Weber, written by Justice William J. Brennan, was so poorly reasoned, Fontham says, that it hasn't worked as much of a precedent. "His opinion says that the letter of the law supports Weber, but we believe we need to follow the spirit of the law," Fontham says. "So that was kind of a frank disclosure of the way that went."
Today, Fontham is head of the regulatory practice group at Stone Pigman Walther Wittmann, the same New Orleans law firm he joined in 1971 and returned to after a brief stint in the military the following year. Over the years he has represented the Louisiana Public Service Commission before the Federal Energy Regulatory Commission (FERC) and the U.S. Court of Appeals for the D.C. Circuit, garnering more than $1 billion in refunds and credits on consumer bills in Louisiana.
The lion's share of those savings came in 2005, when Fontham won a decision involving the "rough equalization" of energy costs that has generated $600 million in savings for Louisiana power-utility consumers. In that case, FERC ruled against Entergy Corp., a utility that serves parts of Louisiana, Texas, Mississippi and Arkansas. (FERC regulates the interstate transmission of electricity, natural gas and oil.)
Entergy operated as a single utility, but had subsidiaries in each jurisdiction. "Because they are in different jurisdictions, it is the local company that accumulates costs on its books and goes in and gets retail rates," Fontham explains. That led to a tremendous—and to Fontham, unjustifiable—disparity in costs between jurisdictions. "The Arkansas costs were way, way lower year-to-year than the Louisiana costs," he says. 
In 2001, Fontham filed a case before the FERC. "After four years we got a decision from the FERC that imposed a remedy to keep the system in rough equalization," he says. That meant that costs to consumers in all the states served by Entergy would have to be roughly equal. Louisiana's costs went down, and Arkansas' went up.
The remedy was delayed until 2007. "I think the first year [Louisiana consumers] got $180 million in savings and the second year about $170 million," he says. "And in 2009 they got $250 million."
Since 1974, Fontham has also been a law instructor. He now teaches evidence as an adjunct professor at both the Tulane University and Louisiana State University law schools. He is an instructor at the Trial Advocacy Institute at the University of Virginia School of Law and has taught at the Louisiana Judicial College, the trial clinical program at Tulane University Law School, and a skills course at the Loyola University New Orleans College of Law.
He started out teaching constitutional law, but soon realized that his students needed a more practical approach to maneuvering around the courtroom. Unfortunately, he found precious little textbook material on that subject, so he decided to write his own book, Persuasive Written and Oral Advocacy. Ten years later, some other professors approached him and suggested collaborating on an update of the book. That produced a new 2007 book, Persuasive Written and Oral Advocacy: In Trial and Appellate Courts. Fontham is also the author of Trial Technique and Evidence, the third edition of which appeared in 2008.
"One of the problems of writing a book is that, at least in my case, I don't have enough to say," he says. "Once you get down everything you have to say, you have to figure out what you haven't covered that you don't know anything about.
"It just gets to be a much bigger project than you might have perceived."
Fontham doesn't have time for much else in his life beyond the law, but he makes a point of taking a yearly trip to his native Chicago to watch the White Sox play. And as far as his legal career goes? "Mostly we're just trying to hold onto the victories that we've got so far," he says, "and making sure they stay in place."
Search attorney feature articles