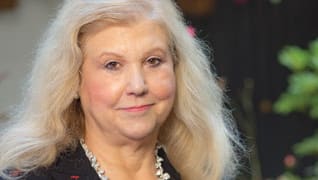 Photo by: Will Crocker
From Clover Grill to the Courthouse
PI attorney Darleen M. Jacobs flipped burgers before she filed cases
Published in 2014 Louisiana Super Lawyers magazine
By Paige Bowers on December 26, 2013
Bruce C. Dean has a lot to say about fellow plaintiff's attorney Darleen M. Jacobs.
"You don't want to go up against her," he cautions. He says she's tenacious and feared. He says she's a mentor to young attorneys, including his own daughter. And although she doesn't give an inch inside the courtroom, outside is another story.
"There's a generous side to her that people don't often get to see that's not at all like her courtroom reputation," says Dean, a Metairie-based solo practitioner. "On the other hand, Darleen is one of the loudest people I know. She can curse like a cage fighter. She's hardheaded and belligerent. But she's also one of the most loyal friends I've ever had."
Her clients would probably agree. Jacobs, who founded her law firm in 1970 out of the back of her father's restaurant on Bourbon Street, quickly gained a reputation as a scrappy fighter who put her clients first. The daughter of a police officer-turned-restaurateur, she grew up with three sisters in the city's Lower 9th Ward and became interested in law at an early age.
"My grandmother was 14 years old when she came here from Jerusalem," Jacobs says. "Although she spoke seven different languages, she was illiterate and signed her name with an X. She was divorced from her husband and raised three kids as she ran a grocery store. When I was 6 years old, I remember that someone forged her signature. This was very upsetting to the family because we couldn't afford a lawyer to help her. Because I was impressionable, I knew that I wanted to help people and thought that practicing law was a good way to do it."
It was a challenging journey. Jacobs began working for her father at Clover Grill as soon as she was old enough to flip its legendary hubcap burgers—"I became a professional cook," she says—and help manage its day-to-day affairs. She graduated from Louisiana State University in New Orleans, earning a liberal arts and prelaw degree before attending Loyola University New Orleans College of Law at night, where she was the only woman in her class. By day, she worked for Shell Oil Co. in the accounting department, earning the money she needed to pay for school. At the time, Jacobs says, Shell paid for male employees to attend law school. She didn't get the same treatment.
"I decided I didn't need them, and I've never forgotten it," she says.
In school, she earned a reputation for being a champion debater, in part, Jacobs says, because she "had a big mouth and wanted to use it.
"That hurt me in life," she says. "A lot of these professors didn't like outspoken women and I think I got D's because of it. It was very difficult for women back then [in the late 1960s]. People don't talk about it now, but how many female trial lawyers do you know that are actively engaged in trial work? Very few, if any."
When Jacobs graduated from Loyola in 1970, she had the opportunity to continue working at Shell Oil, but not as an attorney. So she moved on and applied for jobs at various firms throughout New Orleans. No one hired her, even after she took out an ad in a local legal publication that said she was willing to work for free.
"No one answered my ad," Jacobs recalls, adding that she remained involved with Clover Grill and also worked as a real estate broker in town, which she continues to do to this day. She eventually decided to stop waiting for a job offer. Using the $4,500 that she had amassed in a Shell Oil employee fund, she hung a shingle in the back of the restaurant.
"Some of the first clients I had were Clover Grill customers who knew me and liked me and came to me when they needed someone to represent them after an accident," she says. "Then, some of the people I worked with at Shell Oil came to me after they had gotten into accidents offshore. So that's how it started. I had to do it on my own and it was not easy. The first time I tried a case—an automobile accident—my knees shook, but I won."
Jacobs eventually moved out of Clover Grill, but she didn't go far: She now practices just a few blocks away in an office with four other attorneys. Their firm, Jacobs, Sarrat, Lovelace & Harris, focuses on personal injury, class action, wrongful death, maritime and admiralty and occasional malpractice cases.
One of the largest cases Jacobs has won was a 1997 class action lawsuit against U.S. transportation supplier CSX Corp. That case, which involved 8,000 people who were harmed when a leaking train car exposed them to the hazardous chemical butadiene, resulted in a $3.4 billion judgment, the largest in the United States at that time. Jacobs tried another 34 related cases from 2003 to 2004 and CSX later settled for $500 million.
Another case involved the time-honored phrase "Who Dat?" Jacobs co-owns the Who Dat Yat Chat café in Violet. In 2010, a company called Who Dat? Inc. fought local business owners—who emblazon the phrase on T-shirts and other items—and the NFL over ownership of the phrase, which is also a popular chant at Saints games. The NFL and the company eventually reached a settlement.
"We had no dog in that hunt," says Phillip A. Wittmann of Stone Pigman Walther Wittmann, lead attorney for the NFL in the case.
But questions over "Who Dat?" ownership lingered for the café. Who Dat? Inc. sent Jacobs an order to stop using the phrase in her cafe, but, as Jacobs says, "No one put an injunction on my mouth." Jacobs argued that the phrase was generic. Who Dat? Inc. eventually settled for a confidential sum and paid Jacobs $3,000 in court costs. She is free to use the phrase for her café and in any restaurant or bar she might have.
"That was fun to watch from the sidelines," Wittmann says. "Darleen is going to hang on to something until she falls down or until the case gets decided one way or another."
For Jacobs, the case was an enjoyable change of pace.
"I usually deal with serious cases," she says. "I take injury cases, deaths on the high seas. So to learn trademark law and argue a case about a phrase I've been saying since I was 8 years old was fun and different for me."
In May 2013, Jacobs represented the family of the late New Orleans singer Willie Harper, known locally for rescuing crumpled-up lyrics for what would become the hit song "Mother-in-Law" from a trash can and encouraging Ernie K-Doe to give the song one more chance. Harper, who sang backup vocals on the 1961 hit, was incarcerated for a crime years later, even though he'd been found not guilty by reason of insanity. Although a judge ordered Harper's release, he spent 13 years in the Louisiana Forensic Institute before being released. Afterward, Harper spent years wandering the streets before his death. Jacobs subsequently represented his family in a wrongful incarceration lawsuit against the state. She won a judgment of more than $4 million for Harper's children. The case is now under appeal.
"Every client is different," she says. "I'm in this business because I like people and enjoy serving them."
Jacobs, who is widowed and does not have children, views her clients as her kids, and advocates for them in the way a mother might.
"I really don't have any spare time," says Jacobs, who won more than $2 million in an environmental discrimination case in late 2013 on behalf of apartment-complex employees who were exposed to raw sewage. "People come to me by word-of-mouth based on my performance. I also like being a real estate broker and operating buildings in town. So I'm grateful to have two professions that I enjoy. How long do I stay in them? If I don't stay in them, then what do I do? I've been working since I was 9 years old. I did not come from a rich family. Some lawyers work because they like the money. That's not why I'm in it."
Search attorney feature articles